From the Open-Publishing Calendar
From the Open-Publishing Newswire
Indybay Feature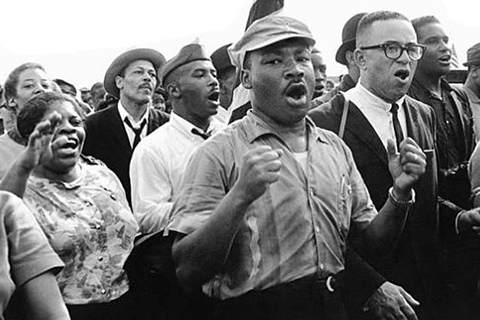 Mon Jan 16 2017
(Updated 01/22/17)
Reclaiming King's Legacy in the Age of Trump
120 Hours of Direct Action Across the Bay Area to Reclaim King's Legacy & Reject Trump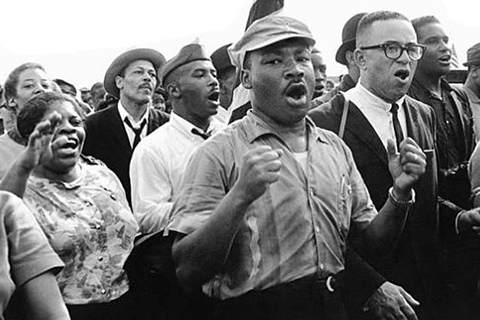 The Anti Police-Terror Project (APTP) writes:
We call for a national week of direct action beginning on Martin Luther King day and culminating on Inauguration day. We intend to set a tone for the next four years of resistance: direct actions and street mobilizations to resist Trump's political agenda, and a banding together in our workplaces, schools, and communities to keep ourselves safe from Trump's violent supporters.
Before King's assassination, he began organizing the Poor People's Campaign designed to unify working people across the country. He spoke out forcefully against US imperialism abroad and the US war in Vietnam, in particular.
For 120 hours, we will show that we refuse to be governed by bigotry, we reject Donald Trump and his agenda, and we will resist the new fascistic "normal" by calling forth our collective people power to shut the system down.
Read More | Publish your Reclaim MLK reports, photos, video and audio to Indybay
---
2017 Reclaim Martin Luther King Jr. Events and Coverage
Below are publicly announced events. Some actions during the week will be held without notice. Stay tuned as events develop and more information becomes available.
Monday 1/16, Martin Luther King Jr. Day

Camp 120 Will Hold Space at SF City Hall Until Inauguration Day to Protest DA Gascón
|

Third Annual March to #ReclaimMLK!
| MLK Films, First AME Church, 3701 Telegraph Ave, Oakland, 7-9pm
Tuesday 1/17:


Homeless People's Assembly Took Place in San Francisco
|

Expose Libby Schaff's Racism, Reject the Trump Agenda in Oakland
|

Citywide Homeless People's Popular Assembly
(SF) |

SF Young Activists 4 Black Lives Mini Teach In
Wednesday 1/18:

Teach-in: Education is Our Right
(Oakland) |

Protest Palantir - No Profits from Muslim DB + Mass Deportations
(Palo Alto) |

Demand Resignation of DA Mark Peterson
(Martinez) |

Student Organizing Meeting & Art Making for J20 Walkout
(Berkeley) |

Oakland People's Budget Assembly Training
(Oakland) |

Reclaim MLK Film Screening
(Oakland) |

Conversation w/ Fred Hampton Jr: Organizing in the Age of Trump
| Rally at West Contra Costa School Board, 6pm | Interfaith Action (child friendly), First Presbyterian Church, 2619 Broadway, Oakland, 6pm
Thursday 1/19:

Human Billboard: Expose Libby Schaff's Racism and Reject Trump
(Oakland) |

Inauguration Eve Meditation & Prayer
(Oakland) |

Pause the Calls: Black Lives Matter
(Santa Cruz) |

OCO - March and Resist Trump Policies
(Oakland) |

Hands Around The Plaza - Unity Through Diversity
(Watsonville) |

Open Circle convenes direct action at the Police Officers Association (San Francisco)

Noise Demo! Stop Santa Rita Jail Expansion!
(Dublin) |

Resist Gender-Based Violence
(Oakland) |

Know Your Rights: A training in support of 120 Hrs of Protest
(Berkeley)
Friday 1/20, Inauguration Day, General Strike
San Francisco

Bay Area Residents Begin Inauguration Day By Shutting Down Caltrain's South Bay Service
|
On J20 SEIU 1021 SF General A Hospital Healthcare Workers And Docs Protest Trump Agenda
|

ILWU10 Members Speak Out On Trump, Capitalism, The Need For Workers Party And Take Action

SF - Bay Area Dump Trump
, 8am |

A Protest Action of Conscience and Resistance: No Wall! No Mass Deportations! No "Muslim Registry"!
, 8am |

Bay Area Resist Trump / Marcha "Resistamos a Trump"
, 9am |

Labor Contingent — Dump Trump events
, 4:30pm |

SF Protest Against Trump on Inauguration Day: Fight Racism, Defend Immigrants!
, 5pm
Oakland

Public Land in Oakland Reclaimed For Community Housing and Services by Homeless Residents, Activists
|

ILWU's Trump protest shuts down Oakland terminal

General Strike - #J20 and Beyond!
, 7am |

Baby bloc @ Oakland general strike
, 1pm |

Tech Workers for Racial Justice
, 10am |

Labor March, Telegraph and Broadway, Oakland, 12pm |

Requiem for a Dream: A Resurrection of Hope
, 5pm |

J20 Shutdown Carl's Jr, Hardee's and Green Burritto (everywhere)
Berkeley

J20 Strike Community Organizing Day
, 9am |

#J20 at UC Berkeley
, 9am |

J20 UC-Wide Walkout - UC Student-Workers Union
, 12pm
San Leandro

San Leandro Democratic Club - Protest Trump Inauguration Day
, 11:30am
Santa Rosa

Sonoma County Inauguration Day Protest: Wake Up, Organize, Resist
, 3pm
Palo Alto

Inauguration Day Protest: Not Our President!
, 5pm
San José

Rise Up for Justice Inauguration Day
, 11am |

Disrupt J20: Rally and March Against Trump
, 7pm
Santa Cruz

Inauguration Day Protest Blocks Streets in Santa Cruz
|

J20 Inauguration Protest, March and Rally

J20 General Strike Santa Cruz
, 11am |

J20 Inauguration Day WALK OUT at UCSC
, 9am
Monterey

People's Rally for Unity and Equality
, 1pm
Sacramento

Not My President! Inauguration Day Protest
, 12pm
UC Davis

J20 UCD Walkout
, 12pm
Fresno

Vigil for Peace and Justice
, 8am |

Not My President - Fresno Event
, 6pm
Richmond
Student Walkout

Bang the Pots
, 6pm (everywhere)
See Also:
FBI's "Suicide Letter" to Dr. Martin Luther King, Jr., and the Dangers of Unchecked Surveillance
Related Features:
Millions of Women Take a Stand Against Trump the Day After Inauguration
|
Mobilization Against the Coronation of Trump
|
With Election of Trump as Next US President, Cities Across the Country Rise Up in Protest
|
Martin Luther King Jr's Radical Legacy Lives On
(2016) |
Bay Area Pulls Off 96 Hours of Action as Part of National Call to "Reclaim King's Legacy"
(2015)
We are 100% volunteer and depend on your participation to sustain our efforts!
Get Involved
If you'd like to help with maintaining or developing the website, contact us.