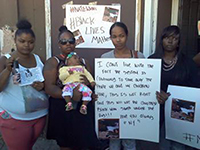 In 2015, Oakland Police have already been involved in three fatal shootings, as well as a mysterious death where a man died while trapped between two houses following a chase. On the afternoon of August 12, Nathaniel Wilks, 27, born August 26 in New York City and father to a tiny baby girl named Kai'lei, was fatally shot as he slowed down after a car and foot chase by police, saying, "Ok, Ok, Ok," shortly before he was shot. His girlfriend's family and community resides in the Hunters Point district of San Francisco.
On the evening of the shooting, around 100 people gathered in the intersection of MLK and 27th Street before marching downtown to police headquarters on 7th Street. Once back at the scene of the shooting, protesters blocked I-980 and its 27th Street off-ramp for nearly a half hour. Two evenings later, on August 14, a vigil was held for Nate Wilks at the location where he was killed. Nate's family is
currently raising funds
in order to conduct an independent autopsy.

Nate Wilks, 27, murdered by Oakland PD for running while Black |

Oakland Police Kill Again |

Cat Brooks on OPD Shooting |

Anti Police-Terror Project statement on August 12th murder by Oakland police | Nathaniel Wilks' family fundraising campaign for independent autopsy, legal costs, funeral arrangements | Fundraiser for Independent Autopsy for Nate Wilks
Previous Related Indybay Features:
Demouria Hogg Shot and Killed by OPD for Sleeping in His Car
|
OPD Bows to Pressure, Releasing Video Related to Killing of Yuvette Henderson
|
Emeryville Home Depot Shut Down for Yuvette Henderson
|
Yuvette Henderson Gunned Down by Emeryville Police in Oakland