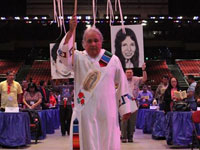 The farm worker movement mourns the passing on June 7, 2015, of Rev. Deacon Sal Alvarez, who played a key role with Cesar Chavez and Dolores Huerta in the farm worker movement and on behalf of many other worthy causes over seven decades. Sal was motivated by deep faith in a movement grounded in the Catholic Church's social justice teachings and dedication to Our Lady of Guadalupe.
After earning a masters degree in social work from UC Berkeley and working with the U.S. Catholic Conference, Sal met Cesar Chavez in the late 1960s, while working with the Bishops Committee on Farm Labor. He became a United Farm Workers researcher in 1976, and was soon assigned as legislative aide to Dolores Huerta, with whom Sal forged a close working relationship for decades.
Sal spent years at the state Capitol in Sacramento, battling industry attempts to dismantle the historic Agricultural Labor Relations Act. He also worked on abolishing the short-handled hoe, winning workers compensation for farm workers and pushing UC to provide relief for agricultural workers displaced by its mechanization research.
Read More | United Farm Workers