From the Open-Publishing Calendar
From the Open-Publishing Newswire
Indybay Feature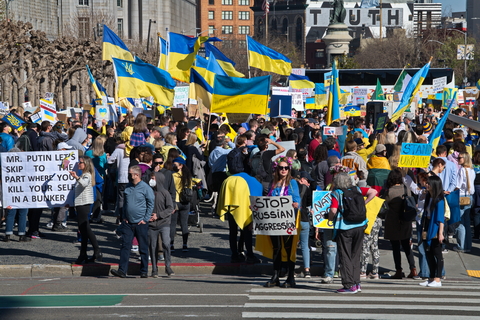 Fri Mar 4 2022
(Updated 05/13/22)
Russia Moves to Take All of Ukraine by Military Force
Ukrainians Resist Invasion, World Responds with Protests, Sanctions, and Weapons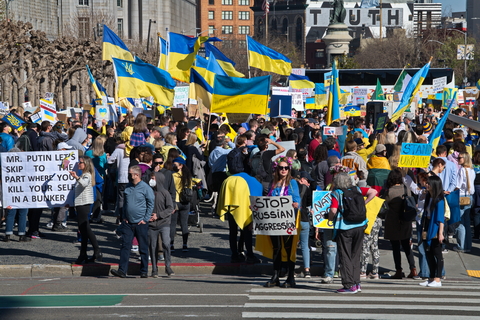 After having massed Russian military on the border of Ukraine, Russian President Vladimir Putin ordered the deployment of troops into Donbas on February 21, in what he referred to as a "peacekeeping mission." Then, on February 24, Russia began a full-scale military invasion of Ukraine, claiming its goal was to "demilitarize" and "de-nazify" the entire country.
The Ukrainian government did not collapse upon the first presence of Russian troops. Instead, a strong Ukrainian commitment to resistance arose. Russia has yet to take the capital Kyiv, but is increasing attacks on civilian centers as it assumes control of other Ukrainian cities in the north, east, and south. In response, Western nations have imposed increasing levels of sanctions on Russia and its elite, while NATO countries specifically are providing a steady stream of weaponry to Ukraine.
Bay Area Ukrainians and those in solidarity with them protested in San Francisco on February 26 and 27. Many of them agree with Ukrainian President Volodymyr Zelenskyy's calls for maximal NATO involvement. On March 6, Code Pink and other anti-war organizations have called for a Global Day of Action to protest the invasion, while also pointing to NATO expansion on Russia's border as having contributed to the crisis. The complicated politics of the invasion have exposed rifts across the political spectrum and led to some odd alliances. As the danger of a wider war looms, no one is sure how it can be stopped or where exactly it all ends.
Operation Solidarity, a horizontal volunteer organization in Ukraine
San Francisco:
San Francisco Rally for Peace in Ukraine in Global Day of Action
|
Thousands Rally at the Embarcadero to Support Ukraine
(Feb 26) |
Ongoing Protests Against Russia's Attack on Ukraine
(Feb 27)
Peace in Ukraine! Global Day of Action Rally
|
Paint for Peace in Ukraine
Palo Alto:
Palo Alto Calls for Peace in Ukraine Noon and Night
|
Silent Vigil for Peace in Ukraine
San Jose:
Peace in Ukraine! Global Day of Action Sidewalk Vigil
Santa Cruz:
Peace in Ukraine! Global Day of Action Rally
Monterey County:
Peace in Ukraine! Global Day of Action
Fresno:
Peace in Ukraine! Global Day of Action Rally
Santa Rosa:
Peace in Ukraine! Global Day of Action Rally
San Mateo:
Global Action to Stand w/ the People of Ukraine Sidewalk Rally
See Also:
Russian Invasion of Ukraine Exposes Political Rifts and Makes for Strange Bedfellows
|
Press Release on Ukraine Hostilities by Roots Action
|
Putin's War, The Oligarchs & The Russian Working Class: A Report by Boris Kargalitsky
|
For A Workers United Front Against The Russian Invasion of Ukraine
|
Truth dies first and then intelligence
For a free and sovereign Ukraine
|
War in Ukraine Threstens Nuke Plants
|
Shooting resumes in the Donbass civil war
|
No to the war over Ukraine
Related Feature:
Bay Area Groups Mobilize to Protest the Drumbeat to War
We are 100% volunteer and depend on your participation to sustain our efforts!
Get Involved
If you'd like to help with maintaining or developing the website, contact us.