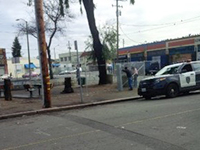 The Muwekma Farm thrived at the corner of 31st and International, across the street from the Native American Health Center. For two months, various supporters planted over 50 plants, including squash, tomatoes, jalapeños, kale, huckleberry, oregano, and arugula. On July 9, however, the City of Oakland and OPD descended on the farm and destroyed every single plant, raised bed, and bench. They even destroyed the few plants that remained along the edges of the land. The farm was located on 1.5 acres of unused land owned by the City of Oakland. Despite the support of the neighborhood, the city decided it did not want fresh fruit and vegetables growing at that location on International Blvd.
Muwekma Farm writes:
We have no specific date for retaking the land, but when we do there will be another announcement. But to those who would like to support the farm in the future, our main request is to start as much organic corn seeds as possible right now. Our next event was going to be the planting of corn, but obviously our plans have changed. To those who desire a world free of environmental destruction and economic slavery, we would like to remind you that there is an inordinate amount of vacant land in the City of Oakland.
Muwekma Farm Destoyed by City of Oakland and OPD |

Video of Muwekma Farm and Call for Future Support | Muwekma Garden work party