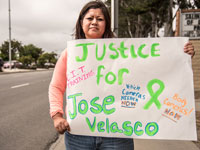 On June 18, Jose Velasco filed a
legal claim
for damages against the City of Salinas and the Salinas Police Department for the injuries he suffered after officers with the SPD violently arrested him on June 5. The claim alleges, "assault, battery, false imprisonment, negligence, negligent and intentional infliction of emotional distress, and negligent hiring," on the part of the city and the police department.
As a result of the June 5 arrest, Velasco suffers from a broken leg, multiple stitches in his head, and bruises on his torso, arms, legs, and face. His family has described him as having a "hole" in his leg from the beating. A
video of the arrest
, which went viral in the news and on social media, shows one officer continuing to hit Velasco with his baton after he is pinned to the ground. Velasco is being represented by John Burris, who announced the details of the claim surrounded by supporters at a press conference at Salinas City Hall.
The Velasco family, who were severely traumatized by the incident, continues to seek justice for Jose by speaking out, holding demonstrations, and creating the Facebook group, Justice for Jose Velasco. On June 13, Velasco's mother and sisters held a demonstration on North Main Street, the location of his arrest, to call for justice for Jose.
Read More:

Jose Velasco Files Legal Claim for Damages Resulting from Violent Arrest by Salinas Police
|

Family Seeks Justice for Jose Velasco after Violent Arrest by Salinas Police
Previous Coverage:
Video Shows Salinas Police Hitting Man Already Pinned on Ground