From the Open-Publishing Calendar
From the Open-Publishing Newswire
Indybay Feature
ILWU's Trump protest shuts down Oakland terminal
ILWU Local 10 longshore workers refused to work on J20 to protest Trump and the attacks on unions, working people and minorities. As a result the largest container facility in Northern California could not operate and was forced to shut down.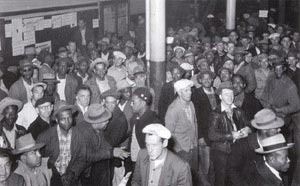 ILWU's Trump protest shuts down Oakland terminal
Oakland International Container Terminal, the largest container facility at the Northern California port, was shut down Friday as longshoremen were protesting the inauguration of Donald Trump.
Oakland's three other container terminals maintained yard and gate operations, though they were not working the vessel operations while the matter was being handled through the arbitration process. Job actions by International Longshore and Warehouse Union Local 10 in Oakland have occurred sporadically over the years involvinggeopolitical events as well as labor-management issues as the Northern California local has a history of militant unionism.
James McKenna, president of the Pacific Maritime Association, confirmed Friday that only 35 longshoremen accepted positions for the Friday shift. That is about 10 percent of the labor requirements. The employer group immediately requested arbitration, and a ruling is expected later on Friday, McKenna said.
Port of Oakland spokesman Mike Zampa said the port's other container terminals — TraPac, Everport and Matson — were open for yard and gate operations, but they were not working vessels.
A spokeswoman for the ILWU said Friday the headquarters staff was looking into the matter. Reportedly the job actions were being taken to protest the Trump inauguration, but none of the organizations could confirm that point.
The fact that the other three terminals were working the yards and gates but not the vessels could indicate that the skilled-category ship-to-shore crane operators did not accept those positions on Friday, but that could not be confirmed.
ILWU 10 Members Speak Out On Trump, Capitalism & The Need For Workers Party
https://youtu.be/X8496cw13EY
The day before the inauguration of President Trump, ILWU Local 10 members and leaders in San Francisco talk about what the election of Trump means for working people, what needs to be done to defend labor and the growing repression. They also discuss the need for a democratic labor party that will represent all working people.
Additional media:
https://www.youtube.com/watch?v=ABosvjawnj4
https://www.youtube.com/watch?v=tbemaZJIdzQ
https://www.youtube.com/watch?v=2Gp503j9WSk
https://www.youtube.com/watch?v=eeOl-3nbvKI
https://www.youtube.com/watch?v=3JUpBpZYwms
https://www.youtube.com/watch?v=08gc9lRReeE
Production of Labor Video Project
http://www.laborvideo.org
ILWU Local 10 Longshore Workers Join Walk-out by UAW 2865 UC Graduate Students in Northern California
January 19, 2017 10:20 PM
by KPFA Pacifica WorkWeek Radio
WorkWeek radio has learned ILWU Local 10 longshore workers will be joining the work protest by UAW 2865 UC graduate students on President elect Trump's January 20 inaugural day. Longshore workers were interviewed about their fear and concerns. Former ILWU Local 10 president Trent Willis said that he was worried that his son who has autism will lose his medicaid coverage if Trump and his cabinet shutdown ACA.
Other longshore workers talked about the need to oppose the repression including at North Dakota Standing Rock Native Reservation. The local has sent a delegation and donation to the Standing Rock tribe and delegates were angry to hear today that journalists are being shot at with rubber bullets. Also the North Dakota National Guard has sent rocket launchers to supposedly guard the DAPL pipeline construction project.
UAW 2865 UCB union members and leaders have been meeting with longshore workers and discussing their struggle for free public education at UC and making it a sanctuary for undocumented students threatened by plans by the Trump administration for mass migration raids.
The closure of Bay Area ports by the work action combined with the UAW 2865 graduate students and support action by IATSE Local 16 makes these actions the most significant work actions nationally. The San Francisco Labor Council is supporting a picket of a Carl's Jr. in San Francisco and then labor delegations will be joining a march from the UN Plaza.
The AFL-CIO has urged its affiliates to attend the January 21 march in DC and marches around the country but are not supporting any national labor march or even national labor conference on how to fight the coming attacks on labor by President Trump and his reactionary cabinet.
There will be a full report on KFPA WorkWeek Radio on Tuesday 3:30 PM to 4:00 PM at 94.1 FM KPFA.org
KPFA Pacifica WorkWeek Radio
workweek [at] kpfa.org
https://soundcloud.com/workweek-radio
We are 100% volunteer and depend on your participation to sustain our efforts!
Get Involved
If you'd like to help with maintaining or developing the website, contact us.