From the Open-Publishing Calendar
From the Open-Publishing Newswire
Indybay Feature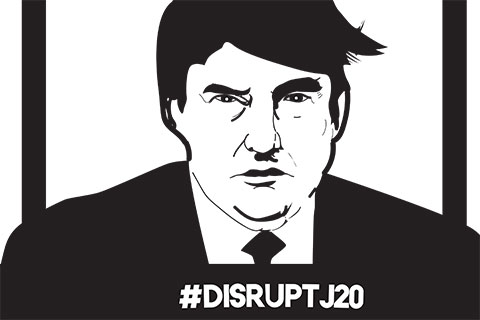 Sun Dec 18 2016
(Updated 01/29/17)
Mobilization Against the Coronation of Trump
#DisruptJ20: Nationwide and Bay Area Call-outs for General Strike Against Trump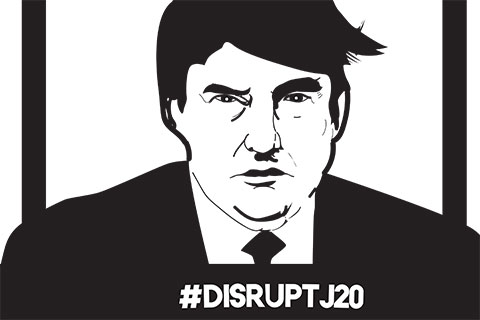 A large coalition, including CrimethInc. Workers' Collective, is calling for a bold mobilization against the inauguration of Donald Trump. In addition to Washington D.C., protests will also be held in Oakland, San Francisco, San José, Palo Alto, Santa Cruz, Monterey, and communities throughout the so-called United States.
A widely circulated call to action states, "On Friday, January 20, 2017, Donald Trump will be inaugurated as President of the United States. We call on all people of good conscience to join in disrupting the ceremonies." The call to action continues, "Trump stands for tyranny, greed, and misogyny. He is the champion of neo-nazis and white Nationalists, of the police who kill the Black, Brown and poor on a daily basis, of racist border agents and sadistic prison guards, of the FBI and NSA who tap your phone and read your email. He is the harbinger of even more climate catastrophe, deportation, discrimination, and endless war."

Read More | Publish your J20 reports, photos, video and audio to Indybay
San Francisco

Bay Area Residents Begin Inauguration Day By Shutting Down Caltrain's South Bay Service
|
On J20 SEIU 1021 SF General A Hospital Healthcare Workers And Docs Protest Trump Agenda
|

ILWU10 Members Speak Out On Trump, Capitalism, The Need For Workers Party And Take Action

SF - Bay Area Dump Trump
, 8am |

A Protest Action of Conscience and Resistance: No Wall! No Mass Deportations! No "Muslim Registry"!
, 8am |

Bay Area Resist Trump / Marcha "Resistamos a Trump"
, 9am |

Labor Contingent — Dump Trump events
, 4:30pm |

SF Protest Against Trump on Inauguration Day: Fight Racism, Defend Immigrants!
, 5pm
Oakland

Public Land in Oakland Reclaimed For Community Housing and Services by Homeless Residents, Activists
|

ILWU's Trump protest shuts down Oakland terminal

General Strike - #J20 and Beyond!
, 7am |

Baby bloc @ Oakland general strike
, 1pm |

Tech Workers for Racial Justice
, 10am |

Labor March, Telegraph and Broadway, Oakland, 12pm |

Requiem for a Dream: A Resurrection of Hope
, 5pm |

J20 Shutdown Carl's Jr, Hardee's and Green Burritto (everywhere)
Berkeley

J20 Strike Community Organizing Day
, 9am |

#J20 at UC Berkeley
, 9am |

J20 UC-Wide Walkout - UC Student-Workers Union
, 12pm
San Leandro

San Leandro Democratic Club - Protest Trump Inauguration Day
, 11:30am
Santa Rosa

Sonoma County Inauguration Day Protest: Wake Up, Organize, Resist
, 3pm
Palo Alto

Inauguration Day Protest: Not Our President!
, 5pm
San José

Rise Up for Justice Inauguration Day
, 11am |

Disrupt J20: Rally and March Against Trump
, 7pm
Santa Cruz

Inauguration Day Protest Blocks Streets in Santa Cruz
|

J20 Inauguration Protest, March and Rally

J20 General Strike Santa Cruz
, 11am |

J20 Inauguration Day WALK OUT at UCSC
, 9am
Monterey

People's Rally for Unity and Equality
, 1pm
Sacramento

Not My President! Inauguration Day Protest
, 12pm
UC Davis

J20 UCD Walkout
, 12pm
Fresno

Vigil for Peace and Justice
, 8am |

Not My President - Fresno Event
, 6pm
Richmond
Student Walkout

Bang the Pots
, 6pm (everywhere)
See Also:

Remarks from Bettina Aptheker on Inauguration Day
|

On The Propriety Of Punching Nazis, An FAQ
|

Against Trump or Against Capitalism?
|
Democracy Now Live Broadcasts Jan 20-21 Inauguration & Women's March on DC
|
Redefining The National Strike
|
Should someone 5150 Trump for being a threat to himself and everyone else?
Related Features:
Millions of Women Take a Stand Against Trump the Day After Inauguration
|
Reclaiming King's Legacy in the Age of Trump
|
We've Got a Bigger Problem Now
We are 100% volunteer and depend on your participation to sustain our efforts!
Get Involved
If you'd like to help with maintaining or developing the website, contact us.