From the Open-Publishing Calendar
From the Open-Publishing Newswire
Indybay Feature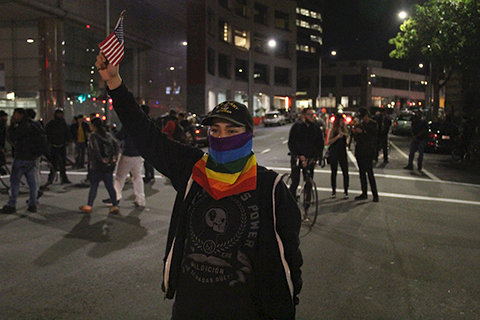 Mon Nov 14 2016
(Updated 11/29/16)
We've Got a Bigger Problem Now
With Election of Trump as Next US President, Cities Across the Country Rise Up in Protest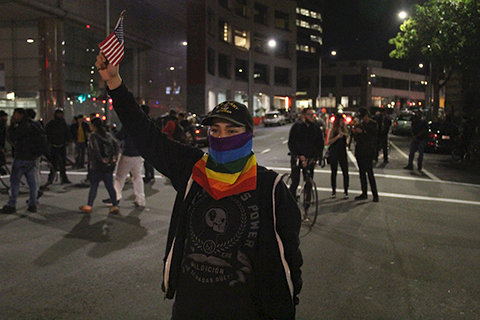 The first anti-Trump protests began almost immediately, shortly after election results were announced. In Berkeley and Oakland, hundreds of protesters marched through the streets, spray painting anti-Trump graffiti and lighting garbage fires. Spontaneous protests sprang up in Seattle, Portland, Pittsburgh, Los Angeles, and other cities.
By the evening of November 9, protesters poured into the streets across the country. Even as they rallied and marched in defiance of a Trump presidency, demonstrators were still processing the reality that the next president of the United States will be a narcissistic demagogue who bragged he sexually assaulted women, called for the deportation of millions of immigrants, and proposed banning Muslims from entering the country. Trump's campaign was built on white supremacist and nativist tropes, and he won the election by dominating the white vote, primarily white men. People are pissed — and people of color especially are worried about what is to come.
In many cities, demonstrations continue on a daily or near-daily basis. There is no end in sight as Trump assembles his administration Calls have gone out to
disrupt inaugural events
on January 20 and for a
Women's March on Washington
on January 21.
Publish your Trump protest photos and video to Indybay!
Oakland:
Update on Oakland Anti-Trump Protest Arrests and Support Work
|


Fuck Trump: Protesters Defy More Aggressive Police, Take Freeway on Day Two
Occupy 2.0: Resistance and Transformation in the Age of Trump
(Nov 20) |

Hundreds of Oakland High Schoolers Walk Out of Class to Protest Trump
|

Fuck Trump: Oakland Police Lose Control of the Streets on Day One
|

Davey D Street Interviews at Oakland Anti-Trump Protest After Election
|
Oakland School for the Arts: No Trump, No KKK, No Fascist USA
|

March to Stop Trump's attacks on immigrants, democracy, equality
|

March to Stop Trump's Attacks on Equality (Oakland)
|

Peaceful Trump Response: Join Hands Around Lake Merritt
|

Protest Trump in Oakand
|
Fuck Trump: Resistance begins with pre-dawn graffiti
Berkeley:
Thousands protest in Berkeley in wake of Trump election
|

Anti Donald Trump March Against White Supremacy
San Francisco:

SF Protest Against Trump on Inauguration Day: Fight Racism, Defend Immigrants!
(1/20/17) |

This is Not Normal: Anti-Trump March in San Francisco
(12/10) |

Fuck Trump March and Sit in at 555 California
|

Spontaneous anti-Trump post-it protest
|
Citing Climate Crisis, Trump Presidency, San Francisco Supervisors Ban Fossil Fuel Extraction on City-owned Lands
|

SF Dump Trump Rally & March
(Nov 19) |


Post Election Protests
|
Post-Election Political Roundtable
(Nov 19) |

Emergency Protest: Trump Says Get Back, We Say Fight Back!
Santa Cruz:

Santa Cruz Residents Begin Organizing for a General Strike on Inauguration Day
|

March Against Trump Oppose Xenophobia and Racism in Santa Cruz
|

Fighting Trumpism Against the Homeless in Santa Cruz: Freedom SleepOut #71
(Nov 15) |

Santa Cruz High School Students Walk Out to Protest Donald Trump
|

UCSC Students Organize Third Anti-Trump Demonstration Since Presidential Election
|


Massive Protest at UC Santa Cruz as Trump is Elected
Salinas:


Fuck Trump Rally
|

Fuck Trump protest in Salinas!
Hollister:

San Benito High School Students Walkout Declaring "Not My Prez"
Palo Alto:

No to Grabbing/You are Not My President
San José:

Post-Election Rally: We the People Demand Action!
Santa Rosa:

Solidarity with Marginalized Communities
Fresno:
March and Rally Against Trump
|

Fresno Rejects Hate!
Washington D.C.:

#DisruptJ20: Call for a bold mobilization against the inauguration of Donald Trump
|

Women's March on Washington - January 21, 2017
See Also:

Fuck Trump, But Fuck You Too: No Unity With Liberals
|

Trump: What How What
|

Meet Your New Overlord!
|
Secession
|

The Electoral College Giveth, And The Electoral College Can Taketh Away
|
U.S. Electile Dysfunction--A Tyranny of the Minority
|
Exit polls suggest that Trump's big "victory" was stolen (just like Hillary's nomination)
|
A Trump administration will probably be hostile to affordable housing programs
|
New Site to Make Donations to Great Orgs for People Raging About Trump
|
Trump appoints enemies of salmon, Delta and environment to transition team
|

#DisruptJ20: trump supporter voicemail to Indybay
|
ACLU of Northern California Condemns Anti-Muslim Attack in San Jose
|
Many of us woke up confused, scared, shocked and traumatized
Related Features:
History Teacher Suspended for Comparing Rise of Trump and Hitler
|
Long National Nightmare of the 2016 Election Is Almost Over
|
Trump Forced to Sneak Through Fence to Reach California GOP Convention in Burlingame
We are 100% volunteer and depend on your participation to sustain our efforts!
Get Involved
If you'd like to help with maintaining or developing the website, contact us.