From the Open-Publishing Calendar
From the Open-Publishing Newswire
Indybay Feature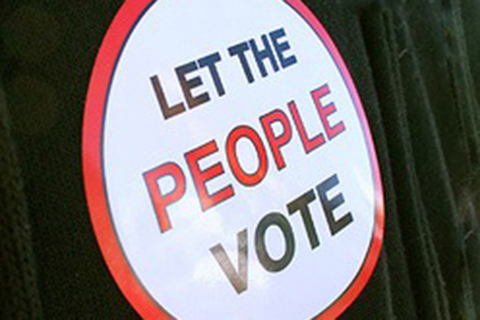 Mon Nov 7 2016
(Updated 11/16/16)
Long National Nightmare of the 2016 Election Is Almost Over
On the Ballot: President, Congress, 17 State Propositions, Local Measures & Officeholders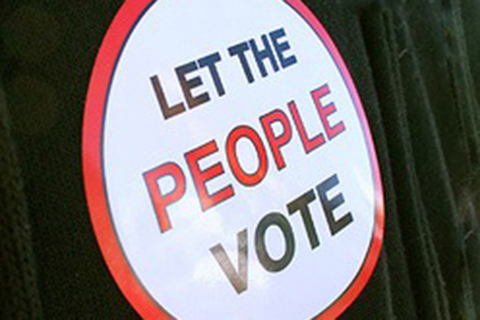 UPDATE:

...And a new four-year nightmare is about to begin.
Donald Trump will be the next President of the United States. For coverage of the first anti-Trump protests across Northern California, see
We've Got a Bigger Problem Now
.
Considering the campaign for president currently lasts nearly two years, made worse by the two major political parties selecting nominees with the highest unfavorable ratings ever for presidential candidates, most of the country is ready for the election to be over already. Of course, the two-party partisan rancor will be anything but over no matter who wins or loses. And the fascists and racists Trump has riled up won't be going anywhere.
In California, there are an astounding 17 state propositions on the ballot this time around, everything from legalizing cannabis to extending taxes on the rich, from lowering prescription drug prices to competing measures regarding the death penalty. Additionally, Californians will be voting for a US Senator to replace Barbara Boxer (Will Dianne Feinstein ever retire?) and dozens of members of the House of Representatives, as well as over one hundred state Assembly and Senate members.
Locally in six Bay Area cities,
new renter protections
are on the ballot. Oakland will vote on a charter amendment for a new Police Oversight Commission. Hundreds of local politicians are up for a vote and a wide variety of measures will be decided.
Millions of principled anarchists and others choose not to vote at all, believing elections are a meaningless charade in our capitalist system, or that — to borrow a turn of phrase from Cleve Jones in the movie Milk — elections are a
fucking bourgeois affectation
. For the roughly 70% of eligible voters who do vote in California in presidential years, or those who are simply interested in issues surrounding the election, this is Indybay's round-up of related coverage.
While Indybay has not received comprehensive reports on everything and everyone up for a vote in every Northern California district on Tuesday, November 8, those who've chosen to
publish
their reports and recommendations have covered a variety of the issues at stake. Without further ado, here's what they have to say.
---
Check the newswire on Indybay's Government & Elections News page for the very latest, as well as responses to election results.
U.S.
The FBI intervenes in the 2016 election
|

My Answer to the Question--Why on Earth Would Anyone Vote for Bernie?
|
OpDeny270 is a Strategic Plan, to Write In Bernie Sanders, and Force a 12th Amendment Vote
|
The 2016 elections and the dead-end of "lesser evil" politics
|
Is the US election rigged?
California


Voting Recommendations on Stir it Up radio show
|
Abolish Death Penalty (Yes on 62 & No on 66); Legalize Marijuana (Yes Prop 64)
|

WSPA tops lobbyist spending with $16.6 million this session
|
Proposition 57: A Vote For Justice
|
The marijuana election is days away!
Santa Rosa
Special investigator to probe anti-rent-control petition complaints in Santa Rosa
Richmond
Richmond Mayor accepted CAA contributions before he voted no on eviction moratorium
|
Richmond Mayor & two council members block emergency eviction and rent increase moratorium
Oakland

West Oakland: Do Not Vote for Oakland's Most Corrupt Councilmember, Lynette Gibson McElhaney
|

Oakland's Police Commission is needed as a step to reform
|
Oakland City Council Cmte to Consider Censure of Council President Thursday
|

Passionate Challenger Shakes Established Incumbent in West Oakland City Council Race
|

Alameda County Green Party voter guide
San Francisco

Developers And Lobbyists Double Down For SF Supervisor Candidate Hillary Ronen
|

San Francisco Green Party voter guide
San José

Post-Election Rally: We the People Demand Action!
Santa Cruz

Invisible Still?
|
Statement of Steve Pleich Campaign
|

Benefit Concert for a Brand New Council
|
Time for Serious Consideration of Rent Control Ordinance
|

Drew Glover for Santa Cruz City Council Fund raising event
|

Drew Glover for Santa Cruz City Council 8-18-2016
|

Drew Glover for Santa Cruz City Council 2016
Monterey County

Ban Fracking: Yes on Z
Green Party voter guides

Alameda County
|

San Francisco
Recent Election-Related Calendar Events:

Tim Redmond: The November Elections & Future of San Francisco
|

Jill Stein for President: Final Bay Area Campaign Rally
|

Jill Stein for President Campaign Rally
|

Open Discussion of the 2016 Elections
|

Forum/Foro: Trump is Poison, but is Clinton the Antidote?
|

The AfterBern: What comes next after the Sanders campaign?
|

Lies, Bribes, and Elections
|

The Real Presidential Debate
|

Elections 2016: Racist Bigots and Imperialist War Hawks
|

Speak Out Against the Proposed Camping/Loitering Ordinance at Salinas City Council Meeting
Related Features:
Fight Over Skyrocketing Bay Area Rents to Hit the Ballot Box
|
D is for Dilemma in Santa Cruz County
|
Big Money Candidates Raise Twice that of Progressives in SC City Council Race
|
"Bye Libby" Campaign Collecting Signatures for Special Election to Remove Oakland Mayor
|
San Francisco March/Rally In Solidarity with DNC Protests
|
Call Goes Out to Let Oaklanders Vote on a Strong Police Accountability Measure
|
California Almost Mattered This Time, Sort Of: On Primary Eve, Trump Already Republican Nominee & Corporate Media Calls Democratic Race
|
Richmond Activists Wrap Up Renter Protection Signature Gathering Campaign
|
Trump Forced to Sneak Through Fence to Reach California GOP Convention in Burlingame
|
Oakland Justice Coalition Pushing for Radical Change at the Ballot Box
We are 100% volunteer and depend on your participation to sustain our efforts!
Get Involved
If you'd like to help with maintaining or developing the website, contact us.