From the Open-Publishing Calendar
From the Open-Publishing Newswire
Indybay Feature
West Oakland: Do Not Vote for Oakland's Most Corrupt Councilmember, Lynette Gibson McElhaney
Oakland City Council President Lynette Gibson McElhaney is about as shady as a politician can be without ending up in prison. It's not a secret. Everyone knows she's corrupt. She's a grifter who will abuse any levers of power she can get her hands on. The East Bay Times euphemistically calls her "
ethically challenged
" but still bizarrely endorses her re-election. Perhaps they should read more of the reports on her corruption by Darwin BondGraham, as well as Ali Winston, Steven Tavares, and Robert Gammon
(see linked articles below)
.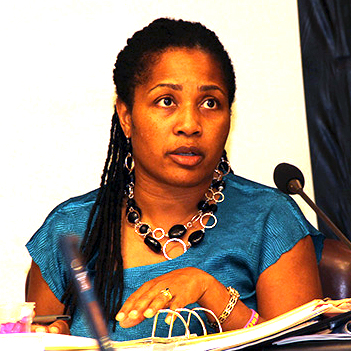 This reporter first realized Lynette Gibson McElhaney was full of shit at a council meeting in the first year or so of her first term. I can't recall exactly what the issue was, but a large number of people were protesting from behind the seating area in council chambers. McElhaney came to the back of the room to speak with protesters, to try to calm things down. After she'd spoken with a number of folks, I stepped up and asked her what she and the council were going to do about Oakland's ongoing foreclosure crisis. I had my Indybay press credential around my neck and one or two cameras in my hand.
I expected a certain level of political spin for an inquisitive reporter, but at least some kind of attempt to feign interest in the crisis. Much to my surprise, she casually answered that if
I
was interested in the housing crisis,
I
should write a letter to Elizabeth Warren, the US Senator from Massachusetts. A letter, really?!? That was her best answer on what she and the council would do to stop the bleeding? Dumbfounded, I didn't know how to follow up on her complete lack of interest in the massive displacement happening all across the flatlands of Oakland. And so, after casually avoiding my question, she wandered away to pawn off her bullshit on someone else.
It wasn't long until it became apparent why McElhaney was so flippant about the suffering of long-time homeowners being kicked out of their homes, many losing houses that had been in their families for generations. [The tidal wave of foreclosures would later lead to the Oakland renter crisis as speculators and real estate interests scooped up thousands of homes, evicted renters, and jacked up monthly rents to rates amongst the highest in the nation].
McElhaney wasn't concerned about people losing their homes. Besides being safe in her own home ownership, she personally profited from the same displacement that was devastating the city. She was
flipping homes
herself. And not just for her own gain. She likewise used funds from a Richmond nonprofit she controlled to
enrich her sister
and
sketchy business partners
. She claimed in 2014 that at least some of the house-flipping was intended to raise money for a
veterans housing initiative
. No word on whether any such housing will ever actually be realized.
Despite taking an exorbitant salary from her position at Richmond Neighborhood Housing Services, the nonprofit which she still promotes in campaign mailers as a reason to re-elect her, she failed to pay more than
$150,000 in federal taxes
in 2006, 2008, and 2009. And even while the nonprofit lost $313,000 between the years 2008 and 2012, McElhaney was paid $587,000. Questions remain as to whether Richmond Neighborhood Housing Services has violated its tax-exempt status by engaging in for-profit activities.
Strangely, even after much of this news went public, her fellow council members thought it would be a good idea to elect her
council president
in 2014. Never mind the fact that McElhaney "
repeatedly violated
city, state, and federal laws." It's unclear what spell she's cast over them. Perhaps they are afraid that holding any other member accountable will come back to haunt them some day.
Similarly, this October, the council declined to
censure McElhaney
for illegally exploiting her position on the council to
stop a housing development
next to her own house on 32nd Street. A
grand jury
finding of serious ethical violations in the matter didn't seem to compel the council to take any sort of action. Instead, the council chose to protect McElhaney's re-election bid by pushing off any censure consideration until
after
the coming election.
Should I Go On?
McElhaney has been fined at least twice for campaign finance violations, in
March 2015
and
September 2015
. A large share of her contributions come from
real estate interests
, some of which
may be illegal
.
Of course, it's just a big coincidence that she supports and repeatedly voted in favor of the luxury development on the East 12th Street parcel of city land by Lake Merritt and then her
husband received
thousands of dollars of work from the developer, UrbanCore. No conflict of interest to see there. Move along people.
I'm not so petty as to oppose her re-election for this, but in the summer of 2015, McElhaney
blocked me
on social media for asking a straightforward question to her and other city leaders. She was the only one who responded that way.
(I suppose she's never going to unblock me after this piece.)
It shouldn't be surprising, however, that she swats away questions she doesn't want to deal with like pesky flies. McElhaney regularly
avoids taking responsibility
for her bad behavior and even cancelled two of the Rules Committee meetings at which the her censure was to be discussed. Further, she skipped a council meeting to
avoid accountability
just last month.
Speaking of avoiding accountability, apparently McElhaney has been ignoring subpoenas related to her abuse of office and misuse of public resources in stopping the development next to her house. So, the Oakland Public Ethics Commission filed a lawsuit against McElhaney, alleging that she's stonewalled their investigation. A Superior Court judge agreed and, on November 3, ordered her to comply with the PEC subpoena by November 23.
Knowing she's in hot water, McElhaney formed a "
legal defense fund
." Maybe some of the money she grifted flipping houses with her supposed nonprofit's money, or the salary she continues to pull from Richmond Neighborhood Housing Services, will pay the legal bills. Perhaps her real estate donors will step in. However she finances her resistance to being held accountable, she appears to have successfully pushed it all past this year's election.
Keep in mind, even with all of that, this is not a fully comprehensive list of her public shenanigans. And who knows how many other creepy, self-dealing corrupt acts have yet to be discovered?
Oakland's District 3 Deserves Better
West Oakland deserves honest representation. Really, about anybody would be better than McElhaney, by far. Her most promising competition in 2016 is
Noni Session
, a 3rd generation West Oakland resident.
Oakland Magazine
calls her the most progressive candidate running for City Council. Noni is endorsed by the
East Bay Express
, SEIU 1021, Alameda Labor Council, National Union of Healthcare Workers, Oakland Alliance, ACCE Action, Oakland Rising Action,
Green Party of Alameda County
, and the John George Democratic Club, among others. If you are a registered voter in West Oakland, please,
vote for Noni Sessions
on November 8.
But Don't Just Take My Word for It
Check out the articles listed below as "Additional Reading" for plenty of more details on how absolutely undeserving Lynette Gibson McElhaney is of your vote. Follow the "Read More" links for the full stories.
We are 100% volunteer and depend on your participation to sustain our efforts!
Get Involved
If you'd like to help with maintaining or developing the website, contact us.