From the Open-Publishing Calendar
From the Open-Publishing Newswire
Indybay Feature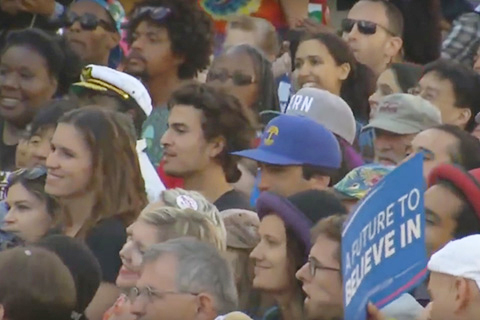 Mon Jun 6 2016
(Updated 06/08/16)
California Almost Mattered This Time, Sort Of
On Primary Eve, Trump Already Republican Nominee & Corporate Media Calls Democratic Race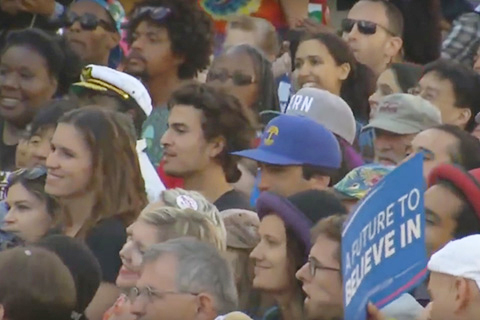 Despite being the most populous state in the nation with nearly 40 million residents and 18 million registered voters, California votes last of all the states in the presidential primaries. Major party nominees are usually declared well before voters in the state get their say. Only the District of Columbia votes later in the primary season this year. Californians are not used to seeing a large number of campaign appearances by presidential candidates.
This year promised to be different, Democratic Socialist Bernie Sanders has been barnstorming across California, making dozens of campaign appearances in cities throughout the state. The Vermont Senator's heavy play for California's 475 pledged delegates forced Hillary Clinton to campaign more aggressively in the state than she originally intended, bringing about a much more competitive race than is typical. The latest polling showed Sanders and Hillary in a statistical dead heat before the June 7 democratic primary.
Donald Trump already was declared the presumptive Republican nominee on May 26, and then corporate media outlets called the Democratic race for Hillary Clinton on June 6, before polls even opened in California. Sanders had been hoping a victory in California would strengthen his case for having the momentum heading toward the Democratic presidential convention, even though he is behind in the delegate count. Instead, the media calling the race for Hillary is expected to depress turnout in California and the five other states voting on June 7.
While the Democratic and Republican presidential primaries get the most attention regarding the June 7 election, there is also a statewide U.S. Senate primary and a California proposition for voters to decide. Additionally, in counties and cities throughout the state, there are primaries for U.S. Congress, races for the state legislature, and local officials such as judges and council members to be chosen, as well as numerous ballot measures.
Election Day (Green Voter Guide Info for SF and Alameda Counties)
|

Sanders In The Mission: People Speak Out About Their Lives & Struggles
|


Bernie Sanders in Fresno
|

Bernie Sanders in Santa Cruz 5-31-2016
|


Bernie Sanders rallies in Oakland before California primary, 5/30/16
|

Dozens of Animal Rights Activists Rush Sanders' Stage, Demanding "Animal Liberation Now"
|

Salinas Protest of Hillary Clinton
|

Anti-Hillary Clinton Action in Salinas
|

DNC Tells Sanders/NNU That They Did Not Want Another Labor Rep On DNC Platform Committee
|

Vote Your Hopes, Not Your Fears: Building the Green Party
|

Rally with Jill Stein at Berkeley Post Office
|

2016 Election: What's at Stake?/Elección del 2016: ¿Qué está en juego?
|

2016 Elections & Foreign Policy: Presidential Candidates & the Role of the Peace Movement
|

An electoral process that goes beyond Bernie - A Communist presentation
|

The History of Socialism in America
|

Bernie's Plan - Save, improve, & Expand Social Security
|

Elections 2016 at a Crossroads: Where do we go from here?
|

The June Ballot
|

Two Sides of the Sanders Campaign
|

Bernie Sanders and the History of the "S" Word
See Also:
Has Sanders Betrayed His Revolution by Endorsing Jane Kim?
|
61 Reasons To Dump Hillary Clinton
|
How To Contact The 544 Unelected Antidemocratic Superdelegates Pledged To Clinton
|
Only about half of the money was actually paid out to veterans groups
|
Are you with Hillary? Why?
|
The 12 Wars And Bombed Countries of Clinton and Obama
|
Who Is The Real Jane Kim?
|
Cabrillo College Foundation bankrolling Yes on Q campaign
|
And Here's Another Thing the Clinton's Fucked Up
|
US policy in Honduras must change
|
An Anarchist Take on the Trump Campaign
Related Feature:
Anti-Trump Protesters Shut Down Roads to Republican Convention
We are 100% volunteer and depend on your participation to sustain our efforts!
Get Involved
If you'd like to help with maintaining or developing the website, contact us.