From the Open-Publishing Calendar
From the Open-Publishing Newswire
Indybay Feature
Who Is The Real Jane Kim?
Bernie Sanders is now supporting San Francisco Democratic party supervisor Jane Kim. Her history in San Francisco shows that she has supported privatization of the parks, privatization of education and attacks on public workers pension and healthcare benefits.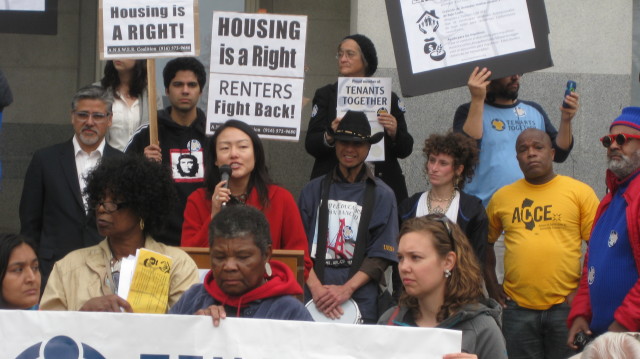 Why Is Sanders Supporting Privatizer Jane Kim In San Francisco In His Plans To "Reform" The Democratic Party?
Who Is The Real Jane Kim?
By Steve Zeltzer
KPFA WorkWeek Radio
workweek [at] kpfa.org
5/28/16
Using his considerable national support Bernie Sanders is now spreading his weight around in supporting supposedly "progressive" Democrats to "reform" the Democratic party. One of his latest is San Francisco Democratic party Supervisor Jane Kim who is running against Supervisor Scott Weiner. Weiner has a long record of supporting the continued repression by former San Francisco police chief Greg Suhr and also supporting every developers plan to gentrify San Francisco and privatize city services. The real record of Kim however raises serious questions about who she really represents.
The Real Jane Kim
Kim originally ran as part of the San Francisco Green party slate but then dumped that them and joined the Democrats to get ahead. The record of Sander's choice raises real questions about his idea of what "reforming" the Democratic party means.
Jane Kim in 2011 supported an anti-labor Prop C which attacked the pensions and benefits of San Francisco City and County workers. It was put together with the support of billionaires and top union officials to make city workers pay more. The bill was put on the ballot by Ed Lee and supported by the San Francisco Chamber of Commerce and billionaires like Warren Hellman. It has meant an actual cut in pension benefits for thousands of San Francisco city workers and real wage cuts for new city workers who have to pay more for the pension plan. This is while the major corporations are getting tax breaks which Kim has supported.
Subsidies For Tech Billionaires
When corporate controlled Mayor Ed Lee who is also a close friend of tech titan liked Ron Conway a part owner of Airbnb wanted to get tax subsidies for Twitter and other tech companies, Kim was an active backer. She pushed for subsidies that not only cost the city tens of millions of dollars but also has escalated the gentrification of the mid-town district as rents have skyrocketed.
http://www.sfgate.com/news/article/Twitter-will-get-payroll-tax-break-to-stay-in-S-F-2375948.php
Privatization of San Francisco Parks
Earlier Kim also helped Mayor Ed Lee's privatization of SF Parks and Rec and it's corporate driven director Phil Ginzberg. Ginzberg recently had to backtrack after a large protest began to develop when he moved to charge people to get space at the newly renovated Dolores Park. Kim and Weiner both protested the fees after it became a public rallying point in the city with a anti-fee website that received 7,000 endorsers.
Previously however Kim had supported fees at the San Francisco Botanical Gardens which is part of the growing privatization of the parks and common spaces in San Francisco
http://www.fogcityjournal.com/wordpress/5637/how-the-wealthy-stole-55-acres-of-golden-gate-park/
She also voted to use astroturf the Ocean Beach soccer fields which was the agenda of the Fisher-run "Fields Foundation." The astroturf material has raised serious question about the children's health dangers who play on these fields since the toxic material they play on ends up in the air.
http://www.usatoday.com/story/news/2015/03/15/artificial-turf-health-safety-studies/24727111/
According to anti-privatization community activist Harry S. Pariser, "Kim has shown strong support for park privatization through her votes to privatize the former Strybing Arboretum and hand it over to the San Francisco Botanical Garden Society, accept the "gift" of a new building complex (opposed by the Sierra Club) in the "Botanical Gardens" and to hand a sweetheart 30-year contract to the San Francisco Botanical Garden Society for their new complex. She also worked with the notorious elitist Parks Alliance to put through the $195-million 2012 "Clean and Safe Neighborhood Parks" bond which was opposed by Matt Gonzalez, Aaron Peskin and the Haight Ashbury Neighborhood Council.
https://www.youtube.com/watch?v=CyUB8TKt6xs
Treasure Island Cover-up
Jane Kim has also backed corporate developers in kicking people out of low cost housing on San Francisco owned Treasure Island. Kim offered no help when the entire Island of Yerba Buena will be evicted in order to build luxury condos on that land that developers wanted. Tenant groups met with Kim and rallies were held but to no avail. Kim has also been silent about the dangerous levels of toxins and rise of cancer at Treasure Island. OSHA whistleblower Michael Madry who blew the whistle on H.I.G. owned Test America which did some of the environmental testing at Treasure Island falsified the tests for the developers. At the time Ed Lee and City and County of San Francisco have been involved in a massive cover-up of the dangerous hazards at these sites. The city has allowed the firing and retaliation against health and safety whistleblowers not only at Treasure Island but also at Hunters Point/Bayview. Kim has been completely silent about this criminal cover-up and retaliation against OSHA whistleblower which was exposed on NBC investigative reports.
http://www.nbcbayarea.com/news/local/Navy-Subcontractor-Breaks-Silence-About-Radiation-Contamination-at-Treasure-Island--235499911.html
https://www.youtube.com/watch?v=kQ3zii0T3z4
https://soundcloud.com/workweek-radio/ww2-17-15-osha-whistleblower-from-testamerica-michael-madry-interviewed
Jane Kim Backing Privatization of Education Through Charters
The latest example of Jane Kim's anti-labor role is her open support for privatization of education through charters.
Kim in answer to a questionnaire from AFT 2121 which represents faculty at San Francisco City College was crystal clear that charters and privatization is an important part of the solution to the education crisis.
"we must continue improving our education system in order to close the achievement and opportunity gap. These improvements can be made by nurturing the role of charter schools in our system, protecting the due process rights of our educators, and eliminating the voucher program and reinvesting those funds back into our public schools."
More from Kim on charter schools: Question 4. What is your position on charter schools?
Kim: Charter schools serve as an important space where minority students and low ­income communities may receive education that is critical for gaining skill and knowledge. Not limited to serving any specific community, charter schools are also essential for talented students that excel in any given area to receive the continued training that is essential for their growth. Offering an alternative environment for students, charter schools serve as a necessary option for education by integrating both characteristics of a public and private schools. I have supported existing charter schools reauthorizations in San Francisco that have demonstrated successful outcomes for students and I have voted against new charter authorizations, many of whom do not have a track record of success. I support successful schools with thriving classrooms that include teachers and other educators in the decision making process. I will support legislation to enhance local school boards' ability to deny charter applications to make charters more transparent in providing data concerning suspensions and expulsions of students.
http://www.aft2121.org/2016-election-candidates/
and/or
http://www.aft2121.org/wp-content/uploads/SD-11-Jane-Kim-Questionnaire.pdf
The reality is that the charters are funded by Bill Gates, Eli Broad, The Fisher controlled KIPP Foundation and the Walmart Walton Foundation, Zuckerberg Facebook Foundation. They have poured billions of dollars into testing schemes profiting Pearson Corporation and have helped re-segregate education in California and the nation while busting teacher unions throughout the country.
The further privatization of education, attacks on public workers will be continued by the so called "progressive" Jane Kim.
We are 100% volunteer and depend on your participation to sustain our efforts!
Get Involved
If you'd like to help with maintaining or developing the website, contact us.