From the Open-Publishing Calendar
From the Open-Publishing Newswire
Indybay Feature
Update on Oakland Anti-Trump Protest Arrests and Support Work
A lot of you have inquired about people who were arrested on the nights of demonstrations against the Trump presidency in Oakland. We wanted to do the best we could to give this update!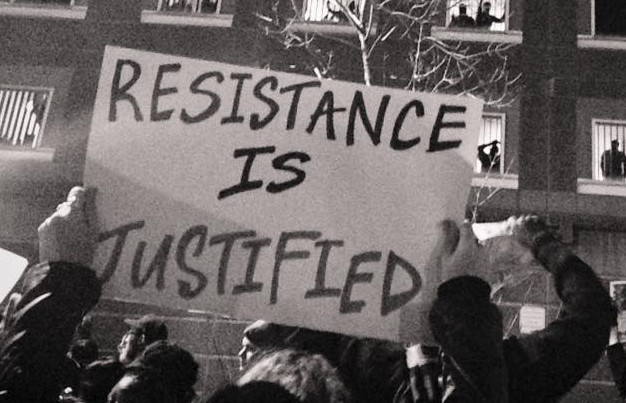 11/19/2016
More than a dozen people had their arraignments on Monday the 14th, three others the next day. Four of these individuals have felonies, many have misdemeanors, and some did not have charges filed.* There are several other people (some of whom may also have felonies and some may be unaccounted for) were either cited and released or bonded out and will have their court dates in December. So far one of those facing charges has expressed a desire to have community support at his next court date. It will be on November 30th at 9am at Rene C. Davidson in downtown Oakland (not to be confused with Wiley Manuel courthouse!) Once we have received consent from other defendants about whether or not they'd appreciate public court support we will post here (under the "Upcoming Court Dates" tab) and on Facebook and (hopefully!) fill the court rooms.
Some of you came and did court support this past week. Some of you sat at Santa Rita Jail waiting for folks to get released. THANK YOU so much! We also know that some folks were hoping to get more information so that they could more effectively offer support and solidarity. We understand that this was frustrating for some people, so we thought it might be helpful if we explained a little bit about how the judicial system works in Oakland, so that people get a better sense of why it's often so hard to get information out to the public.
For starters, the judicial system is (probably by design) extremely hard to navigate and get information from. We, the Anti Repression Committee (ARC), along with the National Lawyers Guild (NLG) are limited to the information that is called in to the hotline. Many people never call in so getting a clear picture of who is in custody, what charges they have, and when their court is can often be impossible. Frequently we know very little until after the arraignments. The arraignments themselves can be very frustrating as well. This week every arrestee was given a court appearance time of 9am, but in fact they all were seen in the afternoon. That was just one curve ball that ARC and NLG volunteers were navigating along with all of the other supporters and defendants. Although we do the best we can to stay afloat on information and share it, sometimes we have no way to give straight forward information to supporters because we simply don't know.
The same ball of confusion exists at the jails as well. Most of the time we do not have a clear idea of who is getting out, who is still in custody, or when people are getting released. We would like to recommend that supporters refrain from going to the jail to give rides unless you have a specific person you plan to pick up, or there has been a mass arrest. The Anti Repression Committee will try to make an announcement if we are aware of folks who need a ride upon their release, but we cannot be relied on for having an accurate list of who is in or out, or in need of rides. If you do go to the jail to greet people as they are released and offer rides, know that folks can – and often do – get released hours apart from one another and late into the night and early morning.
Furthermore, the NLG, which runs the hotline has to keep all of the information they receive confidential just like any lawyer has to uphold lawyer/client confidentiality. This is why you will never read people's first and last names and charges coming from the ARC, except in circumstances when the defendant has expressed that they wants that publicized. The NLG shares with the ARC the court dates they are aware of, but we can only publicize those court dates if we have consent from the defendant(s). Sometimes we don't have the ability to talk to the defendant until the court date and sometimes people do not want public support.
We wanted to demystify some of this confusion because we don't want willing supporters to feel that information is being withheld from them. Sure, sometimes an announcement doesn't make it up on the web because it slipped through the cracks and we're all volunteers, but more often it is because we do not have the information to share. We're in it together, including the frustrations of maneuvering through the extremely hostile and bureaucratic judicial system.
Again, we want to thank everybody that has been so eager to support our comrades over the last week and a half. It is really awesome to see how much people care, and how much people want to make sure that no one feels like they're going through the system alone. We are going to need this kind of solidarity even more in the months to come.
If you were arrested at the anti Trump demonstrations and would like to have supporters in the court room with you please email us at
antirepressionbayarea [at] riseup.net
and we will happily promote your court date. If you were arrested and have not been in touch with the National Lawyers Guild, please call them at 4152851011.
*If the DA does not file charges that does NOT mean the charges are dropped. Charges can still be filed (usually within a year) and arrestees should be vigilant to look out for letters from the DA's office to see if a warrant has been issued.
We are 100% volunteer and depend on your participation to sustain our efforts!
Get Involved
If you'd like to help with maintaining or developing the website, contact us.