From the Open-Publishing Calendar
From the Open-Publishing Newswire
Indybay Feature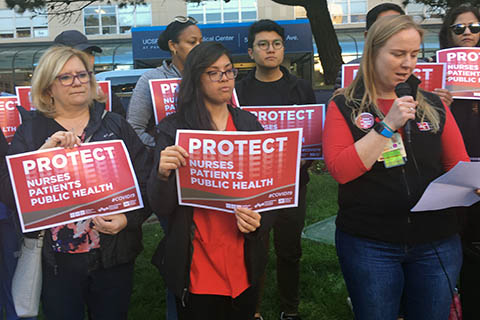 Thu Mar 12 2020
(Updated 03/22/20)
COVID-19 Pandemic Threatens Most Vulnerable Populations
Elderly, Prisoners, Unhoused Persons, Hospital Workers Among Those at Highest Risk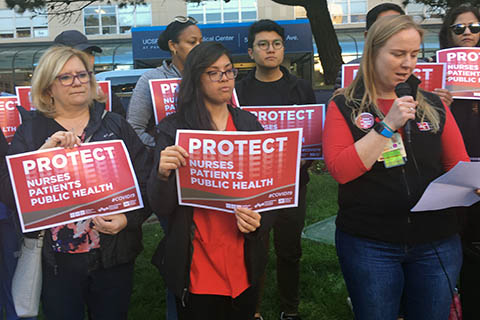 UPDATE, March 16:
Residents of San Francisco, Alameda, Santa Clara, Santa Cruz, San Mateo, Marin, and Contra Costa counties are directed to "shelter in place" as of 12:01am, March 17. Non-essential work, travel, and gatherings are banned. Residents are allowed outside for walks or exercise, as long people maintain social distancing. Those who are unhoused are exempt from the orders. Sonoma, Solano and Napa counties have not made announcements yet.
The World Health Organization officially named COVID-19 a pandemic on March 11. As of that date, over 128,000 cases have been confirmed worldwide and 4,717 people have died (
updated statistics
). Among the most vulnerable are the elderly, the immunocompromised, the prison population, people who are experiencing homelessness, and hospital workers who have a high likelihood of exposure to the contagious virus as they care for the public health.
Critics slammed the Trump administration's response to the outbreak, accusing Trump of downplaying the threat. In January, federal health officials were ordered to treat top-level coronavirus meetings as classified, a step that has restricted information and hindered the U.S. government's response to the contagion. While other countries like South Korea are testing 10,000 people per day, the U.S. has only tested around 10,000 people total to date. No one knows what the true rate of infection is here.
In the San Francisco Bay Area, National Nurses Union CNA nurses at UCSF held a press conference on March 11 to talk about the serious health and safety protection that is critical to healthcare providers and patients. They reported that they have to re-use masks, are understaffed, and there is a lack of communication from management. The contaminated Grand Princess ship is now docked in the Port of Oakland. While the passengers are being evacuated, the crew, which is largely Filipino, is being told that they are be quarantined out at sea after all passengers are disembarked.
Bay Area residents have denounced racism and xenophobic attacks surrounding outbreak-related stereotyping during this crisis. A rally of an estimated one thousand gathered in San Francisco's Chinatown on February 29. Statements from San Jose Peace and Justice Center and other organizations decry racism. Street Sheet, a publication of the Coalition on Homelessness San Francisco, laid out recommendations to San Francisco city officials to support the unhoused and unsheltered individuals of their community.
Santa Cruz
S.C. County Issues Shelter-in-Place with No Shelter or Facilities for Those Outside
|
Santa Cruz Homeless Union COVID-19 Relief Center
|
Santa Cruz County Schools to Continue to Provide Meals for Students
San Francisco
San Francisco Food Not Bombs Is Still Sharing Food
|
San Francisco's Downtown Emptied by Pandemic
|
UCSF NNU-CNA Nurses & Corvid-19 "When Nurses Aren't Safe, Patients Aren't Safe"
|
San Francisco Chinatown Rally: "The Virus is Our Enemy, Not China"
Oakland
Curbside Communities Need Our Support During the Coronavirus Crisis
|
We Need The Community & Longshore Workers ILWU10: Trent Willis
|
ILWU10 & 34 Victory Halting Grand Princess Waste Removal Contaminating Workers/Community
|
Oakland to become dumping ground for coronavirus infected trash from Grand Princess ship
|
ILWU & Migrant Organizations Defend Grand Princess Crew & US Workers
|
Coronavirus eviction protection moratoriums expected to be passed
|
Oakland City Council Authorizes Handwashing Stations, Seeks to Halt Evictions as Pandemic
|
Prisoners On The Grand Princess Petri Dish: Will The Crew Be Quarantined To Die On Ship?
|
Nurses protest weakening of coronavirus (Covid-19) guidance by CDC
|
Oakland to become dumping ground for coronavirus infected Grand Princess cruise ship
Berkeley
Berkeley's Willard Pool Showers Still Operating
|
Come To A Special Discussion On The Coronavirus Pandemic
(3/19)
Marin County
Covid-19 Status Update From Marin
|
Deserted SFO and Empty Shelves at Novato Safeway
|
Coronavirus Scares Tourists Away from Sausalito
California
Jewish Activists Demand Governor Newsom Release Detainees In Light of Covid-19 Outbreak
|
Utility cutoff's restricted for PG&E, AT&T, Comcast, San Jose Water Company, & others
|
We Are All We Got — Resources for Mutual Aid During the Coronavirus Pandemic
|
California senior citizens are on lock-down due to coronavirus
|
We Stand with LA Families Occupying Vacant Homes to Self-Quarantine During COVID-19 Pandemic
|
COLA & Corona
|
Cal-OSHA, Coronavirus, Worker Dangers & Crisis In CA with Dr. Larry Rose, Former Director
US
What the Coronavirus Emergency Has to Do with Biden vs. Sanders
|
Amid coronavirus threat Social Security closes all local Social Security offices
|
Advocates Warn US Prison Conditions Risks Intense Coronavirus Outbreak
|
UAW Michigan Workers On Elections, Coronavirus, GM Strike, Democracy & Internationalism
|
Mandatory Restrictions on Public Movements and Gatherings to Combat Coronavirus
|
Why Was Mike Pence put in charge of Covid-19?
|
Delays in Testing Allow Coronavirus to Spread
|
Surprise Bills From Coronavirus Testing Spark Calls for Government to Cover All Costs
|
Response to Racist Backlash and Calls for Improved U.S.-China Cooperation
International
Italy's Misleading Figures on the C-Virus
|
Tokyo Olympics / coronavirus . Please write your comment on the administration of Japan .
|
How Singapore has taken control of the virus and avoided panic
|
Accusing US of 'Medical Terrorism,' Iran Demands Trump Lift Drug Import Sanctions
|
Japanese PM Abe & Capitalist Governments Helped Escalate Coronavirus Epidemic
|
The 2019 China Wuhan Coronavirus & (BSL-4) Biotech Warfare Labs with Dr. Francis Boyle
Mutual Aid and Anti-Capitalism
Coronavirus Fearmongering Demonstrates U.S. Imperialism is a Drag on Humanity
|
Coronavirus, Epidemics and Capitalism: The Bugs Are in the System
|
During Coronavirus Crisis, What If You Can't Stay Home?
|
Wash Your Hands of Germs and Xenophobia
|
Community Care in Light of COVID-19
|
Coronavirus Epidemic Bolsters Case for Medicare for All and Universal Paid Sick Leave
|
Webinar: How to Talk to Your Kids About Coronavirus (sponsor: Women's March)
(3/17) |
Online Event: Combatting Coronavirus in our Community—What Works, Why Now (live stream)
(3/18)
Related Features:
California Goes on Coronavirus Lockdown
We are 100% volunteer and depend on your participation to sustain our efforts!
Get Involved
If you'd like to help with maintaining or developing the website, contact us.