From the Open-Publishing Calendar
From the Open-Publishing Newswire
Indybay Feature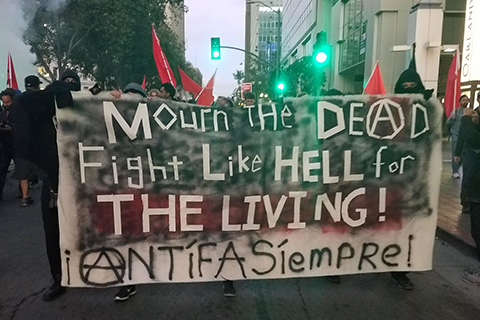 Tue Aug 15 2017
(Updated 08/22/17)
Charlottesville, We Got Your Back
Solidarity Across the Country After Nazis Murder & Attack Anti-Fascists in Charlottesville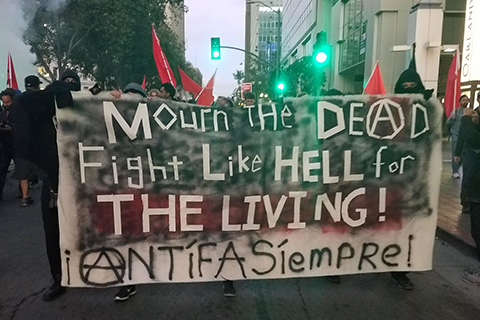 After a fascist mob attacked a small group of UVA student counter-protesters the night before, the Unite the Right rally in Charlottesville, Virginia turned deadly on August 12 when nazi enthusiast James Alex Fields of Ohio deliberately sped his car into a crowd of antifa, killing thirty-two year old anti-racism activist and Charlottesville native Heather Heyer. Nineteen others were injured in the attack, some critically. Separately, other anti-fascists were physically assaulted in the vicinity. Within hours, solidarity demonstrations and vigils sprang up across the country. In Northern California, San Francisco, Oakland, Santa Cruz, Monterery, and other cities gathered to show support for the anti-fascist resistance in Charlottesville.
Monterey:
Community joined together and marched to stand against fascism and white supremacy

Protest in Solidarity with Charlottesville
|

Solidarity Rally to Smash White Supremacy
Watsonville:

Solidarity with Charlottesville Vigil • Stop Racism
Santa Cruz:
On August 13, fifty to seventy five people demonstrated in front of the Santa Cruz Post office showing their opposition to the KKK.

No to Fascism - Solidarity with Charlottesville Virginia
San Jose:

Candlelight Vigil in Solidarity with Charlottesville
San Francisco:
That night, a candlelight vigil was held in Union Square. The following day, approximately 200 hundred people gathered at the corner of 24th and Mission. Hours later hundreds gathered at City Hall to discuss ways to prevent other such outrages from happening here.

Bay Area Residents Gather to Denounce White Nationalism Violence
|
Rally Protests Hate Crimes in Charlottesville
|

Heather Heyer is a Hero: The Bay Area's Response to her Murder
|

Emergency Rally in Support of #DefendCville
|

Stand Against Nazi Terror in Charlottesville! No Trump, No KKK, No Fascist USA
|

Candelight Vigil to Protest White Supremacy
Oakland:
Hundreds of protesters marched and shut down I-580 that night. The following afternoon, a rally was held in Latham Square.


Oakland Marches in Solidarity with Charlottesville, Shuts Down 580 Freeway
(8/12) |

From Oakland to Charlottesville: Love & Solidarity
(8/12) |



Say No to Hate in the Bay: Solidarity with Charlottesville:
Video
,
Photos & Full Audio
(8/13) |

Say No to Hate in the Bay
|

Emergency Demo: Charlottesville, We Got Your Back
See Also:

One Dead in Charlottesville: Why the Right Can Kill Us Now
|

Demand CSU Stanislaus Expel Neo-Nazi & Central Unite the Right Organizer Nathan Damigo
|

Warning: Oakland's Stork Club to Host The Mentors' Anti-Antifa Rape Rock Tour
(Sept 5) |

John Ramondetta Exposed to Berkeley Community as Neo-Nazi Organizer
Related Features:
Call Goes Out to Boot Neo-Nazi from CSU
|
NoCARA Highlights the Local Racists Targeting Anti-Fascists Online and in the Courthouse
|
How Berkeley Cops Helped Alt-Right Trolls with No Permit Stage Their Rally
|
Black Bloc Defends Berkeley Against Invasion of Trump Fascists
|
Conference Aims to Build Anti-Racist Front Against Oppression and Capitalism in Bay Area
|
Berkeley Chased Milo Out of Town, Shining National Spotlight on "Alt-Right" Hero
|
Shut Down the Alt-Right Rally on April 15
|
Six Stabbed, Three Suffer Blunt Force Trauma Repelling Nazis from Capitol Grounds
We are 100% volunteer and depend on your participation to sustain our efforts!
Get Involved
If you'd like to help with maintaining or developing the website, contact us.