From the Open-Publishing Calendar
From the Open-Publishing Newswire
Indybay Feature
John Ramondetta Exposed to Berkeley Community as Neo-Nazi Organizer
Over 80 flyers were sent out to neighbors of neo-Nazi organizer, Johnny Ramondetta, aka, Johnny Monoxide. [Address redacted by Indybay editors, August 15, 2017]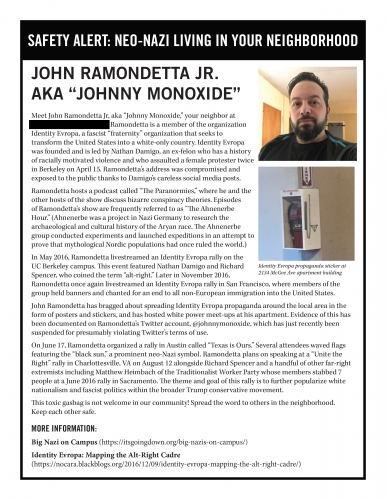 Earlier this week, almost 80 flyers were mailed to the neighbors of John Ramondetta aka Johnny Monoxide, who lives at [Redacted] in Berkeley, CA. A copy of the community safety alert that was mailed out to Ramondetta's neighborhood is included at the bottom of this post.
John Ramondetta is a close associate of Nathan Damigo, and he has been involved in livestreaming Identity Evropa's rallies and hosting meet-ups at his apartment since at least May 2016.  Below is a picture of Ramondetta with Damigo and Lauren Southern, taken on April 27th in Berkeley, when fascists and other far-right activists gathered for a giant group therapy session to mourn the cancellation of Ann Coulter's speech at UC Berkeley.
April 27th photo of Nathan Damigo, John Ramondetta, and Lauren Southern joking about Damigo's April 15 assault of a female antifascist protester in Berkeley
One of Ramondetta's Facebook accounts shows off his Ann Coulter autograph, addressed to "Johnny Monoxide"
It appears that Ramondetta likes to shit where he eats, too. Earlier on April 27th, before Ramondetta and Damigo arrived at the Coulter rally in downtown Berkeley, we believe Damigo vandalized a stop sign on the corner of the block that Ramondetta lives on with an anti-Semitic message, responding to a Jewish Antifascist Action sticker that had been placed there previously. Additionally, we found that at some point an Identity Evropa sticker was placed on the apartment building that Ramondetta lives in.
We don't imagine this neighborhood in Berkeley, which is full of yard and window signs with messages like "Black Lives Matter" and "Refugees Welcome," will take too kindly to the news that not only is there a neo-Nazi living next to them, but also that their own building is displaying white nationalist propaganda.
Spread the word. Keep each other safe. Nazis - get the fuck out!!
Top: Image from one of Ramondetta's Facebook accounts featuring Assad cutout and hoodie with Nazi SS-Totenkopf. Bottom: Damigo posing with same Assad cutout. White supremacists jokingly refer to their mayo meet-ups as "pool parties," a reference to and celebration of the violent racist police abuse of black teenagers in Mckinney, TX in 2015.
Top: Nathan Damigo writes anti-Semitic message on a stop sign nearby Ramondetta's apartment at the corner of McGee and Allston in Berkeley. Bottom: example of Damigo's handwriting. Looks familiar.
We are 100% volunteer and depend on your participation to sustain our efforts!
Get Involved
If you'd like to help with maintaining or developing the website, contact us.