From the Open-Publishing Calendar
From the Open-Publishing Newswire
Indybay Feature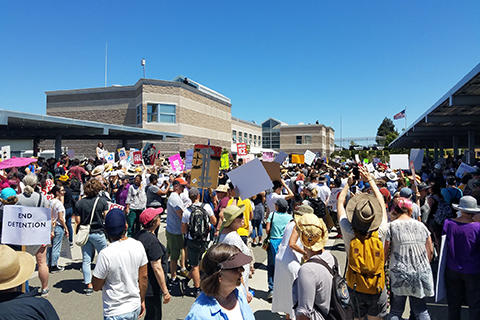 Thu Jun 28 2018
(Updated 07/06/18)
Northern California Stands Against ICE
Protests Ramp Up Against Trump's Family Separation Policy Nationwide on June 30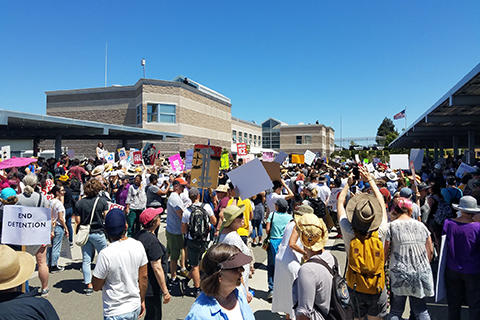 Demonstrators decrying Trump's policy of separating immigrant children from their parents have been in the streets in the San Francisco Bay Area and cities across the U.S. throughout the month of June. An even larger wave of protest hit on June 30 as immigration and children's rights advocates rally in a national day of action, with rallies held locally in dozens of Northern California cities. One of the largest protests was at the West County Detention Facility in Richmond, the only ICE detention center in the Bay Area. In all, close to 100 protests were held in the state of California, at least ten of those in the Greater Bay Area.
Appearing to back down after massive public pressure, President Trump signed an executive order on June 20 that the administration claims will end the large-scale practice of splitting up parents and kids. However, immigrant rights advocates say that authorities will now detain families together, and that they will do so indefinitely. Additionally, it is unclear how the Department of Homeland Security will even reunite children already separated from their parents since proper records were not kept of familial relationships. Organizers of the national day of action on June 30 insist that children and parents must not be reunited only to be then held in prison camps.
---
June 30 Protests
San Francisco:

30,000 March to Protest Trump's Border Separations
|

Event Announcement
Santa Rosa:

Thousands demand an end to Trump's Zero-Tolerance Policy
Santa Cruz:

Families Belong Together Santa Cruz, CA. 6-30-2018
|

Event Announcement
Watsonville:

Families Belong Together Watsonville, CA. 6-30-2018
Mountain View:

As Night Falls, Candlelight Rally Calls for Immigration Reform
|

Mountain View Says "Reunite Separated Families, Stop ICE!"
Redwood City:

East Palo Alto Mayor Ruben Abrica/Rep. Anna Eshoo Plus Hundreds at RWC Rally for Immigrants
Stanford:

Rally for Immigrant Rights at Stanford University Entrance

Sacramento |

Oakland |

San Jose |

Monterey |

Mountain View |

San Mateo |

Palo Alto

Richmond:
Families Belong Together — Let Our People Go!
(11am - 12:30pm) |
Occupy ICE Bay Area
|
Occupy ICE Richmond Statement
|
More Families Belong Together actions
See Also:

We Have a Moral Imperative to Fight for Children Who Have Been Taken From Their Parents
|
ACLU Issues Statement of Support: Families Belong Together
|
US District Judge Orders Border Authorities Must Reunite Separated Families Within 30 days
|

No Concord Internment Camp!
|
ICE Plans to Start Destroying Records of Immigrant Abuse, Including Sexual Assault and Death
|
Summer 2018 National Immigrant Solidarity Network News Alert
---
June Protest Coverage and Announcements
Richmond:

Demonstrators/Speakers in Richmond Call for Abolition of ICE
(6/26) |

Day of Protest at Richmond's Ice Detention Facility
(6/26) |

Day of Action at West County Detention Facility
(6/26) |

Separation of Families Protest at Richmond ICE Facility
(6/22)
San Mateo:

Free the Children — Jail Trump!
(6/23) |

Event Announcement
(6/23)
Concord:

Residents of Concord Protest Trump Administration Immigrant Abuse
(6/14)
San Jose:

Rally to Stop Trump Policy that Separates Immigrant Children from Parents
(6/14)
San Carlos:

Father's Day Protest Against Trump Administration's Policy Separating Families
(6/14)
San Francisco:

Stop! Human Rights Abuse of Children: Families Belong Together Rally
(6/23)
Oakland:

Silent Solidarity Walk #keepfamiliestogether
(6/17)
Publish your own reports, photos, video, and/or audio from any and all ICE protests to Indybay's newswire:
www.indybay.org/publish.php
Publish notices of upcoming ICE protests and events to Indybay's calendar:
www.indybay.org/calendar/event_add.php
Related Feature:
Occupiers Set Up Barricade with Barbed Wire at ICE Gate in San Francisco
We are 100% volunteer and depend on your participation to sustain our efforts!
Get Involved
If you'd like to help with maintaining or developing the website, contact us.