From the Open-Publishing Calendar
From the Open-Publishing Newswire
Indybay Feature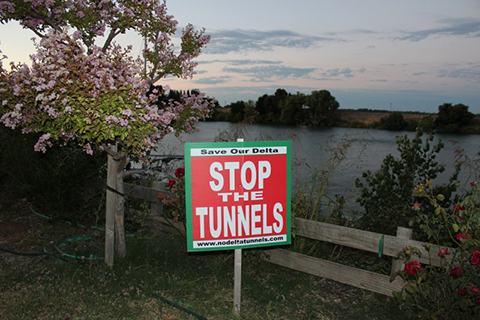 Fri May 10 2019
(Updated 05/14/19)
Victory After Years of Struggle Against Twin Delta Tunnels
Environmentalists, Fishermen, and Tribes Continue to Oppose Single Tunnel Plan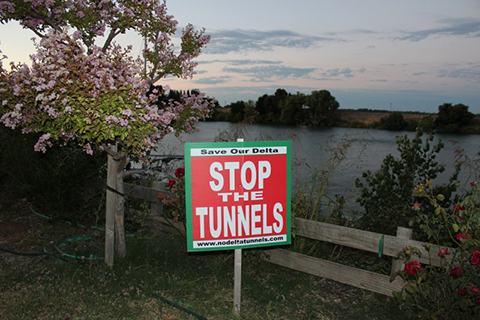 The Newsom administration on May 2 shelved the plan to build twin Delta Tunnels — and announced it will start a renewed environmental review for a single Delta Tunnel to facilitate the export of northern California water to San Joaquin agribusiness and Southern California Water agencies.
As the Delta smelt moves closer and closer to extinction in the wild, the Department of Water Resources (DWR) reported that it is "taking formal steps" to withdraw proposed permits for the WaterFix project and begin a renewed environmental review and planning process for "a smaller, single tunnel project that will protect a critical source of water supplies for California."
The announcement marks the end of the twin tunnels project that Arnold Schwarzenegger began in 2007, itself a revival of the peripheral canal plan that the voters overwhelmingly rejected in the November 1982 election. After beginning his third term as Governor, Jerry Brown continued to pursue the Bay Delta Conservation Plan, as it was called, until it was renamed the California WaterFix in 2015.

CA rescinds Delta Tunnels bond resolutions, feds withdraw permit |

Newsom Pulls Delta Tunnels Permits, Takes Steps for One Tunnel |

Newsom promotes voluntary agreements that imperil salmon, Delta |

Governor Newsom calls for end to twin tunnels, but supports one delta tunnel
See Also:

Controversial Delta Tunnels Documents Exposed Day After Governor Says "They'll Be Built"
|

Brown administration withdraws key document necessary for Delta Tunnels approval
|

Delta Council Staff Finds CA WaterFix Inconsistent with Delta Plan, Chair Urges Withdrawal
|

Delta advocates at public hearing say California WaterFix Is Inconsistent with Delta Plan
|

Restore the Delta, Dr. Jeffrey Michael respond to Delta Tunnels benefit/cost analysis
|

Legislative Budget Committee Postpones Committee Hearing on Funding for Delta Tunnels
|

Salmon Fishermen Respond to Commerce Secretary's Puzzling Directive on Water for Fires
|

Coalition tells Denham and Zinke: Hands off state water rights & Delta flows
|

Coalition Slams Delta Tunnels Finance Authority's Request for $1.8 Billion Loan from Trump
|

Coalition Protests Delta Tunnels Tax as MWD Revotes on $11 Billion to finance WaterFix
|

Delta Tunnels draft environmental document with 'design changes' posted online
|

Santa Clara Valley Water District Board Votes 4-3 to Support Twin Tunnels
|

Groups Accuse Metropolitan Water District of Violating Brown Act
|

Assemblymember Frazier Says MWD's 'Dishonesty' Threatens to Destroy Delta
|

Metropolitan Water District Votes to Support Twin Tunnels Project
|

Court Victory: 10-Year California Water Transfer Program Failed Analysis & Disclosure
Related Features:
Delta Smelt on the Brink of Extinction
|
Proposition That Threatened Delta Tunnels Defeated by Narrow Margin
|
Southern California Metropolitan Water District May Purchase Delta Islands in Tunnels' Path
|
No More Sweetheart Water Deals for Billionaire Farmers
|
Environmentalists, Farmers, Tribal Leaders Call for New Bay Delta Conservation Plan EIR
|
New California Water Grab for Fracking and Agribusiness
We are 100% volunteer and depend on your participation to sustain our efforts!
Get Involved
If you'd like to help with maintaining or developing the website, contact us.