From the Open-Publishing Calendar
From the Open-Publishing Newswire
Indybay Feature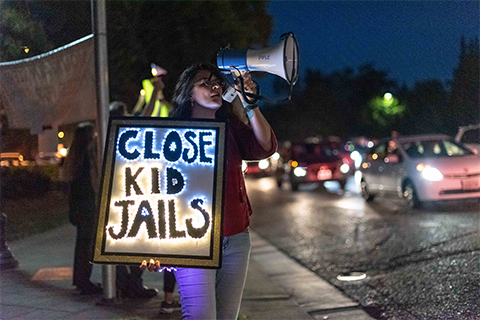 Sun Jul 21 2019
(Updated 07/26/19)
Under Continuing ICE Threat, Rapid Response Mode for Communities
San Francisco Bay Area Protests, Ramps Up Capacity to Document ICE Operations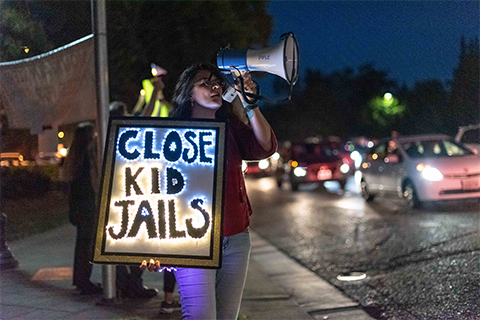 As news continues to pour in that the Trump administration's attacks against immigrants and refugees has reached new lows, San Francisco Bay Area residents are feeling a renewed sense of urgency. On the heels of protests throughout the region on July 2 and further official announcements about coming ICE raids, July 12 saw a new round of demonstrations, including back-to-back protests at the city of San Francisco's Sansome Street ICE facility. In Palo Alto, Palantir Technologies was targeted for profiting from ICE contracts; additional demonstrations were held in Santa Rosa, Mountain View, Redwood City, Oakland, Berkeley, Concord, Fremont, San Jose, and elsewhere.
The Rapid Response Network (RRN) in Santa Clara County reported a recent increase in calls of observed ICE activity, as people are on high alert. In just this one county there are roughly 800 volunteers who respond when local ICE activity is reported, taking notes about or video of interactions between ICE and immigrants. As do similar immigration support groups across the US, the Santa Clara County RRN runs a 24-hour hotline that anyone can use to report ICE sightings in their neighborhood. The county's cities of Mountain View and San Jose have had increased reported ICE citings, and volunteer training registrations recently doubled.
Rapid responders create thorough documentation to ensure that ICE agents aren't violating immigrants' rights. In addition, they collect information to connect detainees with immigration lawyers after they've been arrested. Once ICE agents leave the scene, or if responders arrive to find it was a false alarm, volunteers then assist the local community by passing out cards with the hotline information. One of their top priorities is to remind undocumented families of their rights if ICE agents are to show up.
Immigrant Rights Resource Information:
Rapid Response Network Helps Fill Urgent Need for Santa Clara Co. Immigrants
|
San Francisco Rapid Response Network
|
Marin Rapid Response Network
|
Santa Clara County Rapid Response Network
|
Calfornia Rapid Response Networks
|
Threats of Large Scale ICE Raids & Knowing Your Rights
|
Redadas de ICE: Conoce tus derechos si ICE te confronta
Protest Coverage & Event Announcements:
San Francisco —

Emergency Protest at ICE
(July 11) |

Full Day of Protests at San Francisco ICE
|

ICE Sweep Protest is Display of Inimitable San Francisco Style at Cable Car Turnaround
|

ICE HQ in SF
|

Lights for Liberty Protest: Compassion Has No Walls
|

Lights for Liberty Protest
|

Never Again is Now Rally at UU Church in SF
|

Block Party to Abolish ICE
(July 30)
Fresno —

Lights for Liberty
Mountain View —

Vigil Protests Immigration Camps
Redwood City —

Protest of Planned Federal Immigration Roundups Draws Hundreds
|

Lights for Liberty Protest
Palo Alto —

Protesters Target Palantir for Profiting from ICE Contracts
|

Palo Alto Protest at Palantir
Santa Cruz —

Lights for Liberty Protest — Santa Cruz
San José —

"Stop ICE" Demo in José Lights Up the Night
|

Lights for Liberty José
Oakland —

Lights for Liberty: Lake Merritt
|

Lights for Liberty: Downtown

Lights for Liberty Worldwide Protests
Related Feature:
Threat of Mass Roundup of Migrants Spurs Weeks of Protest
We are 100% volunteer and depend on your participation to sustain our efforts!
Get Involved
If you'd like to help with maintaining or developing the website, contact us.