From the Open-Publishing Calendar
From the Open-Publishing Newswire
Indybay Feature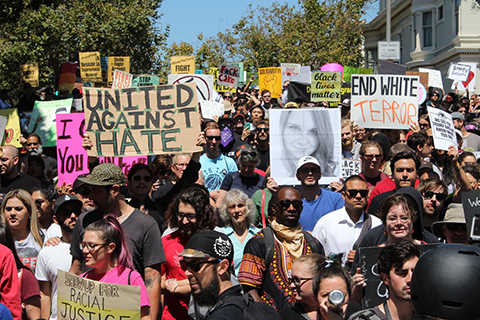 Fri Aug 25 2017
(Updated 09/02/17)
No Hate in the Bay: A Victorious Weekend of Resistance to Fascism
White-Supremacists' and Other Fascists' Return to the Bay Area Fizzles in SF and Berkeley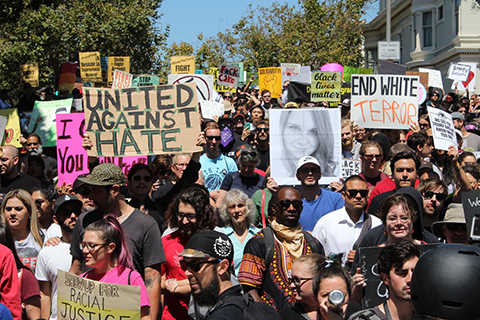 White-supremacist and other fascist groups have repeatedly targeted the Bay Area in recent months, most recently announcing a weekend of provocations for August 26 in San Francisco and August 27 in Berkeley. As in Boston regarding a planned fascist rally on August 20, anti-racist organizers in the Bay Area responded with a call for massive counter-demonstrations in the streets. The planned weekend of anti-fascist resistance included Charlottesville benefit events in SF and Oakland. In the end, white nationalist organizers cancelled their own events at the last minute and the smattering of racists who did show up in both cities were promptly run off by anti-fascists.
The pro-Trump group "Patriot Prayer" scheduled a "Freedom" rally at Crissy Field in the Presidio. Their previous events in Portland and Seattle attracted neo-Nazis, white supremacists, militia groups, and "Alt-Right" trolls. Organizers of the San Francisco rally cancelled their event the night before, claiming instead they would hold a press conference in Alamo Square Park, which they also cancelled after groups including San Francisco Against Hate and the ILWU called for a counter-protest and march to the park. Thousands turned out for multiple marches in San Francisco to demonstrate against the upsurge in racist hate across America. The twenty or so fascists who did appear at Crissy Field later in the day were chased away by local anti-racists.
The following day, white supremacists, Alt-Right activists and neo-Nazis planned to hold a "No to Marxism in America" rally at Martin Luther King Park in Berkeley. In response, a coalition of Bay Area anti-racist and anti-fascist groups, including SURJ, called for a demonstration of united resistance to hate in the Bay, denying the fascists a platform to further their racist agenda. As in San Francisco, the organizer of the fascist rally in Berkeley claimed the night before her event that she
didn't want people to go
, saying she would still attend herself. Thousands turned out, including a large black bloc contingent that cleared Civic Center park of the few racists who did show up.
The Anti-Repression Committee is currently fundraising to
support anti-fascist arrestees
.
Read More:

Victory Against White Supremacy in the Bay
|

WorkWeek-SF: Berkeley Protests Fascists
|

Arraignment for 11 Anti-Racists Arrested in Berkeley
|
A Celebratory Note on Sunday's People
|

Anti-Fascist Berkeley Protest Stops Trump Supporters From Rallying
|


San Francisco Mobilizes Against White Supremacy
|
Fascists Out Of SF: Trade Unionists And Community Rally Against Nazis & Racists
|

NLGSF Demands City of Berkeley Retract Unconstitutional Rules Targeting Counter Protesters
|

Stand Against Hate at Alamo Square Park
|
Crissy Field Canceled
|

Organizer of canceled Berkeley rally previously sold protest sticks/shields with "Based Stickman"
|
Forget the Alamo: Hate Group Bails
|


List of Banned Items for Fascist "No to Marxism" Rally in Berkeley
|


List of Banned Items for Fascist "Patriot Prayer" Rally in Crissy Field, San Francisco
See Also:

Rally Against Hate in Fresno
|


Remember the Nazi tiki torch march in Charlottesville & what it says about liberal appeasers
|
Santa Cruz Restaurant O'mei Closes After Indybay Article
|
Keith "KPikklefield" Campbell's Deep History of Alt-Right Trolling & Provocation
|
ACLU of California Statement: White Supremacist Violence is Not Free Speech
|
Sacramento Nazi's Truck Torched!
Original counter-demonstration and benefit announcements:
No Hate in the Bay: A Weekend of Resistance to Fascism
|

No Hatred In San Francisco
(Aug 26) |
ILWU Local 10 Moves to Stop the Fascists in San Francisco
(Aug 26) |

Nazis Are Coming - Defend Berkeley!
(Aug 27) |

Left of the Dial: Antifascist Benefits for Charlottesville
Related Features:
Solidarity Across the Country After Nazis Murder & Attack Anti-Fascists in Charlottesville
|
Outing Bay Area Campaign Contributors of David Duke, Former KKK Imperial Wizard
|
Call Goes Out to Boot Neo-Nazi from CSU
|
NoCARA Highlights the Local Racists Targeting Anti-Fascists Online and in the Courthouse
|
How Berkeley Cops Helped Alt-Right Trolls with No Permit Stage Their Rally
|
Black Bloc Defends Berkeley Against Invasion of Trump Fascists
|
Conference Aims to Build Anti-Racist Front Against Oppression and Capitalism in Bay Area
|
Berkeley Chased Milo Out of Town, Shining National Spotlight on "Alt-Right" Hero
|
Shut Down the Alt-Right Rally on April 15
|
Six Stabbed, Three Suffer Blunt Force Trauma Repelling Nazis from Capitol Grounds
We are 100% volunteer and depend on your participation to sustain our efforts!
Get Involved
If you'd like to help with maintaining or developing the website, contact us.