From the Open-Publishing Calendar
From the Open-Publishing Newswire
Indybay Feature
List of Banned Items for Fascist "No to Marxism" Rally in Berkeley
Not to be outdone by the National Park Service and their
list of banned items
for the "Patriot Prayer" non-event in San Francisco, Berkeley City Manager Dee Williams-Ridley ran with the emergency powers granted her by the city on August 18 and upped the ante with a list of banned items that includes face masks.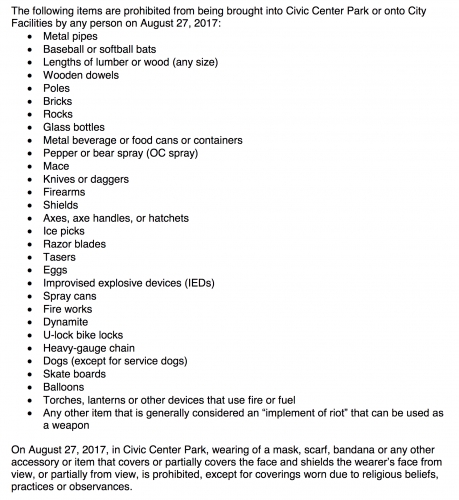 From the City of Berkeley:

Given that many individuals brought items that were used as weapons into Civic Center Park on March 4, April 15 and April 27, the following items are prohibited from being brought into the park by any person on August 27, 2017:

Metal pipes
Baseball or softball bats
Lengths of lumber or wood (any size)
Wooden dowels
Poles
Bricks
Rocks
Glass bottles
Metal beverage or food cans or containers
Pepper or bear spray (OC spray)
Mace
Knives or daggers
Firearms
Shields
Axes, axe handles, or hatchets
Ice picks
Razor blades
Tasers
Eggs
Improvised explosive devices (IEDs)
Spray cans
Fire works
Dynamite
U-lock bike locks
Heavy-gauge chain
Dogs (except for service dogs)
Skate boards
Balloons
Torches, lanterns or other devices that use fire or fuel
Any other item that is generally considered an "implement of riot" that can be used as a weapon

Additionally, in Civic Center Park on Sunday, August 27, signs and flags must be held by hand, and may not be affixed to any pole or stick. Wearing of a mask, scarf, bandana or any other accessory or item that covers or partially covers the face and shields the wearer's face from view, or partially from view, is prohibited in Civic Center Park on August 27, except for coverings worn due to religious beliefs, practices or observances.

In light of the fact that several unpermitted demonstrations are also planned to occur in and around downtown Berkeley on August 27, the City is also issuing temporary regulations to restrict certain items, including bricks, rocks, axes, mace, knives, firearms, dynamite, and torches in a defined area of the City. This area is bounded by Martin Luther King, Jr. Boulevard to the west, Oxford to the east, Bancroft Way and Channing to the south, and University Avenue to the north. Authority to issue this narrowly tailored regulation was granted by the City Council in a special meeting on August 18. At that meeting, the City Council adopted an urgency ordinance that amended Chapter 13.45 of the Municipal Code to authorize the City Manager to issue rules regarding street events without permits to protect public safety.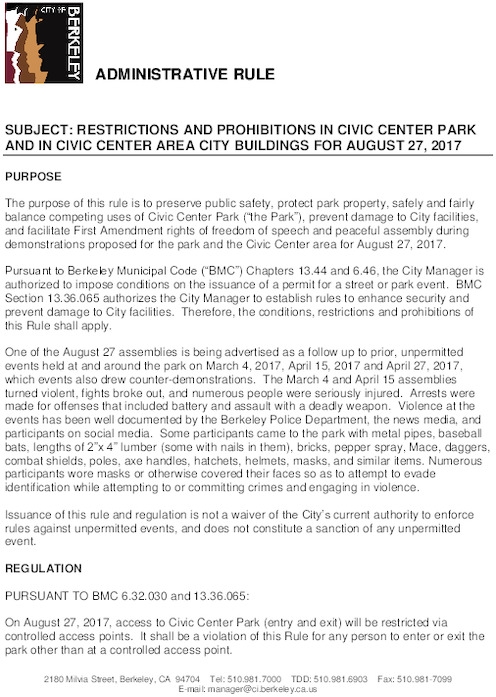 NLGSF demands City of Berkeley retract unconstitutional rules targeting counter protesters, condemns City of Berkeley for telling anti-racists not to protest.
NLGSF demands that the City of Berkeley immediately retract the unconstitutional rules prohibiting head and face coverings at tomorrow's [August 27] demonstrations and instruct the police department, and any law enforcement agencies providing mutual aid, that they cannot issue citations, make arrests, or otherwise sanction an individual for a putative violation of those rules. The prohibition is unconstitutional and violates the First Amendment. The NLG is prepared to take any legal action necessary to protect the people's right to protest the white supremacist rally in Berkeley and will provide legal support for all anti-racist protesters arrested by law enforcement at the August 27 protest.
Read more:
https://www.indybay.org/newsitems/2017/08/27/18802259.php
We are 100% volunteer and depend on your participation to sustain our efforts!
Get Involved
If you'd like to help with maintaining or developing the website, contact us.