From the Open-Publishing Calendar
From the Open-Publishing Newswire
Indybay Feature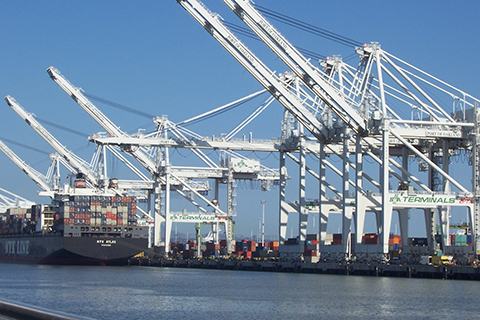 Sun Aug 6 2017
Class War on the Waterfront
ILWU Dockworkers Squeezed by Automation, Abandoned by Democratic Politicians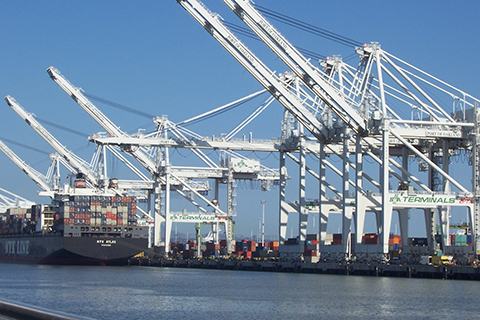 Retired ILWU Local 10 member and chair of the Transport Workers Solidarity Committee Jack Heyman writes:
The ink wasn't even dry on the West Coast longshore contract when the head of the employers' group, the Pacific Maritime Association, proposed to the International Longshore and Warehouse Union a three-year extension, making it an eight-year contract. While the number of registered longshore jobs, 14,000, is the about same as in 1952, the volume of cargo passing through the 29 ports has increased 14 times to a record-breaking 350 million revenue tons a year.
Under the current contract, employers have eliminated hundreds of longshore jobs through automation on marine terminals such as the fully automated Long Beach Container Terminal and the semi-automated TraPac freight-forwarding facility in the Port of Los Angeles.
"By the end of an extended contract in 2022, several thousand longshore jobs will be eliminated on an annual basis due to automation," warned Ed Ferris, president of ILWU Local 10 in San Francisco. With driverless trucks and crane operators in control towers running three cranes simultaneously, the chance of serious and deadly accidents are enormous.
Now maritime employers are pulling out all stops to push through this job-killing contract extension, using both Democratic and Republican politicians, high-powered PR firms and even some union officials.

Read More |

Technology, Automation, Internationalism, Longshore Workers And The Future Of Work
See Also:
ILWU Local 10 Members Face Hanging Nooses At Port Of Oakland
Related features:
Reclaiming King's Legacy in the Age of Trump
(2017) |
International Workers' Day Marches and Strikes in Northern California
(2017) |
International Workers' Day for Immigrants Rights, Food Justice, and Against Police Terror
(2016) |
May Day Includes Labor, Immigrant Rights, Anti-Police-Terror, Anti-Gentrification Actions
(2015) |
Bay Area BDS Activists Make History at Oakland Port for Third Time in Three Months
(2014) |
Oakland Does It Again with Successful BDS Blockade at Port
(2014) |
Longest Blockade of Israeli Ship in History — Zim Lines Ship​ Forced to Leave Oakland Port
(2014) |
Occupy Oakland Calls for General Strike & Day of Action to Shut Down Banks, Port, and City
(2011) |
Rally Defends ILWU's Right to Close Bay Area Ports
(2011) |
ILWU Sued After Solidarity Work Stoppage Shut Ports on April 4th
(2011) |
Stop The Wars At Home and Abroad - Bring The Troops Home Now!
(2011) |
Days of Action Against Police Brutality
(2010) |
Labor and Community Picket Israeli Zim Line Ship
(2010) |
75th Anniversary of "Bloody Thursday" and the San Francisco General Strike
(2009) |
May Day Revival on Three Fronts: Labor, Immigrant, and Antiwar
(2008) |
ILWU Shuts Down All West Coast Ports To Protest War
(2008) |
Community Pickets, Shuts Down War Profiteers SSA at Oakland Port
(2007) |
National Day of Protest for Immigrant Rights on May 1st
(2007) |
Anti-War Protests In DC and SF
(2007) |
Rally to Protest April 7, 2003 Police Attack at Docks
(2006) |
The Bay Area General Strikes; '34 in SF & '46 in Oakland
(2006) |
ILWU local 10 Calls for Million Worker March in Washington D.C.
(2004) |
Remember the Shots! Return to the Docks!
(2004) |
ILWU Shut Down Port on the One Year Anniversary of the Invasion of Iraq
(2004) |
Oakland 25 Rally: An Injury to One, Is An Injury to All!!
(2004) |
Oakland 25 Pretrial Hearing
(2004) |
Jerry Brown Attacks Labor Leader
(2003) |
Supporters attend pre-trial hearing of Oakland Port Protesters
(2003) |
Community Responds to Oakland Police Violence
(2003) |
Oakland Police Open Fire On Peaceful Protesters And Dock Workers: Mayor Jerry Brown Backs Police Use Of Force
(2003) |
Port Of Oakland Shut Down: Police Fire Concussion Grenades and Wooden Bullets at Protesters and Dock Workers
(2003) |
Taft-Hartley Act Invoked to End ILWU Lockout
(2002) |
Hundreds rally for portworkers as "mediation" drags on
(2002) |
Stop the Devastation: SF, Oakland, Fresno March Against Endless War
(2002) |
Locked Out ILWU Portworkers at Picket Lines
(2002) |
Oakland: Portworkers Rally Against Gov't Strongarming
|
Port of Oakland Contract: Waterfront Workers Fight Back
(2002) |
Picket Lines Held in Oakland, Italian Ship Unable to Unload
(2001)
We are 100% volunteer and depend on your participation to sustain our efforts!
Get Involved
If you'd like to help with maintaining or developing the website, contact us.