From the Open-Publishing Calendar
From the Open-Publishing Newswire
Indybay Feature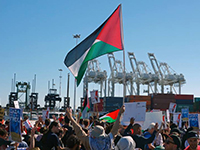 Thu Aug 21 2014
(Updated 08/30/14)
Historic Victory Against Israeli Apartheid at the Port of Oakland
Longest Blockade of Israeli Ship in History — Zim Lines Ship​ Forced to Leave Oakland Port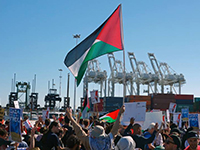 In a major victory against the Israeli Zim Lines shipping company, their ship the Piraeus was forced to leave the Port of Oakland after a mass march, four days of picketing, and the refusal of ILWU Local 10 and ILWU Local 34 to work the ship despite attempts by the Oakland police department and Alameda County deputies to break up the ongoing pickets. A similar action was held in
2010 at the port
, but Zim was known to have unload all of their cargo eventually. This time, many believe the Zim ship unloaded only a portion of cargo before giving up and heading back out to sea. Oakland's "Block the Boat" victory represents a historic first for the worldwide Boycott, Divest and Sanction (
BDS
) movement.
The action was originally scheduled to target Zim Lines on August 2, during the height of Israel's recent devastating attacks on the people of Gaza, but was rescheduled for August 16. A massive march was planned for 5am from West Oakland BART to the port to block, but Zim delayed their ship's arrival to attempt to disrupt the "Block the Boat" action. Organizers from the Arab Resource & Organizing Committee (
AROC
) and other anti-apartheid organizations put out last-minute word that the ship was delayed and those intending to blockade the boat were not deterred. At 3pm, two thousand or more people turned out for the march to the port. ILWU Locals refused to cross the massive picket and the ship did not dock, so no cargo was unloaded the first day.
The following day, August 17, AROC and other coalition organizations put out a call for further blockades of gates at the port. Turnout was smaller, but the contingent was strong enough that four gates were picketed while the Piraeus was moored at the port. Again, no cargo was unloaded when the ILWU refused to cross the lines. From there, autonomous activists kept up the pressure at the gates for another two days. Zim lines attempted to get tricky by leaving the port and heading out into the San Francisco Bay and past the Golden Gate bridge, to lull activists into prematurely believing their victory had been won, only to return to a different berth at the port to re-attempt to unload cargo. Activists were not dissuaded and continued to picket further shifts of dockworkers in order to prevent unloading of the Piraeus. On the evening of August 19, Stevedoring Services of America (SSA) moved workers who were already inside of gates working another ship to unload the Piraeus, and some cargo was unloaded for a few hours. Activists persevered, and maintained pickets past midnight to prevent port workers from returning from their lunch break to unload further cargo. Police and sheriff's deputies attempted to push and shove activists aside at several points, but were unsuccessful overall. Some have said all cargo with Oakland as its destination was unloaded overnight while others believe only perishables were unloaded. In the early morning hours of August 20, Zim Lines finally caved and the Piraeus left the port.
Inspired by the victory in Oakland, further "Block the Boat" actions are planned for the ports of Tacoma, Seattle and Long Beach. Tacoma's "Block the Boat" is set for this Friday, August 22.
Read More with Photos:

ILWU Rank and File Back Picket Of Zim ship Piraeus At Port Of Oakland
|
United States Port Actions End Business as Usual For Israel
|

EASTWEST #3: An Anarchist Newspaper
|
Israeli Ship Blocked in Oakland
|

Longest Blockade of Israeli Ship in History - ZIM ship turned away from SSA in​ Oakland​!
|

Major Victory Against Israel Apartheid Regime-Zim Lines Ship Piraeus Forced To Leave Port
|

Tokyo Japan Solidarity Action With Gaza-Protest At Zim Tokyo Offices
|

Israeli Ship Continues to be Successfully Blocked at the Port of Oakland
|

Keep The Israeli Zim Ship Stranded-Zim Ship Stuck In Port Of Oakand
|

Block The Boat - Join the Historic Blockade of the Israeli Apartheid Boat Day 4
|

Zim Ship Stranded In Oakland! The Labor Community Picket Against Zim Ship In The Port
|

Mass March & Picket At Oakland Port To Stop Israel's Zim Line Ship Piraeus To Protest Crimes In Gaza
|

KPFA: Protest Against Zim Line Ship In The Port Of Oakland
|

Block The Boat for Gaza at the Port of Oakland
|

Zim Ship Arrival Delayed: NOT 5am But 3pm
|
KPFA Pacifica to Cover Labor Community Picket At Port Of Oakland Against Zim Line
|
Stop The Israeli Massacre In Gaza-Full Support For Labor Community Mass Picket At Zim Line
|
CANCELLED: Block the Boat for Gaza! Shut Down the Israeli company ZIM Shipping @ the Port of Oakland
|

The Oakland Palestine Solidarity Mural Unveiled on 26th Street
|

Oakland Palestine Solidarity Mural Unveiling
Related Indybay Features:
The World Responds to Israel's Atrocities in Gaza: Hundreds of Palestinians, Including Whole Families, Have Been Killed in Gaza Since July 8
(2014) |
Labor and Community Picket Israeli Zim Line Ship: Anti-Apartheid Picket at Oakland Docks Stops Unloading of Israeli Zim Line Ship
(2010)
We are 100% volunteer and depend on your participation to sustain our efforts!
Get Involved
If you'd like to help with maintaining or developing the website, contact us.