From the Open-Publishing Calendar
From the Open-Publishing Newswire
Indybay Feature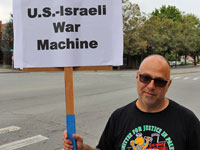 Wed Jul 16 2014
(Updated 08/21/14)
The World Responds to Israel's Atrocities in Gaza
Hundreds of Palestinians, Including Whole Families, Have Been Killed in Gaza Since July 8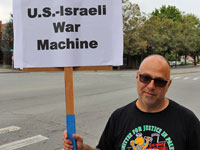 Rallies have been held around the world in opposition to Israel's recent air strikes on Gaza and the collective punishment carried out against the Palestinian people living there and in the West Bank. In Northern California, demonstrations have been held in Fresno, Oakland, Palo Alto, San Francisco, Salinas, and Santa Cruz. According to the International Middle East Media Center (IMEMC), as of August 17, approximately 1939 Palestinians, including whole families, have been killed since July 8. A total of 9886 Palestinians, including 2878 children, 1854 women, and 374 elderly, have been injured. 47 Israeli soldiers, most of whom were invading Gaza at the time of their death, have been killed by Palestinian resistance, and two Israeli civilians were killed by Palestinian shells.
Jerusalem:

Jewish activists light children's dolls on fire at Yad Vashem to protest Gaza attack
(7/12)
Concord:

Candle Light Vigil for Palestine
(8/16)
Fresno:

"Free Palestine" rally in Fresno, CA
(7/18) |

Palestine, Gaza, Israel and the struggle for peace and justice discussed on Street Heat
Oakland:

The Oakland Palestine Solidarity Mural Unveiled on 26th Street
|

Oakland Palestine Solidarity Mural Unveiling
(8/10) |

Women in Black Silent Vigil
|
Stop The Israeli Massacre In Gaza-Full Support For Labor Community Mass Picket At Zim Line
(8/16) |

OPD, Urban Shield, and Israel (PDF Posters)
|

Candlelight Vigil for Gaza
(8/3)
Palo Alto:

Boycott Israel Protesters die-in at HP Hewlett Packard in Palo Alto
(7/17) |

On the Streets in Palo Alto: Two Sides Face Off on Palestine
(7/24)
Salinas:

Direct Action Monterey Network statement in solidarity with Palestine
(7/14)
San Francisco:

Free Palestine Rally in San Francisco
(7/12) |

Free Palestine Rally in San Francisco - Part 2
(7/12) |

Free Palestine Rally in San Francisco - Part 3
(7/12) |
How many rallied for Gaza?
|

SF Police allow a Pro Israeli group to illegally disrupt a legal Pro Palestinian rally
(7/26) |
For The Intifada To Succeed, It Must Spread
|

Movimiento por la Reunificacion Familiar
(8/1) |

Demonstration Organized for Palestine
(8/6)
Santa Cruz:

Community Members in Santa Cruz Protest Israel's Attacks on Gaza
(7/14) |

Protests Opposing Israel's War on Gaza Continue in Santa Cruz
(7/19) |


Santa Cruz Activists Display Names of Palestinian Children Killed in Gaza
(7/21) |


Die-in Staged in Santa Cruz to Protest Israel's Assault on Gaza
(7/28)

Interfaith and Secular Activists Gather in Santa Cruz for Gaza
(8/1) |


Santa Cruz Activists Continue to Stage Die-ins to Protest Atrocities in Gaza
(8/4) |

Die-in to protest Israel's Assault on Gaza drew dozens of protesters
(8/4) |

Santa Cruz Activists Have Protested Regularly Since the Assault on Gaza Began
(8/11) |

Demonstrators at Sam Farr Fundraiser Oppose Congress Member's Support of Israeli War
(8/14)
New York:

As Palestinian Death Toll Tops 100, New Yorkers Protest Israel's Bombing of Gaza
(7/11)
New Orleans:

New Orleans #StreetcarNamedGaza Protest/Vigil in Solidarity with Palestine
(8/1)
England:

UK Activists In Standoff After Occupying Factory Supplying IDF Drone Engines - For a week?
(8/5)
See Also:
List of Palestinians Killed Since July 8
|
PLO: Over 485,000 People Now Displaced in Gaza
|
Signatories Call on White House to Investigate Beating and Detention of Tariq Abu Khdeir
|

This Week in Palestine, August 8th, 2014 -- Gaza Special Coverage
|
Gaza Calling: All out on Saturday 9 August Day of Rage - Boycott Disinvestment Sanctions
|
Settlers Smash Doors Of Palestinian Stores In Hebron's Old City
|
38 Palestinians Kidnapped in Jerusalem and West Bank
|

Human rights defender among three Palestinians killed by live fire in Beit Ommar
|
UN Secretary-General Ban Ki-moon: Recent Israeli, Palestinian Crisis Must Be 'The Last Time'
|

This Week in Palestine, August 1st, 2014 -- Gaza Special Coverage
|

Mideast Migraines - Israeli kidnappings and murders
|

This Week in Palestine, July 25th, 2014 -- Gaza Special Coverage
|

IMEMC: This Week in Palestine, July 11th, 2014
|
July 15 Global Solidarity Fast for Peace – Palestine/Israel
|
Port of Gaza Burns: Gaza's Ark As Well
|
Human shield reports from El-Wafa Hospital in Gaza
|
Israelis Watch as Gaza is Bombed
|

Israeli Airstrikes Hit al-Rimal, Khan Younis, Beit Lahia; Death Toll 100+ for Sunday Alone
|
Party of the Laboring Masses: Statement on the Gaza Genocide
|

Mideast Migraines - Israeli Atrocities Vs. Killing 3 settlers
|
Imagine the Outrage Over 27,000 Dead Kids... If Gaza's Dead Were America's Dead
|
National Lawyers Guild Urges U.S. Government to Cease $3 Billion Annual Military Aid to Israel
|

Israel, Palestine and the International Criminal Court
|
Down with the latest criminal abuses by the Israeli State!
|

Celebrities, Artists, Activists and Nobel Peace Laureates Stand Up for Palestinian Rights
|
Protest Bob Schieffer's Racist Support of Israel
|
Journalists in Palestine are under attack
|
The Israeli Government is not the Jewish People
|
Israel-Palestine: This is how it ends
|
Israeli Police Attacks Worshipers In Al-Aqsa Mosque, Ten Injured
|
Palestinian And Israeli Killed In Jerusalem Bus Incident
|
Sign Petition to ICC to Stop US/Israeli War Crimes
|
Netanyahu: NO Palestinian State EVER & Hateful Likud Charter Opposes Any Palestinian State
Related Categories:

Palestine | California | Central Valley | East Bay | International | Peninsula | San Francisco | Santa Cruz Indymedia | U.S. | Anti-War | Front Page
We are 100% volunteer and depend on your participation to sustain our efforts!
Get Involved
If you'd like to help with maintaining or developing the website, contact us.