From the Open-Publishing Calendar
From the Open-Publishing Newswire
Indybay Feature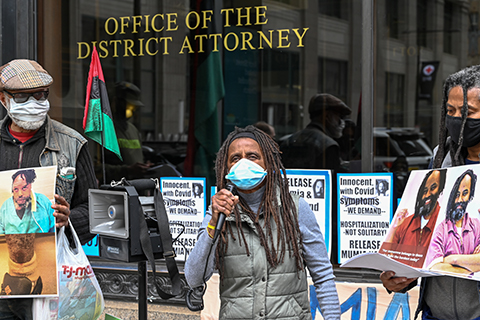 Wed Mar 24 2021
(Updated 03/31/21)
After Health Scare, Call Remains to Free Abu-Jamal
Flooding Prison and "Progressive" DA with Calls Gets Mumia Emergency Care He Needed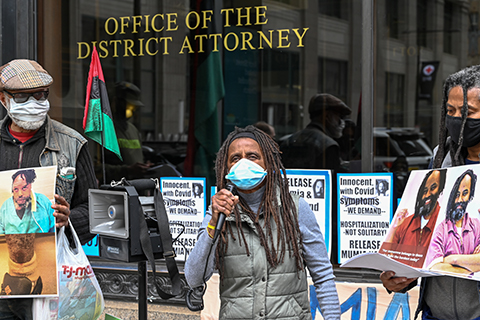 In 1982, radio journalist, political activist, and former Black Panther Party member Mumia Abu-Jamal was convicted of the murder of Philadephia police officer Daniel Faulkner in a trial that excluded evidence which would have proved his innocence. He was sentenced to death. Mumia's death sentence was overturned by a Federal court in 2001 and he was re-sentenced to life in prison in 2011. His case and continued incarceration have received worldwide attention and been the subject of countless protests for decades. Throughout his time in prison, Abu-Jamal has published multiple books and regularly comments on contemporary social and political issues through audio recordings. Inspired by the abolitionist politics of past UC Santa Cruz students and faculty such as Angela Davis and Huey P. Newton, Mumia enrolled as a PhD student in UCSC's History of Consciousness program in the Fall of 2019.
As Mumia has aged behind bars, inadequate medical care has led to several scares when his health deteriorated rapidly. In 2015, Mumia suffered diabetic shock and was diagnosed with active Hepatitis C. In late February, believing Mumia was infected with COVID-19 and suffering skin lesions, his supporters demanded proper medical care for him once again. After an outpouring of public pressure, authorities transferred Mumia to a hospital outside of the prison for emergency treatment, and he was indeed diagnosed as having contracted coronavirus as well as congestive heart disease. While Mumia's health issues still remain a concern, he is stable now and has been returned to general population at the Mahanoy State Correctional Institution in Pennsylvania.
Separately, all appeals filed by Mumia's attorneys between 1998 and 2012 were reopened by a new judge in 2018 and are currently being litigated.
Prof. Johanna Fernandez's account of Mumia Abu-Jamal's Health Emergency (from Verso Blog)
|
The Ballistics Evidence Used To Convict Mumia Abu-Jamal
|
Mumia Abu-Jamal's Thank You Message to Supporters
|
March 20 Mumia Abu-Jamal Health Update from Dr. Ricardo Alvarez
|
Legal update from Mumia Abu-Jamal's attorneys Judith Ritter and Sam Spital
|
What Larry Krasner the District Attorney of Philadelphia needs to do!
|
Pam Africa asks DA Krasner: Do You Oppose Lynchings?
|
Mumia Abu-Jamal's Health Emergency: An interview with Dr. Ricardo Alvarez
|
It is now freedom or death for Mumia!
|
Photos: March 12 Mumia Protest at Philly DA Larry Krasner's Office
|
Urgent: Mumia Health Update and New Ways to Take Action!
|
Emergency Action: Mumia has Covid-19!
|
Mumia Health Update / March 6 Global Virtual Street Meeting
|
Urgent: Demand the immediate release of imprisoned activist journalist Mumia Abu-Jamal!
|
Pam Africa on Black Agenda Radio: Mumia thinks he has COVID
|
The Jamal Journal issue #1 is now published online, Please help us print it!
|
https://www.freemumia.com
Solidarity Statements:
|
International Dockworkers Council letter for Mumia Abu-Jamal to PA Gov Tom Wolf
|
International Workers Committe says Free Mumia and All Elders
|
The Angola 3 support Mumia Abu-Jamal and the Color of Change petition
|
The International Federation of Journalists calls for Mumia Abu-Jamal's release
|
Support Mumia! Please Sign the French Petition to PA Gov. Tom Wolf!
|
Francia Márquez: A Very Warm Ancestral Greeting from Colombia to Mumia Abu-Jamal
|
Palestinian Mobilization for Mumia Abu Jamal calls for Mumia's Release
|
NUMSA demands the immediate release of American political prisoner Mumia Abu-Jamal
|
National Union of Metalworkers of South Africa writes to PA Gov. Tom Wolf for Mumia
Petitions:
|
Mumia's Health Crisis Now Cited in the Color of Change Petition to DA Krasner
|
Color of Change petition to PA Gov. Wolf: Release Our Loved Ones
|
Pam Africa's Message to the Movement: Sign Our Petition!
|
Please sign the Color of Change petition for Mumia Abu-Jamal
|
See Also:
|
Philly Police, Proud Boys & 1/6/21 seditious insurrection
|
Pacifica CRD 3/22/21 Covid, Amazon Billions and Workers' Rights
Related Features:
|
Protesters Demand End to "Covid-19 Death Camps"
(2020) |
Protests in DC and San José Demand Abolition of Slavery
(2017) |
Thirty-Five Years Is Too Long — Call to Free Mumia Now
(2017) |
Stop the Execution of Mumia by Medical Neglect — Independent Medical Attention Needed
(2015) |
Benefit Screening in Oakland of "The Battle for Oscar Grant Plaza" & "Manufacturing Guilt"
(2013) |
SF Event Focuses on Three Innocent Men Who May Be Executed Soon
(2009) |
International Day of Solidarity for Mumia Abu-Jamal
(2008) |
New Trial for Mumia Abu-Jamal is Denied; Protests on Friday
(2008) |
PA Supreme Court rejects Mumia Abu-Jamal's PCRA appeal
(2008) |
Fighters for Freedom Event in Support of Mumia Abu-Jamal
(2008) |
Emergency Demonstration for Mumia Abu-Jamal
(2007) |
Protesters Worldwide Stand With Mumia As His Attorneys Go to Court
(2007) |
Lynne Stewart and Michael Ratner on Bay Area Speaking Tour
(2007) |
Events to Observe 25th Year of Mumia's Incarceration on Death Row
(2006) |
Oakland Rally Calls for Freedom Now for Mumia Abu-Jamal
(2006) |
Oakland Rally for Mumia on Friday, Night of Music and Poetry on Sunday
(2006) |
Juneteenth Rally For Immigrant Rights
(2006) |
Appeals Court Reverses Two Rulings in Case of Mumia Abu-Jamal
(2005) |
Michael Franti and Friends, Lynne Stewart, and More Observe Mumia's Birthday and Ongoing Imprisonment
(2005) |
Hundreds Celebrate Mumia's 50th Birthday, Demand His Release
(2004) |
Over 30,000 Attend Power to the Peaceful Festival
(2003) |
Thousands March in Rememberance of Martin Luther King Jr.
(2003) |
Press Conference on Mumia Abu-Jamal to Highlight New Legal Brief
(2002) |
Rally for Mumia Abu-Jamal
(2002) |
Hundreds Demand Release of Mumia Abu-Jamal
(2001) |
Mumia's Death Sentence Overturned
(2001) |
For Mumia: A Thousand in Philadelphia, Hundreds in SF
(2001)
We are 100% volunteer and depend on your participation to sustain our efforts!
Get Involved
If you'd like to help with maintaining or developing the website, contact us.