From the Open-Publishing Calendar
From the Open-Publishing Newswire
Indybay Feature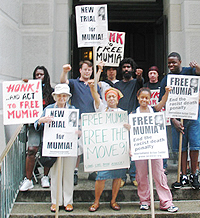 Fri Dec 9 2005
Appeals Court Reverses Two Rulings in Case of Mumia Abu-Jamal
Door Opened to Further Hearings for Death Row Journalist Mumia Abu-Jamal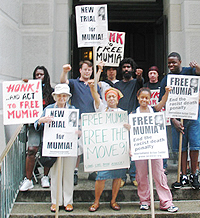 This week the U.S. Court of Appeals of the Third Circuit reversed two critical Federal District Court rulings that affect the case of Mumia Abu-Jamal. On
December 6th
, the court granted "certificates of appealabilty" to Jamal to challenge alleged race and judicial bias in the 1995 Post Conviction Relief Action proceedings overseen by Mumia's original 1982 trial court "hanging" judge, Albert Sabo. Sabo went to extreme lengths to keep evidence of innocence out of the court record. The court also allowed Mumia to challenge the trial summation remarks of the state's lead prosecutor, Joseph McGill, who told the jury, "If you find the Defendant guilty of course, there would be appeal after appeal and perhaps there could be a reversal of the case, or whatever, so that may not be final."
Mumia's lead attorney, Robert R. Bryan, told activist Jeff Mackler that McGill's summation had the effect of qualitatively lowering the historic burden of proof regarding reasonable doubt and presumption of innocence. Similar remarks by Pennsylvania prosecutors have resulted in new trials in other cases. The Third Circuit's decision was all the more remarkable in that under the provisions of the 1996 Anti-terrorism and Effective Death Penalty Act, the court had no obligation to even consider defense challenges to the Federal District Court's denial of certificates of appealability.
The court has called for an initial January 17th defense brief on these two issues, as well as on the single issue that had previously been certified for appeal-- that is, the defense insistence that the exclusion of 11 of 14 Black jurors constituted an unconstitutional violation of the Supreme Court ruling on this issue in the case of Batson v. Kentucky. In the next several months, defense and prosecution attorneys will face stringent deadlines for a series of briefs and counter briefs. The 10-person court will then issue a decision or set a date for a hearing and oral arguments.
The Third Circuit's decision was not all in favor of Mumia. It denied certificates of appealability on several other points raised by the defense-- including the right to self-representation. It also allowed the State of Pennsylvania to challenge a Federal District Court decision that had ordered the State to hold a new sentencing hearing based on constitutionally flawed jury instructions issued by Judge Sabo. Possible outcomes range from following through with the execution to a new trial.
Read more
PDF of the decision and statement from Mumia's attorney Robert R. Bryan | Free Mumia Coalition, NYC | San Francisco Mobilization to Free Mumia | Counterpunch article | Mumia's Freedom Journal | June 16th Legal Update | March 2005 Legal Update
We are 100% volunteer and depend on your participation to sustain our efforts!
Get Involved
If you'd like to help with maintaining or developing the website, contact us.