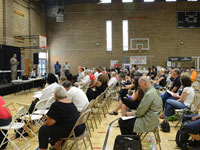 The United States Social Forum 2015 was held June 24-28 in San José. A thousand activists from hundreds of organizations worked on strategies for necessary alternatives and system change. Food Sovereignty, Living on the Edge of Silicon Valley, Taking our Health Back, Crisis of the California Water Commons, No More Deaths: Resisting Border Militarization, Cooperative Economics, and Movements Making Media were just some of the more than a hundred topics discussed.
Featuring some 150 workshops, assemblies, film festivals, cultural events, exhibits, tours, and community gardening events, the U.S. Social Forum not only informed attendees about social issues, but engaged participants in collective discussion about solutions and organizing to create alternatives. The larger People's Movement Assemblies (PMAs) were collaborations among several different grassroots organizations seeking to build alliances across traditional boundaries of community, geography, and issues. A thousand participants came from throughout California and nearly every western state of the United States.
Recognizing that human rights, social justice, and climate justice are connected on a global scale the movement for the World Social Forum was born in Brasil to provide a people's alternative to the World Economic Forum held in Davos, Switzerland. The first World Social Forum was held in Porte Alegre, Brasil in January 2001 because of the initiative and mass support of the Movimento dos Trabalhadores Sem Terra (MST or Landless Workers' Movement). A total of 14 World Social Forums have been held in different cities in South America, Asia, and Africa.

Read More with Photos