From the Open-Publishing Calendar
From the Open-Publishing Newswire
Indybay Feature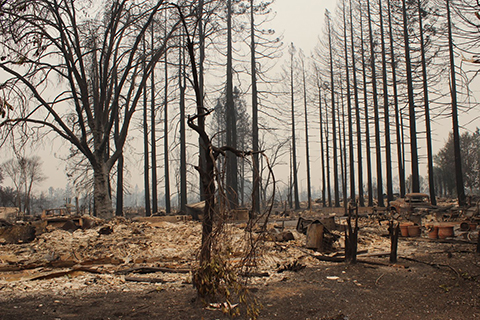 Tue Oct 29 2019
(Updated 11/03/19)
Fires & Blackouts: Californians Call for Public Takeover of PG&E
Utility Justice Campaign Demands Restructuring of Northern California's Energy System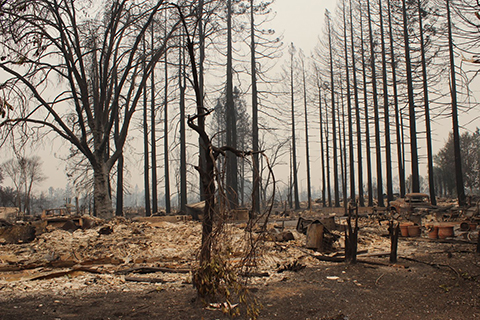 The Kincade Fire has created a calamitous path through Northern California's wine country, forcing nearly 200,000 people to flee their homes. Many of them are reliving the inferno that raged through the same area in 2017. On October 25, PG&E admitted its electrical equipment may have ignited the fire, despite blackouts imposed across Northern California to prevent blazes. In the San Francisco Bay Area, East Bay Democratic Socialists for America (DSA), amongst others, say we need to replace private control of utilities. A new group on the horizon, Utility Justice Campaign, is calling for a publicly-accountable takeover of the monopoly.
In an article in Jacobin magazine, Eric Ruud of East Bay DSA writes that publicly owned, democratically managed utility companies have a reputation for being safer, cheaper, and greener than their privatized counterparts. He explains that many have faster response times after extreme weather events, and disaster recovery is often cheaper due to proactive infrastructure improvements. Because their boards are elected, their decisions are more transparent than utilities under private control like PG&E. DSA has launched a new Let's Own PG&E campaign to push for public ownership.
The soon-to-be officially launched Utility Justice Campaign (UJC) will expand and deepen Bay Area "No PG&E Bailout" protest actions. UJC says that bankruptcy protection and state bailouts sidestep the documented safety negligence of PG&E and the collusion of state utility regulators, the Governor, and the State Legislature. The group says that whole communities are being destroyed and their residents killed while corporate giants are absolved of responsibility and protected from financial obligations to wildfire victims. Many Northern Californians feel that bringing utilities under state control would make them democratically accountable, remove incentives for negligence, and allow badly needed revenues to be re-invested in public services.
On November 1, climate activists descended upon PG&E's headquarters in San Francisco:

Environmental Activists Confront PG&E
. On November 2, supporters of public power rallied in Santa Cruz:

Public Ownership of PG&E Now!
Read More:

Death & devastation by PG&E: The need to nationalize energy utilities
(11/17) |

PG&E spent $876,445 on lobbying from Jan. 1 to June 30 - after spending nearly $10 million in 2018
|

WorkWeek on Privatization of Ports & Schools at Oakland Rally + Fire, PG&E & Public Power
|
Calling for State Control of PG&E
|

Raging Grannies Sing: Take StateControl of PG&E
|
Retaliation Against PG&E, Oroville Office Egged
|
PG&E Execs Enjoy Fine Dining Ahead of Mass Power Down
|
PG&E may cut off the power again in Northern & Central California
|
Deposit your spoiled food at your local PG&E office
|
East Bay Democratic Socialists of America
|
DSA: Let's Own PG&E
|
Utility Justice Campaign
See Also:
PG&E Topples Western States Petroleum Association in California Lobbying Spending in 2018
|
Fake PG&E Press Release Claimed PG&E CEO Donated $2.5M Severence Pay to Fire Victims
|
CA PUC Protested Over PG&E Mass Destruction & Murders And Collusion "You Are A Murderer"
(2018)
Related Features:
Fire Season of 2018 Brings Historic Devastation
|
PG&E's Role in Deadly Wildfires Questioned
(2017)
We are 100% volunteer and depend on your participation to sustain our efforts!
Get Involved
If you'd like to help with maintaining or developing the website, contact us.