From the Open-Publishing Calendar
From the Open-Publishing Newswire
Indybay Feature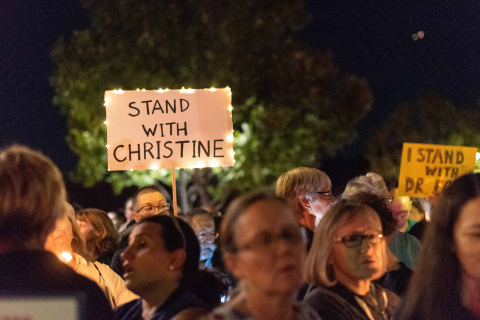 Tue Oct 2 2018
(Updated 10/09/18)
Bay Area Cries Out: "We Believe Christine!'
Rallies Stand Up for Christine Blasey Ford as Future of Supreme Court at Stake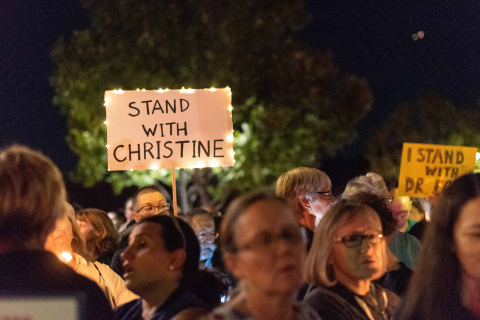 Update October 6:
Kavanaugh Is Sworn In After Close Confirmation Vote in Senate
The eyes and ears of the country were on Capitol Hill when Christine Blasey Ford testified in front of the Senate Judiciary Committee against Supreme Court Nominee Brett Kavanaugh on September 27. On the same day, on the other side of the country in Palo Alto, California, neighbors, friends, and colleagues of Dr. Ford rallied to her support with cries of "We Believe Christine!" During the second half of September and into early October, actions in Berkeley, San Francisco, San Mateo, Mountain View and elsewhere demonstrated the Bay Area's commitment to supporting victims of sexual assault and defeating the nomination of Brett Kavanaugh as well.
On September 23, at least 2,000 people flocked to the busy El Camino Real intersection in front of Stanford University. What was originally planned to be a small silent vigil grew to a noisy outpouring of support for the Stanford-connected Dr. Ford. The same day, speakers at a demo in San Francisco said Kavanaugh's behavior disqualifies him from an appointment to Supreme Court and called for the elimination of the Republican rape culture. In Berkeley, By Any Means Necessary (BAMN), a national organization dedicated to building a new mass civil rights movement, organized a march and rally on the UC campus on September 27. A major demonstration in the nation's capital will be held with a sister rally in San Mateo on
October 6
.
BAMN writes:
Today, Kavanaugh's nomination presents a test of the #Metoo movement that has come forward against Trump's misogyny, his promotion and defense of sexual assault that has been central to his political platform. As long as Donald Trump, as Abuser-in-Chief, remains in office, misogynist men like Kavanaugh will feel they have a green light to attack, harass, objectify and abuse women.

No More Senate Enablers! Dance and Scream Therapy Upon Hearing Kavanaugh Confirmed
|

No Fascist America Emergency Protest Against Kavanaugh
|

Women Against Fascism Block Fascists in Palo Alto
|

San Mateo Says No No No Kavanaugh
|

Mountain View Residents Protest: "Kavanaugh Lied!"
|

Friends and Neighbors of Christine Blasey Ford Rally in Palo Alto
|

Berkeley: March and Rally Rages During Christine Ford/Kavanaugh
|

Believe Christine Ford! Palo Alto Rally Participants Comment on Breaking Developments
|

Photos: Peninsula Residents Stand with Christine Ford Against Kavanaugh in Palo Alto
|

In Palo Alto, 2,000 Rally to Support Christine Ford as Future of Supreme Court at Stake
|

In SF, Demonstrators "Stand with Christine" Against Kavanaugh
Event announcements:

Palo Alto Sept 23
|

Palo Alto Sept 27
|

Berkeley: Oct 3
|

Palo Alto: Oct 4
|

San Francisco Oct 5

San Mateo Oct 6
We are 100% volunteer and depend on your participation to sustain our efforts!
Get Involved
If you'd like to help with maintaining or developing the website, contact us.