From the Open-Publishing Calendar
From the Open-Publishing Newswire
Indybay Feature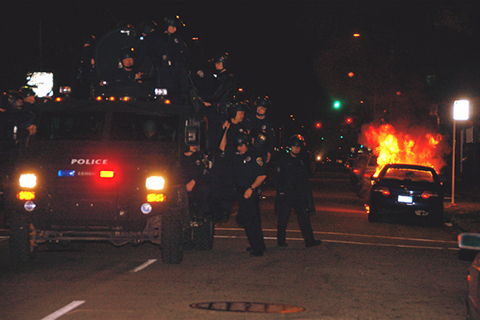 Thu Jan 8 2009
(Updated 07/13/16)
Rally and Rage Over BART Police Murder of Oscar Grant
Fruitvale BART Station Rally Followed by Riots in the Streets of Oakland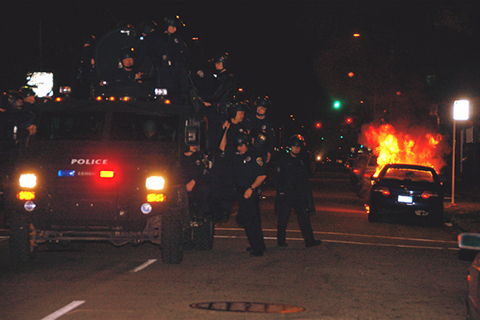 Update 1/13/08: Further Indybay Coverage of Events Related to Murder of Oscar Grant
On January 7th at 11am, a
memorial service
was held for Oscar Grant at Palma Ceia Baptist Church in Oakland.
In the early afternoon of January 7th, it was announced that officer Johannes Mehserle had
resigned
from the BART police force so he would not be forced to testify at an internal hearing.
Later in the day, a
rally
was held at the Fruitvale BART station. Protesters gathered at 3pm and by 5pm the crowd had swelled to over one thousand people. Organizers noted that they intend to build a movement against police brutality and plan to hold several other demonstrations in the coming weeks. After dozens of speakers addressed the crowd for about 2 hours, a march began. Hundreds of protesters marched up International Blvd towards downtown Oakland. As the crowd passed the Lake Merritt BART area, there was a brief confrontation where a police car was attacked and a dumpster lit on fire. Within minutes, riot police arrived and shot tear gas into the crowd. The protest continued into the night as dozens of protesters took over and blocked the intersection of 14th and Broadway for over an hour, with chants of "We are Oscar Grant." A line of riot police then moved in to push the crowd out of the intersection and down 14th Street toward Lake Merritt. The protesters ran down 14th where dozens of car windows were broken and an SUV was set on fire. Police forces charged toward the group a few blocks later, and as protesters dispersed, windows were broken at a McDonald's.
About 9pm, Oakland Mayor Ron Dellums appeared near the Lake Merritt end of 14th Street and began walking back towards Broadway passing the damage along the way. People confronted him regarding the BART officer still not having been detained or even questioned one week later. Once Dellums, and the growing crowd following him, arrived at City Hall in Frank Ogawa Plaza, he addressed about 200 protesters from the steps of City Hall. He told the crowd to be respectful. He said the killing was a homicide and that he had ordered the City of Oakland to investigate the BART killing. The crowd interrupted much of his speech, expressing their displeasure with the situation.
As Dellums finished talking to the crowd and headed into City Hall, the crowd starting booing and then many people chanted "Round 2" and rushed toward San Pablo Ave. breaking more car windows. Tear gas was again fired by police. Protesters moved towards Lake Merritt down 17th Street. More windows were smashed and more dumpsters were set on fire. Another car was burned. At about 10pm, police in gas masks in police cars swooped in on protesters at 17th and Jackson. At that point, the crowd of protesters split up again and headed in several different directions. After a sizable crowd began to reconvene at 15th and Broadway, many headed up Telegraph, pulling objects into the road and breaking more windows. Just before 11pm, around 50 people were surrounded by police across from the Paramount Theater on Broadway. Many protesters lay down on the ground as police moved in to arrest them.
Oakland police are reporting that they arrested 105 people for a variety of offenses. Many have been released but some are still being held at Santa Rita jail or the Glenn Dyer County Jail..
Breaking News Reports Wednesday-Friday and Monday

Video: 1 | 2 | 3 | 4 | 5 | 6 | 7 | 8 | 9 | 10 | 11 | 12 | 13 | 14 | 15 | 16


Photos: 1 | 2 | 3 | 4 | 5 | 6 | 7 | 8 | 9 | 10 | 11 | 12 | 13 | 14 | 15 | 16 | 17 | 18
On January 8th, activists spoke out at the BART Board Meeting.

Video
Support for arrestees still being detained was called for at two hearings Friday, January 9th. In response, students from Oakland High marched to the court house (
Report | Breaking
). On Monday, January 12th, there was a demonstration in SF (
Photos | Breaking
)
CAPE, the Coalition Against Police Execution, has called for a
Rally for Justice for Oscar Grant
at Oakland City Hall on
Wednesday, Jan. 14th
starting at 4pm. There will be a benefit for legal defense
Saturday, January 17th
.
The National Lawyer's Guild has been taking reports of arrests and instances of police brutality at (415) 285-1011.
Legal Support Update 1/08
More:
Oakland Rebellion: Eyewitness Report
|
An Anarchist Perspective on the "Violence"
|
Oakland on Fire: Anarchists, Solidarity, and New Possibilities
|
KPFA Reporter JR Valrey Arrested
|
Emergency Town Hall Meeting
|
Sounding Off about Oakland Protests
|
Solidarity with the African Freedom Struggle
|
Oakland: Congratulations
|
Indefensible
|

Rapper Mistah F.A.B. Oscar Grant Tribute
|
Bay Area IWW Statement on the Murder of Oscar Grant
|
The Truth Must Come Out! An Eyewitness Account
|
Anarchists and protestors are Violent, Bart Cop is Wronged Victim
|
Democrats blocked legislation holding police accountable
|
Oakland's Not For Burning?
|
Demand The DA Arrest Cop Who Murdered Oscar Grant
|
Solidarity from Crete Greece
|
Sometimes you should riot
|
Thoughts on Fruitvale BART Protest
Previous Indybay Feature on Murder of Oscar Grant
We are 100% volunteer and depend on your participation to sustain our efforts!
Get Involved
If you'd like to help with maintaining or developing the website, contact us.