From the Open-Publishing Calendar
From the Open-Publishing Newswire
Indybay Feature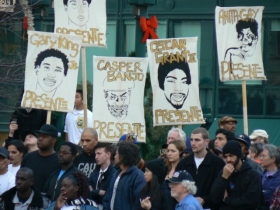 Tue Jan 13 2009
(Updated 03/09/09)
Mehserle Arrested, Protests Continue
January 12th, 14th, 16th and 19th Protests Against Murder Of Oscar Grant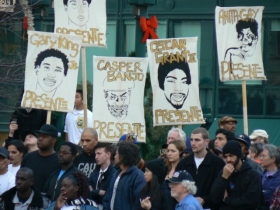 There have been protests and meetings nearly every day since last Wednesday, when
downtown Oakland erupted
with social unrest, including one Monday night, January 12th, in San Francisco:

SF Photos | Account of San Francisco Anti-Police Demonstration | BART Public Meeting | Emergency Town Hall Meeting | Youth from Oakland High March to Courthouse to Support Arrestees
The BART police officer filmed shooting Oscar Grant on New Year's Day
was arrested for murder
on January 13th, one day before a planned protest in Oakland.
On January 14th, thousands gathered in front of Oakland City Hall for a
rally to protest the shooting
. Speakers at the rally included Dereca Blackmon of Coalition Against Police Executions (CAPE), Oakland mayor Ron Dellums and rapper Too Short. After an hour of speakers there was a march to the DA's office and then back to City Hall. Before the rally, Christina Gomez from the
Coalition Against Police Execution
(CAPE) stated that the rally would "be a day for us to share this good news with folks. The job is not done. He has been arrested but he has not yet been prosecuted. We have to put pressure on DA Orloff. The fight is definitely not over." There was a march to the DA's office and then back to City Hall.
When the main protests ended, there was a
break-away protest
. Around 8:20pm the Wells Fargo near 12th and Broadway was attacked, car windows broken, and several fires were set. Police moved in with tear-gas and over the next few hours there were 18 arrests.
Breaking Coverage

Photos: 1 | 2 | 3 | 4 | 5 | 6 | 7 | 8 | 9 | 10 | 11 |

Video: 1 | 2 | 3 | 4 | Thousands gather by Oakland's City Hall
On Jan 16th,
court hearings
for arrested protesters were held at 9am and 1pm.
Oakland students walked out
of classes to speak out at the county courthouse. At 4:30pm, students returned from the county courthouse to Oakland High. Other students started joining them and the police charged in. Four arrested and one attacked violently by the OPD.
The Rebels of Oakland High
On Martin Luther King Jr. Day, January 19th, a
March for Justice & Reparations
for the family of Oscar Grant III will start at West Oakland BART.

Photos: 1 | 2 |

Video: 1 | 2
More: Video Shows Second Officer Punching Grant | Oakland PD crooked in beating death and search warrants; FBI investigating | Uhuru Radio |

Interview with M.O.I. JR | The Smothering of the Oscar Grant Movement | There's a Riot Going On | "Oakland is Closed!" | Uhuru News: Justice and Reparations | Oakland to Privatize Suppression of the Oscar Grant Rebellion and Declare "Emergencies" | Oakland Rebellion: Eyewitness Report | Authorities and corporate media grossly exaggerate Oakland 'riot' reports | Anarchists Call for Unity | Oakland on Fire
On Monday January 12th, BART police handed over evidence to Alameda County District Attorney (DA) Tom Orloff on the shooting. Johannes Mehserle has refused to say anything but police say they questioned the six other BART police officers who were on the scene. BART police also say they questioned 21 people who witnessed the shooting, but police decided to make no recommendation on whether charges should be filed in their hand-off to the DA. Johannes Mehserle, was arrested on murder charges Tuesday, January 13th in Nevada near Lake Tahoe.

DN: Ex-Officer Charged in Oakland Killing of Unarmed Black Passenger | BART Police Investigate Themselves And Hand "Evidence" To DA | Letter Writing Campaign to California Attorney General

Previous Coverage Of Protests | Previous Coverage of Shooting
We are 100% volunteer and depend on your participation to sustain our efforts!
Get Involved
If you'd like to help with maintaining or developing the website, contact us.