From the Open-Publishing Calendar
From the Open-Publishing Newswire
Indybay Feature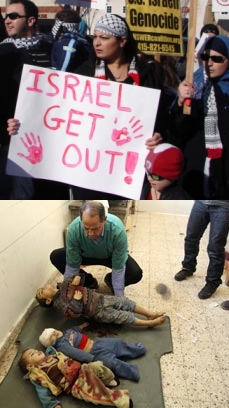 Sat Jan 3 2009
(Updated 01/09/09)
Gaza: Over 600 Palestinians Killed. Humanitarian Crisis Faces 1.6 Million
Gaza Massacre Escalates As Ground Assault Begins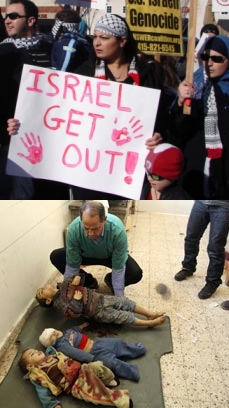 On Saturday January 3rd, Israel confirmed its troops have
entered the Gaza Strip
as attacks on Gaza entered their eighth day. Tanks moved into the besieged Gaza Strip though Beit Hanoun crossing shortly after nightfall on Saturday. Power lines have been cut throughout Gaza, and all of Gaza is now without electricity.
By Tuesday January 6th, at least 600 Palestinians were dead and thousands of Palestinians are wounded and many are dying due to hospitals being cutoff from the outside world. On Tuesday, as many as 40 Palestinians were killed in an
Israeli air strike on a United Nations-run school
which many Palestinians were using as a shelter after having been ordered to leave their homes by the Israeli army.
In the days before the ground assault, Israel intensified air and
artillery attacks
. At least 13 people were killed when a missile struck a crowded mosque in Beit Lahiya; more than 200 people had been inside the Ibrahim al-Maqadna mosque for evening prayers when it was struck and at least 50 were wounded in the attack. On Friday, January 2nd, Israel allowed between 350 and 450
foreigners to leave Gaza
, but for most Palestinians the borders are closed and 1.6 million people are unable to escape the increasingly deadly Israeli attacks.
As protests occur around the world and many world leaders denounce the massacre,
the US has blocked
even a basic UN statement condemning civilian deaths and US politicians like NY mayor Bloomberg and Democratic Congressman Gary Ackerman have flown to Israel to
show their support
for Israel's actions. While polls show that the US public is divided in their views on Israel's attack, US politicians in both major parties are almost all united behind Israel. President-elect Obama is refusing to talk about world events until he gets elected but statements from his advisers suggest his stance will be very similar to that of Bush.
In San Francisco, an emergency protest took place Saturday January 3rd at Powell and Market.

Photos: 1 | 2 | Annoucements 1 | 2
In San Jose there was a protest on Sunday January 4th. Over 1,000 people gathered to protest Israel's actions in Gaza.

Photos: 1 | 2 | 3 | 4 | 5 | 6 | 7 | 8
In San Francisco, on
Monday January 5th
, a thousand protesters marched from Market and Montgomery to the Federal Building, demanding that Israel halt its invasion of Gaza. A small delegation attempted to enter the Federal Building to deliver a message asking the US government to stop supporting the Israeli military.

Video: 1 | 2 |

Photos: 1 | 2 | 3 | 4 | 5
Protests Around The US And World:
Los Angeles, California
|
Denver, Colorado
|
Rochester, New York
|
New York City
, |
Seattle, Washington
|
Philadelphia, Pennsylvania
|
Minneapolis, Minnesota
|
Cleveland, Ohio
|
Houston, Texas
|
Portland, Oregon
|
Worchester, Massachusetts
|
Washington DC
|
Auckland, New Zeland
|
Buenos Aires, Argentina
|
Ireland
|
Italy
|
Turkey
|
United Kingdom
|
Israel
Updates From Gaza:

DN: Israeli F16 Attack Kills Father of Palestinian Journalist
|
Israel collaborator recruiter punked
|
Gaza in the Time of Ashura
|
Is regime change the ultimate goal?
|
Robert Fisk: Keeping out the cameras and reporters simply doesn't work
|

DN: A Debate On Israel's Invasion of Gaza
|

DN: Israeli Professor Neve Gordon Condemns Israeli Invasion of Gaza
|
Fifty-two Gazans killed as Israeli forces invade
|
Israel invades Gaza
|
Hamas captures 2 Israeli soldiers?
|
Bethlehem News Updates
|

Ali Abunimah On Gaza Ground Invasion
|

Former Israeli Pilot, Yonatan Shapira About Gaza Invasion
|

Interview With Photographer, Fida Qishta in Rafah
|
PFLP Update: Occupation begins ground invasion of Gaza
|
Lee Siu Hin: Israel Begin Invade Gaza
|
Israel prepares to send in the tanks
|
Foreigners Flee Gaza Inferno
|
Israel Destroys American School in Gaza, Kills Guard
|
Bombing Refugee Camps in Gaza Instead of Paying the Refugees Reparations
|
IDF troops shoot and kill Palestinian stone-thrower in West Bank
US Response:

DN: U.S. Blocks UN Security Council Vote Calling For Immediate Cease-Fire In Gaza
|
Obama's deadly silence
|
US blocks cease-fire, gives Israel carte blanche to continue killing in Gaza
|
NY Mayor Bloomberg & Democratic Representative Ackerman In Southern Israel
|
Amnesty International says U.S. response to Gaza 'lopsided'
Breaking News From Gaza:
Flashpoints Radio
|
Israel Indymedia
|
Electronic Intifada
|
Ma'an News Agency
|
International Middle East Media Center
|
Palestine News Network
|
Palestine News Agency
|
Al Jazeera
|
Ha'aretz
Previous Indybay Coverage of Gaza Massacre | Previous IndybayCoverage of Protests
We are 100% volunteer and depend on your participation to sustain our efforts!
Get Involved
If you'd like to help with maintaining or developing the website, contact us.