From the Open-Publishing Calendar
From the Open-Publishing Newswire
Indybay Feature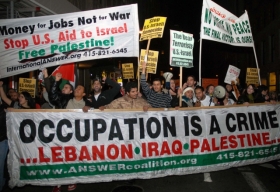 Tue Dec 30 2008
(Updated 12/01/09)
Bay Area Protesters Take to the Streets to Protest Attack on Gaza
Protests Against Massacre in Gaza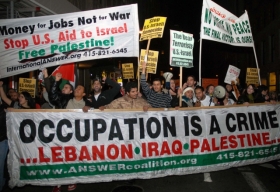 In San Francisco
, a protest against the attack on Gaza took place on December 28th at Powell and Market at 12pm.

Videos: 1 | 2 | 3 |

Photos: 1 | 2 | 3 | 4 | 5 | 6
On Monday, December 29th, there was a
protest at Senator Feinstein's office
at 5pm, and around 5:30pm, hundreds of protesters took over the intersection of Montgomery and Market to protest the Gaza massacre. Slightly before 6:30pm, police ordered protesters to clear the intersection, but the crowed refused. 30-50 members of a Jewish anti-occupation activist group sat down in the streets in an act of civil disobedience. After over an hour of threats, nobody was arrested and at 7:25pm everyone marched to Union Square and then to Powell and Market.

Audio |

Photos: 1 | 2 | 3 | 4 | 5
On Monday, December 29th, there was also a Gaza protest in San Mateo. Representatives from the Youth Leadership Institute, World Can't Wait, San Mateo Peace Action, and Raging Grannies Action League were joined by individuals and a family of Algerian origin. In total about 25 people showed up on short notice for the emergency rally at the corner of 4th and El Camino Real.

Photos
On
Tuesday, December 30th
, there was a protest at the Israeli Consulate in San Francisco, as part of a
National Day of Action
against the attacks on Gaza. Thousands of protesters gathered in front of the Israeli Consulate in San Francisco starting at 5pm. At around 6:15pm the crowd started marching towards Market St. and the crowd filled Market Street as they marched towards Civic Center. Protesters then Marched up Van Ness Ave and then marched back towards Market St.
Breaking Coverage |

Audio |

Photos: 1 | 2 | 3 | 4 | 5 | Reports: 1 | 2
Sacramento also joined cities throughout the nation and world in the Day of Action to protest the Israeli massacre in Gaza. The
Sacramento protest
was at 4pm at 16th and J Streets.
On
Friday, January 2nd
, protesters gathered at Powell and Market at 2:30pm and marched to the Israeli consulate.

Video |

Photos: 1 | 2 | 3 | 4 | 5 | 6 | 7
There were also protests Friday in Sacramento (

Photos
) and Fresno

Photos
).
Indymedia Reports On Protests Around The US:
DC Indymedia:
Over 100 Protest Israeli Atrocities in Gaza at Obama Transition HQ
Houston Indmedia:
Hundreds Rally in Houston
New York Indymedia:
Images from 12/28 March on the Israeli Consulate
|
Protest Against Israeli Bombings of Gaza
|
Photos From Today's NYC Gaza Massacre Protest
Cleveland Indymedia:
Rally To Protest Attack On Gaza
Boston Indymedia:
Protests in Boston Against Israel's Attacks on Gaza
|
Local Actions in Solidarity with Gaza
|
Banner Drop Over Storrow Drive in Support of Palestinians
Twin Cities Indymedia:
Local Protest Against Israeli Massacre in Palestine Tuesday
Houston Indymedia
Hundreds Rally in defense of Gaza, more protests begin Monday
International Indymedia Coverage:
Indymedia.org
|
Israel Indymedia
|
UK Indymedia
|
Ireland Indymedia
|
Brasil Indymedia
Other Acts Of Protest:

Interview with Nora Barrows Friedman on Gaza Attacks
|
Al-Maliki's Party Calls for Boycott of Israel
|
Sistani's Fatwa on Gaza
|
Israeli vessel hits Gaza-bound aid boat
|
Nasrallah condemns Israeli assault, 'Arab collaboration'
|
Yemen: Students angry over Cairo's response to Israeli assault vandalise Egyptian consulate
|
Saudi police break up pro-Gaza protest
|
Protests Over Gaza Strikes Erupt In Muslim World
|
2,000 people protest outside Israeli embassy in London, 6 arrested
Indybay coverage of the attack on Gaza
We are 100% volunteer and depend on your participation to sustain our efforts!
Get Involved
If you'd like to help with maintaining or developing the website, contact us.