From the Open-Publishing Calendar
From the Open-Publishing Newswire
Indybay Feature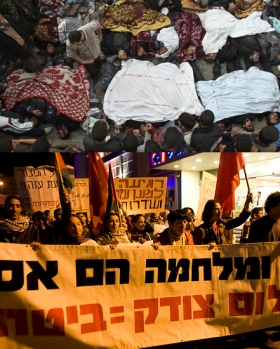 Sat Dec 27 2008
(Updated 12/30/08)
Over 364 Palestinians Dead as Israel Attacks Gaza
Israeli Air Strikes Kill Over 364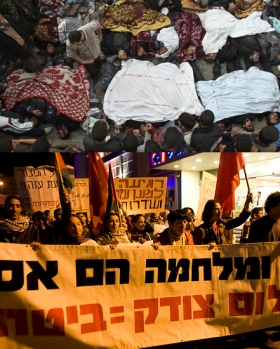 On December 27th, Israeli air strikes targeted police stations in Gaza killing over 200 people and injuring hundreds more. Air strikes continued on December 28th, with the death toll reaching close to 300 by mid-day.
Egypt has opened the Rafah crossing at its border with Gaza to receive wounded Palestinians. The Egyptian government's cooperation with Israel's blockade of Gaza has been very unpopular among Egyptians and Hamas has suggested that ending such cooperation could be a main focus of its response. Hamas leader Ismail Haniyeh said on Saturday: "The simplest response to the massacre today is to reopen Rafah crossing once and for all. I tell our Arab brothers that the simplest response to the massacre is to end the siege." Exiled Hamas leader Khaled Meshaal called on Saturday for Palestinians to wage a new intifada against Israel, including a return to suicide missions.
Protests against the Israeli bombing and invasion
are taking place across the Middle-East and
Palestine
. In Tel-Aviv
Hundreds of Arabs and Jews took to the streets
to protest the massacre in Gaza yelling "no one can tell us that this massacre is suppose to protect us." The
Israeli police attacked the protesters
and six people were detained. The Higher Arab Monitoring Committee, an umbrella group of Arab organizations, declared a national strike and a mourning day in the Arab sector beginning Sunday morning.
On Sunday, Israel kept up its
bombing of civilian infrastructure
during the day and mobilized its ground troops to prepare to enter Gaza. Demonstrations calling on Israel to stop the massacre took place all over the world. In Europe, demonstrations were held in
London
and
Madrid
in front of Israeli embassies. In occupied Palestine, Israeli soldiers
opened fire on a demonstration
in Ni'lin, killing one protester and critically wounding another. In Jaffa, activists and residents held sign and march on Yefet St.
Indybay coverage of local protests against the Gaza massacre
Coverage of the massacre:

DN: Over 310 in Gaza in One of Israel's Bloodiest Attacks on Palestinians Since 1948
|
Ali Abunimah: "We have no words left"
|
Gaza death toll tops 300 as Israel vows to fight to bitter end
|
Robert FIsk: Leaders lie, civilians die, and lessons of history are ignored
|
"Shabbat Shalom" in Gaza
|
Stench of Death Hangs Over Gaza
|
"The amount of death and destruction is inconceivable"
|
Update From Palestine Watch
|
Vicious folly of a bankrupt government
|
The war in Gaza – vicious folly of a bankrupt government
|
Scores dead in Israeli raid on Gaza
|
Palestine Watch:Gaza Massacre!
Protests and Calls To Action:
Response to Gaza Bombings in Manhattan
|
Video of massive demonstrations in Turkey
|
Call Senators & Reps Now to Stop Genocide in Palestine
|
Thousands March and Clog Downtown Sydney, Australia
|
Stop the massacre in Gaza - boycott Israel now!
|
AIC Condemns Deadly Attacks on Gaza
|
End the attacks on Gaza immediately
|
Israel: end the attacks on Gaza immediately
|
Gaza massacres must spur us to action
|
Protests Over Gaza Strikes Erupt In Muslim World
International Response:
Iraq's Sistani Calls for Action on Behalf of Gaza
|
Israel, Gaza and the usual free pass
|
Egypt recalls ambassador after "murder" in Gaza
|
US Blames Bloodshed on Hamas
Inside Israel:
Shalit Reportedly Wounded in Israeli Strike
|
With Gaza raid, Barak is back in the political ring
Gaza Upates From Before Massacre Started:
Gaza: Hunger before the storm
|
Gazans Eke Out Living in Rubbish Dumps
|
Israel Adamant on Ousting Hamas
|
Israel Kills Gazan After Truce End
|
All Hamas demands is Israeli respect
|
Besieged Gazans Turn to Painkillers
|
Starving Gazans Survive On Grass
Israel Indymedia | Indymedia.org Coverage | Electronic Intifada | Ma'an News Agency | International Middle East Media Center | Palestine News Network | Palestine News Agency
We are 100% volunteer and depend on your participation to sustain our efforts!
Get Involved
If you'd like to help with maintaining or developing the website, contact us.