From the Open-Publishing Calendar
From the Open-Publishing Newswire
Indybay Feature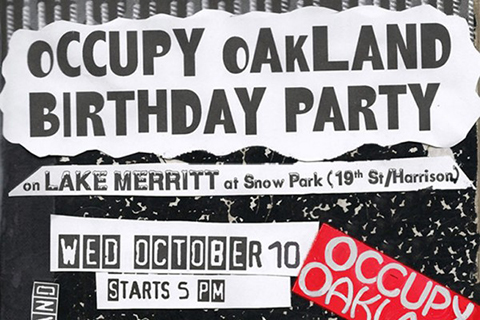 Wed Oct 10 2012
(Updated 10/27/16)
Occupy Oakland Celebrates 1-Year Anniversary with Birthday Party
Looking Back and Forward, Occupy Oakland Marks Anniversary with Gathering at Snow Park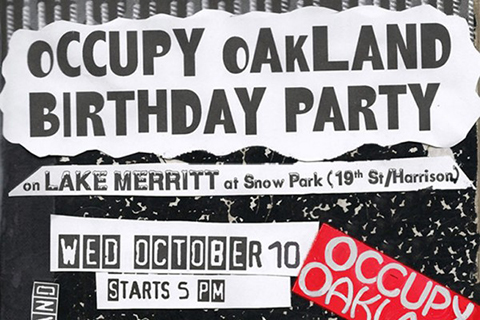 Following the lead of Occupy Wall Street (OWS), Occupy San Francisco, and other cities across the U.S., Occupy Oakland established itself on October 10th, 2011, with a large rally of thousands in the Frank Ogawa plaza in front of City Hall. In keeping with Occupy Oakland's localizing of the OWS movement to face issues specific to Oakland including police brutality, the plaza was renamed for
Oscar Grant
, the unofficial name still in use today. In the first evening after the rally, tents began to go up and the encampment continued to grow over the next few days until the plaza was completely filled. Initially, the occupation had the blessing of elected city officials, including councilmember Desley Brooks, who set up her own tent in the plaza. A community kitchen was created which fed thousands of people for free over the next month. General Assemblies were held every evening to manage camp logistics as well as to begin organizing actions targeting economic and social injustices in Oakland. Various Occupy Oakland-supporting committees and caucuses came together, from the Children's Village committee to the People of Color caucus, from the Kitchen committee to the Anti-Repression Committee. Regular rallies, marches, workshops, and skill-shares began to emanate from within the encampment. A second smaller camp was established in nearby Snow Park. Creating a first-of-its-kind-in-Oakland autonomous zone, campers were adamant about not allowing Oakland police to enter the camp.
Pressure began to build on city authorities from business associations representing multi-national corporations and local real estate developers, with an assist from the corporate media, to put an end to the Occupy Oakland encampment. About 5am on October 25th, police raided and cleared the two encampments. Later that evening, as occupiers and supporters marched through the streets of Oakland, police attacked demonstrators with massive amounts of tear gas and projectiles, beating some and critically injuring Scott Olsen. Occupy Oakland pushed forward by retaking the plaza the following day and organizing for a General Strike on November 2nd. Tens of thousands of supporters came out on November 2nd, shutting down business as usual downtown as well as the port of Oakland. Police again raided the Oscar Grant plaza encampment on November 14th. Even without a home base, the port of Oakland was shut down a second time on December 12th. Throughout numerous dramatic ups and downs, through actions large and small, Occupy Oakland has persisted.
Despite the encampments having been destroyed by police, General Assemblies continued to organize actions from the amphitheater in Oscar Grant plaza into 2012 and smaller diverse actions continue to this day. In response to the hundreds of demonstrators arrested and injured by police, Fuck the Police marches were held regularly on Fridays for months. Occupy Oakland activists have continued to be active in the fight against police brutality and murder, including supporting the
Alan Blueford
family in their fight for justice. Likewise, Occupy Oakland lent support to a sit-in protest to reverse the school closures and budget cuts at Oakland public schools. Anti-foreclosure actions have worked to save the homes of Oakland residents from big banks. A free community library and garden has been established at the site of a long-shuttered public library in East Oakland.
Occupy Oakland celebrates its one-year anniversary at Snow Park on Lake Merritt at
5pm on Wednesday, October 10th
. There will be food, music, games, a slide show and speakers.
One-Year Anniversary Announcement | OccupyOakland.org
---
Below are some of the related Indybay features from over the last year. Numerous posts are included within most features. For the very latest posts in the future, check the
Global Justice
and/or
East Bay
pages' newswires.


Oakland Activists Liberate Shuttered Library
OPD Raids Abandoned East Oakland Library Reclaimed as Biblioteca Popular Victor Martinez

Art Murmur Vendor Solidarity in Oakland
"Fuck the Permits" Action Held After First Friday Vendors Told Permits Would Be Required



Supporters Pack Courtroom, Rally, and March to Free Chris
Occupy Oakland's Chris Morland Faced Trumped Up Charges by OPD After Alan Blueford Event

Sit-in Protest To Reverse Closures of Oakland Public Schools
Oakland Parents and Teachers Say, "We're Keeping the Schools Open the Last Way Left to Us"




International Workers' Day — May Day 2012
Nationwide May Day General Strike Looms Large Locally with Diverse Actions Across Bay Area


Protest Shuts Down Hotel Sofitel Entrance Before Romney Gala Fundraiser
In Redwood City, Occupy Members Shout at Romney Supporters, "Dinner is Over, Go Home!"



San Quentin Occupied on National Occupy Day in Support of Prisoners
Prisoner Rights and Occupy Movements Merge with Rally at San Quentin Prison




Occupy Oakland January 28th Move-In Day Ends with Hundreds of Arrests
Occupy Oakland Plans for Building Occupation & Oakland Rise-Up Festival Run Into OPD


D12 West Coast Port Shutdown
Occupy Movement Takes It to Wall Street on the Waterfront with Mass Blockades
Occupy Oakland Calls for Mass Rally, March and New Occupation on Nov 19
Occupy Oakland to Re-Occupy at 19th & Telegraph During Nov 19 National Day of Mass Actions



ACLU and National Lawyers Guild File Suit Against Oakland Police Department
Occupy Oakland Suit Seeks to Stop Police Violence Against Protesters

Occupy Santa Cruz Holds Demonstration in Support of the General Strike in Oakland
Growing Police Threats and Defensive Response at Occupy Santa Cruz




General Strike - No Business As Usual November 2nd
Occupy Oakland Calls for General Strike & Day of Action to Shut Down Banks, Port, and City




Battle for Occupy Oakland Begins with Police Raid; Occupiers Up Ante with General Strike
Oakland Occupiers Defiant After Police Raid, Mass Arrests, and Tear Gas/Projectile Attacks




Hella Occupy Oakland
Occupy Oakland Kicks Off in "Oscar Grant Plaza" on October 10th
We are 100% volunteer and depend on your participation to sustain our efforts!
Get Involved
If you'd like to help with maintaining or developing the website, contact us.