From the Open-Publishing Calendar
From the Open-Publishing Newswire
Indybay Feature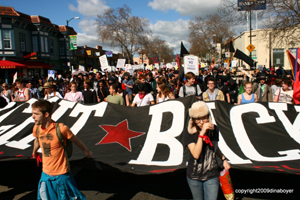 Sat Feb 27 2010
(Updated 05/05/10)
Students and Education Workers Take a Stand on March 4th
California March 4th Resistance Widespread at K-12 Schools, Colleges, and Universities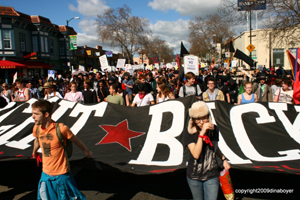 May 4th Update:
Dozens of March 4th arrestees sentenced to time served; Next court date May 11th 9am
March 5th Update:
One hundred and fifty-seven I-880 arrestees were taken to Glenn Dyer jail in Oakland and Santa Rita jail in Dublin, an Indybay reporter amongst them. Most were charged with unlawful assembly and obstruction of a public place (misdemeanors). At least two at Oakland and one at Santa Rita were held on bail, charges being resisting arrest and or assault. All have been released by now. Arraignments for I-880 arrestees are set for
April 2nd
and
April 5th
. A local high school student,
Francois Zimany
, is recovering from a 25-30 foot fall off of I-880.
---
March 4th:
Across California, students and educational workers rose up against budget cuts, layoffs, fee hikes, and the system that prioritizes war and prisons over schools. In
Berkeley
, students blocked gates to UCB, rallied, and marched to downtown Oakland. In
Oakland
, hundreds of K-12 students walked out and protested on Telegraph Avenue. Laney College students marched to the main rally at Oakland City Hall. After the rally in Frank Ogawa plaza, 150-200 people walked onto southbound I-880 in Oakland. About an equal number of police mass-arrested most of those on the freeway. An Indybay reporter was arrested with 155 others and taken to Oakland City jail and Santa Rita jail overnight. One person was taken to the hospital after either falling, jumping, or being pushed by police off of the freeway. In
San Francisco
, SF State students, faculty, and supporters, in an event sponsored by the California Faculity association, rallied and briefly blocked 19th Street. SF City College students rallied and rapped. Later, thousands from schools across SF marched and rallied at the Civic Center along with several labor groups. In
Concord
, students at Diablo Valley College rallied and marched. In
Vallejo
at the California Maritime Academy, employees, faculty, and students rallied against budget cuts. In
Santa Cruz
, students, faculty, and workers gathered at 5 am to shut down UCSC by blocking the two main gates, followed by rallies and a general assembly. In
Aptos
, hundred rallied at Cabrillo College. In
Watsonville
, parents, students, and community partners held a rally in the Watsonville plaza. In
Monterey
, CSU-Monterey students rallied against budget cuts, inaction, and the destruction of the higher education system. In
Davis
, police used pepper balls, batons, and tasers on UC Davis students as they attempted to block I-80. In
Sacramento
, thousands rallied in front of the Capital building to protest politicians selling education short in California. In
Stockton
, students, teachers, and workers march against cuts on education. In
Fresno
, students, faculty, and supporters marched to CSU-Fresno where they were joined by hundreds of more students who walked out of classes and joined the rally. Following the rally, dozens of students marched to the administration building and engaged in a sit-in until they left of their own accord late in the evening. In
Los Angeles
, 300 students occupied UCLA's Murphy Hall while thousands of others marched and rallied. More student and education worker actions took place across the U.S.

Indybay M4 Photo Gallery
Oakland —

Photos: 1 | 2 | 3 | 4 | 5 | 6 | 7 | 8 | 9 | 10 | 11 | 12 | 13 |

Video: 1 | 2 | 3 | 4 | 5 | 6 | 7 |

Audio
Breaking News from I-880 Action | Protesters being arrested on the freeway | DROP THE CHARGES Against the March 4th Protesters! | I-880 Legal Update | Update on student who fell from I-880 highway overpass | An Analysis of I-880 Direct Action | Rebuttal to "Why Did the March onto the 980 Freeway Happen" | Raider Nation Collective Statement on the M4 Highway Takeover | Feeling Froggy? Dicking around at Santa Rita | Letter re: March 4 protest from President of the Oakland Education Association | The Dawn of the Crisis Generation | Real Risks. Real Community | Addendum to My Original Rebuttal...by Melissa Merin | Open letter to M4 action critics

Berkeley —

Photos: 1 | 2 | 3 | 4 | 5 | 6 |

Video: 1 | 2 | 3 | 4 |

Audio
Notes On March Fourth And The Invisible College

San Francisco —

Photos: 1 | 2 | 3 | 4 | 5 | 6 | 7 |

Video: 1 | 2 | 3 | 4
Day of Action in San Francisco: Impressions | Anarchist critique of the action in San Francisco |

March 13th: SF Assembly Meeting "What Next After March 4"

Concord —

Photos

Vallejo —

Photos

Napa — March 4th is here! Walk out of class! Walk out of work! Meet us at Napa Valley College!

Santa Cruz —

Photos: 1 | 2 | 3 |

Video | Hundreds Marching in Downtown Santa Cruz "Education Should Be Free!"

Aptos —

Photos

Watsonville —

Photos

Monterey —

Photos |

Video

Davis — UC Davis protestors clash with police in attempt to block I-80 |

Video

Sacramento —

Photos

Stockton —

Photos

Fresno —

Photos |

Video: 1 | 2 |

Audio: 1 | 2
Students Occupy Fresno State | Examination of the current state of education and last nights occupation in Fresno | New Times Coming

Los Angeles — UCLA MURPHY HALL IS OCCUPIED BY 300 students and campus workers! | Thousands of Californians Protest Education Cuts |

"March 4 Education" featuring ANAKBAYAN-LA! |

March 4, 2010: UCLA Fights Back | LA Indymedia

San Diego —

Photos | Thousands rally in San Diego against education cuts

Portland, Oregon —

Whaddup California?!? Portland State Marches 4th!
See Also: What's March 4 Looking Like So Far? | The Fight to Save Public Education | How Not to Complain About March 4 | The Way Forward for the Movement in Defense of Public Education
---
March 1st:
Black students in all black, masked up, linked arms to block UCB Sather Gate's main entrance in solidarity with UCSD and UCLA. Other students hung banners at UCB that read "March 4 - Class War" and "March Fourth - Hella Strike" across campus. Students at UCSC marched around campus carrying banners and a giant sammy slug puppet, blocking traffic and disrupting classes to raise awareness of the recent swell of racist acts throughout the UC system. Five students were arrested while hosting a non-violent direct action (study-in) in Assemblyman Jim Neilsen's (R-Yuba City) office.

Photos: UCSC Students protest recent racism at UCs and promote March 4th Strike | Berkeley Campus Decorated In Anticipation of March 4 | Black Students Block Sather Gate ||

Statement from the Nielson 5; Students do non-violent study in for higher education access
---
Last Week of February:
banners were dropped from buildings at CSU Fullerton, SF State and
UC Santa Cruz
, while students occupied a building at UC Irvine over budget cuts and held sit-ins in UC San Diego (
1 | 2
) and UCLA against racist policies.
---
February 25th:
a dance party of hundreds taking place on Sproul Plaza at UC Berkeley turned into an occupation as party-goers took over the construction site of Durant Hall. After taking over the building and causing some amount of property damage, participants took the party onto the streets. The crowd moved down Telegraph Ave., pulling objects into the street to prevent police movement while smashing a window out of a Subway. For more than an hour the party swelled in numbers while dancing around a burning dumpster and throwing projectiles at police who tried to move in.
Two people were arrested
on felony charges and face arraignment March 1st.

Video: Berkeley Pre-Game Communiqué | UC Berkeley dance party evolves into confrontation with police || Reports: The Durant Riot: Initial Brief | SAVE-UC Open Letter to Chancellor Birgeneau | ReclaimUC Durant Hall Communiqué | Daily Cal Student Newspaper Article and Video | Daily Cal Slide Show
---
February 24th:
a protest was held at UC Santa Cruz in response to racially themed parties held at UCs San Diego and Santa Barbara, and in response to the state of diversity at UCSC.

UCSC: REAL PAIN. REAL ACTION.
---
In anticipation of the statewide strike and day of action on March 4th, activists have stepped up their actions with a renewed round of occupations in California. In the East Bay, strikes and walkouts are planned to converge in downtown Oakland and an evening rally is planned for San Francisco. Other actions are planned at universities, colleges, and high schools across the state.
Demonstration Announcements:
Occupy Everything Fight Everywhere Strike March 4! | UC Berkeley Actions and March to Oakland | Evening Rally in San Francisco

March 4th Events Across the State! | Bay Area | Cabrillo College | CCSF | Diablo Valley College | De Anza Community College | East Bay Region | Fresno State | Modesto Junior College | Napa Valley College | San Francisco | Stanislaus | UCSC | Watsonville
More March 4th Information: Occupy California | Reclaim UC | Defend Education | UC Fights Back | Subversities
See Also:
WARNING!! POLICE MILITARIZING FOR THURSDAY EVENTS
|
New Report Calls for Reforms in Structure of University of California Governance
|
A Letter to the White Student Movement
|

Napa Valley College SDS invites Gerald Sanders, former Black Panther (Part1)
|
What's there to defend in public education?
|
Reactionary UC Berkeley Faculty Fall to All-Time Low
|

7-Day Weekend: Issue No. 1
|
Disaster Capitalism University
|
March 4 Socialist Program to Defend Education
|

"After the Fall: Communiques from Occupied California" Full PDF
Call-Out to Students and Education Workers: Post March 4th Reports and Photos to Indybay

Indybay Education & Student Activism News
We are 100% volunteer and depend on your participation to sustain our efforts!
Get Involved
If you'd like to help with maintaining or developing the website, contact us.