From the Open-Publishing Calendar
From the Open-Publishing Newswire
Indybay Feature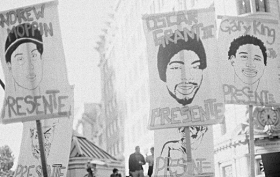 Thu Jul 8 2010
(Updated 07/27/10)
Mehserle Found Guilty of Involuntary Manslaughter
"No Justice, No Peace, Fuck the Police!!!"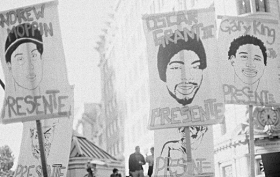 On July 8th, 2010, former BART police officer Johannes Mehserle was found guilty of involuntary manslaughter for shooting and killing Oscar Grant on January 1st, 2009 in Oakland, California. Mehserle was led away from the courtroom in handcuffs and is now in custody. His sentencing was expected on Friday, August 6th, but has now been delayed at the defense's request without a final date set yet. Involuntary manslaughter can carry a sentence of 2 to 6 years, with up to 10 years added for a gun enhancement. Sentencing and other motions are now on the court calendar for Friday,
November 5th
at 8:30 a.m.
In Oakland, thousands of people took over the intersection of Broadway and 14th for a protest which started shortly after the 4PM verdict and lasted until late in the evening. Early in the evening, a woman was injured when a police vehicle backed into her. Later, several windows were broken, a Foot Locker was broken into, and several small fires were set in trashcans. Over fifty protesters were arrested.

Video: 1 | 2 | 3 | 4 | 5 | 6 | 7 | 8


Audio: @ Radio Response to Meserle Verdict | "No Justice" ft. Kev Choice & Bambu
(
More New Oscar Grant Songs
)
| Radical Perspectives


Photos: 1 | 2 | 3 | 4 | 5 | 6 | 7 | 8 | 9 | 10 | 11 | 12

Indybay Breaking News Updates From Thursday
Protester Court Support:


Call Out for Solidarity July 22nd, 23rd, and 26th | Update on Oscar Grant arrestees still being held

NLG press conference criticizes cops' handling of Mehserle verdict protest | Police Accused of Using Illegal Tactics at Oakland Protest | OPD, Law Enforcement Used Excessive Force At Oscar Grant Protests


Town Hall Press Conference Responds to Mehserle Verdict, Thanks Supporters, 7/10/10: audio
Read More:

Oscar Grant and Police Accountability
|
Oscar Grant and the Role of Militant Action
|
An Anti-Authoritarian quest against Poilce Violence in the Central Valley!
|
Pigs to Rally in Support of Johannes Mehserle & Other Cops Who Kill
|

Town Hall for Justice Responds to Mehserle's Involuntary Manslaughter Verdict, 7/10/10: audio
|
In the Oscar Grant Movement, Steel Sharpens Steel : Oakland's Verdict
|
Questions for Dellums and other "authorities"
|
The whole damn system is GUILTY! We demand justice for Oscar Grant!
|
Court Support Needed For Oscar Grant Supporters, July 12th & 13th
|
Oscar Grant: Verdict Night In Oakland
|
Don't put the "outsider" label on people who are standing up for justice and civil rights!
|
Journalist Wes Osburn arrested at Oscar Grant rally
|
Why the Spin Regarding "Outsiders" Protesting the Mehserle is Bullshit
|
Revolution Books: The Whole System Is Guilty
|
The Coup - "And now their babies got free Pampers and free Nikes"
|
SF Bay View: Oakland says Johannes Mehserle is guilty
|
Oscar Grant Was Murdered!
|
Street tweets & posts from protests
|
Oakland's Verdict
|
Involuntary Destruction
|
First Hand Report of Oakland Riot
|
NLG Criticizes Mehserle Verdict As Gross Injustice
|
HE GOT OFF!
|
Outside Agitators
Protests also took place in
Los Angeles
(

Video |

Audio |

Photos: 1 | 2 | 3 |
),
Santa Cruz
(


Photos & Video |

Photos
|
Attack on Police Car
),
Palo Alto
(

Photos: 1 | 2
),
Fresno
(

Photos |

Audio and Photos
),
San Diego
,
Portland
(

Photos
),
Seattle
(

Photos
),
Minneapolis
(

Photos | En Español
),
Denver
, and
Bloomington
, Indiana (

Photos
)


City Attempt to Preempt Day of Verdict Community Gathering
See Also:
Colorlines: "MY SON WAS MURDERED" - Grant's Mom
|
OscarGrantProtests.com
|
Youth Radio: Oscar Grant
|
Oakland Local Coverage
|
SF Bay View
Before you go out in the streets to demonstrate
, write the
National Lawyers Guild
's Bay Area hotline number on your arm:
(415) 285-1011
. The NLG was documenting on July 8th and is currently providing legal support for arrestees.
Previous related feature: Jury Deliberations Have Begun, Mehserle Verdict Date Unknown
Full coverage of the Justice for Oscar Grant movement
We are 100% volunteer and depend on your participation to sustain our efforts!
Get Involved
If you'd like to help with maintaining or developing the website, contact us.