From the Open-Publishing Calendar
From the Open-Publishing Newswire
Indybay Feature
Town Hall Press Conference Responds to Mehserle Verdict, Thanks Supporters, 7/10/10: audio
The press conference held outside of True Vine Ministries in West Oakland was called to address numerous issues surrounding the Involuntary Manslaughter verdict Johannes Mehserle received on July 8th for the murder of Oscar Grant, the "apology" letter written by Mehserle as the jury deliberated, the Oakland communities response to the verdict, and to thank supporters from the youth and grass roots up to politicians and even police for supposedly showing restraint in the streets after the verdict was announced. The
National Lawyers Guild
and
community activists
would disagree on the helpfulness of politicians and police leading up to and on the day of the verdict. Speakers included Minister Keith Muhammad, Tony Coleman, Jeffrey Pete, Wilson Riles Jr., Donald Lacy, and Cephus Johnson. [Full audio below]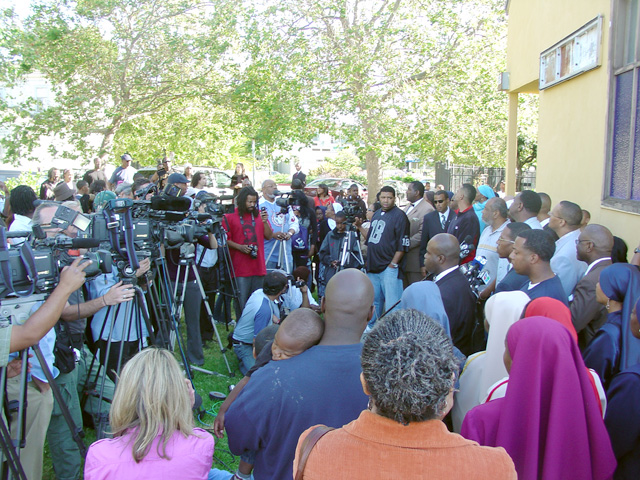 Minister Keith Muhammad opens the press conference by noting that Involuntary Manslaughter is not justice at all, but he expresses gratitude to those in Oakland and the surrounding areas who have stood for justice since the murder of Oscar Grant. Justice knows no color lines, but we live under the rule of the architects of white supremacy. Justice does not have color, but in practice America does. As a result, most law enforcement shooting "accidents" have as their primary target Black men.
Minister Keith continues: In unity, when Oscar Grant was murdered, we declared "I am Oscar Grant." We're proud to live in Oakland where the Black Panther Party started in response to police brutality. The first Black mayor in Oakland won office with the support of the Black Panther Party and that has led to other elected officials who are unafraid to stand and demand justice. Minister Keith gives thanks to Councilmember Desley Brooks who he says joined the chorus for justice from the beginning. He thanks Alameda County Supervisor Keith Carson. Congressperson Barbara Lee and Mayor Dellums have stood at times for justice in varying ways. He extends his gratitude to activists, black, brown, red, yellow, and white, young and old, Oaklanders and non-Oaklanders who traveled to secure justice. He notes how the media has portrayed that out-of-towners were the greatest problem in January of last year. Martin Luther King Jr was not from Alabama, but Rosa Parks and the call for justice were. Noting that Martin Luther King declared that an injustice anywhere is a threat to justice everywhere, Minister Keith asks for a round of applause for those who travelled in the course of justice.
Tony Coleman speaks for the Oakland General Assembly for Justice for Oscar Grant and thanks all the young people that came out to the event at 14th and Broadway despite the fear and hysteria. He says he learns so much from the young, and is proud of them for speaking out and being committed to justice. We need to support them because they are the ones being targeted by police. We need to give them an opportunity to lead and not to pacify them. We want the next Malcolm to come out of this movement. We are not trying to put out the fire, we're not trying say go home and be peaceful and pray on it. We are fanning the flames. We have to change the mindset of the police who think they can get away with killing our kids. [The next
General Assembly meeting
is on Thursday, July 15th, at 7pm at the Continental Club in West Oakland.]
Minister Keith thanks Mayor Dellums and Oakland police chief Anthony Batts for taking a "step back position". They allowed people to express their first amendment rights. He says other cities may not have allowed the speak-out to happen. He admonishes the media by adding that Oakland did not burn down on the day of the verdict. There was more fire in Los Angeles after the Lakers won the championship recently than two days before in Oakland.
Jeffrey Pete of the Oakland Black Caucus thanks Desley Brooks for her commitment to the city in securing its safety. He says he was in awe of the speak-out that Tony Coleman helped organize. He says Mayor Dellums faced off the police in January 2009 and told them to back off in a way he's never seen. He said it was a travesty when people booed the Mayor in front of City Hall on January 7th, 2009. He says bottle throwers on verdict day did not care about justice for Oscar Grant. He thanks the mayor for his leadership on this issue and the OPD for their restraint on the day the verdict came out. He compares it to the OPD attack on protesters at the Port of Oakland in 2003.
Former Councilmember Wilson Riles Jr. thanks Dellums for the concept of the model city, for racial and economic justice. He talks about a story from the 1850s when the one and only police officer in Oakland was killed by a Black man because the police officer had broken into his home accusing him of harassing a white man. He talks about the assassination of Li'l Bobby Hutton in 1968 just blocks away from where the press conference was being held. The Black Panthers and so many have been fighting for justice for years, but Wilson Riles says he is more hopeful now than he has ever been. Our hearts go out to the family, but folks are making a commitment to make their lives and community better.
Cephus "Uncle Bobby" Johnson thanks the community for their support over the last year and a half. He says it's been a long hard road, and that the battle is just getting started. He says Second Degree Murder should have been the verdict and he is hoping for serious charges from the U.S. Department of Justice. He calls out that the "apology" letter written by Johannes Mehserle was released to the public and not any members of the family, even though the media reported it as a personal apology letter. Cephus says it was written to influence the judge and the jury. If Mehserle was truly sorry he could have written the letter last January when he had run to Tahoe before he was charged with murder. Cephus contradicts Mehserle's claim to have put his hands on Oscar Grant's bullet wound after he shot him because the video shows Mehserle putting his knee on the bullet wound while he handcuffed Oscar Grant. Cephus says the letter is fake just like Mehserle's tears on the witness stand.
Minister Keith opens up the press conference to questions from the assembled media. The first questioner, standing behind and off to the side of the speakers, asks about investigations into outside agitators coming for trouble, but Minister Keith says that would be the police's job to figure out. He says he is unhappy with the way the city has been portrayed as if it burned down, when all planned events happened as scheduled. The pursuit of justice is not over with Justice Department investigation pending. Tony Pirone should be charged too. Every police officer who testified lied, and not one said they heard a gunshot when Mehserle fired. Minister Keith calls out the media for not reporting on Pirone's racial epithets that came out in the preliminary hearing. Oscar Grant and his friends had their civil rights violated, and his friends were detained and handcuffed for hours, taunted by BART police during that time.
Donald Lacy of the Lovelife Foundation speaks about being harassed by police in Oakland as a child, that it was natural to fear the police. He thanks Jeffrey Pete, Tony Coleman, Dellums, Brooks. He says his is proud of Oakland. He says we need to continue wrap our arms around Oscar Grant's family.
The media then continue with questions. How do people plan to get the Justice Department involved? Minister Keith says that the Department of Justice is already involved. One obnoxious corporate media person says that speakers are ignoring the "firebombs and explosions" on the day of the verdict and requests that Cephus Johnson respond. Cephus reiterates that the family has always called for peaceful protests and adds that police often use plain-clothes provocateurs to stir things up. Minister Keith declares that it is not fair to put the weight of any violence on the shoulders of Cephus and the family. Minister Keith adds that when justice is not served there is an anger that God permits in the heart of those who have suffered injustice, and when that occurs we are not the firemen. We didn't start that fire and the only thing that can put that kind of fire out is justice. A question is asked about the media focus on property destruction, and Minister Keith asks what is the value of the life of a Black man. So, while we don't want to see the loss of property, if we are humane and we want to secure peace then justice is the path toward peace. Peace is the fruit of justice.
Immediately prior to press conference, Town Hall Responds to Mehserle's Involuntary Manslaughter Verdict, 7/10/10: audio
http://www.indybay.org/newsitems/2010/07/13/18653779.php
We are 100% volunteer and depend on your participation to sustain our efforts!
Get Involved
If you'd like to help with maintaining or developing the website, contact us.