From the Open-Publishing Calendar
From the Open-Publishing Newswire
Indybay Feature
Police Accused of Using Illegal Tactics at Oakland Protest
Walter Riley, Esq. speaking at NLG Press Conference at Broadway & 14th Street, Oakland, CA, on June 14, 2010
Photo by Jonathan Nack
Police Accused of Using Illegal Tactics at Oakland Protest
By Jonathan Nack
June 15, 2010
OAKLAND, CA – Lawyers and activists decried police tactics used by the Oakland Police Department (OPD) and other law enforcement during protests in downtown Oakland last Thursday, July 8, 2010,. The protests were in response to the verdict of Involuntary Manslaughter in the trial of Officer Johannes Mehserle for the killing of Oscar Grant, which was announced that day.
At a press conference held yesterday which was called by the National Lawyers Guild (NLG), at 14th Street and Broadway in Oakland, the same corner that was the site of a mass speak-out protest last Thursday, police actions were slammed.
http://www.commondreams.org/newswire/2010/07/14
Speakers charged police with using excessive force including violently attacking people who were nonviolent; arresting many demonstrators who did nothing wrong; holding people in jail who were arrested for minor offenses; deliberately provoking protesters; failing to protect small businesses; and violating a court ordered crowd control policy, as well as state and federal laws.
"What we've found from our investigation so far is that there was police misconduct," summarized Walter Riley, a well known Oakland-based civil rights attorney. "Police were overly aggressive, they were violent... We intend to investigate to get more details about the police procedure that was in place that night... We want to see some hearings," said Riley.
"Police made a number of attempts to provoke a confrontation," charged Riley. "They could have stopped some of the things that occurred, but didn't", he said. He added that police allowed a small number of people to vandalize businesses to perpetuate what he called, "a narrative of violence."
Riley described how he himself was arrested and choked by a police officer while trying to clear the area following OPD's declaration of an unlawful assembly.
"I was arrested right at my front door Thursday night... I was moving out of the street and urging others to," said Riley. He described how he was using his key card to the secure office building where his law office is located at the time he was arrested.
Riley said that he tried to explain to an officer that he was an attorney going to his own office, but was subsequently choked by an unidentified police officer. "I don't appreciate being choked," said Riley bitterly.
"I was here in the crowd as part of the protest, because the murder of Oscar Grant is a murder that requires justice... The National Lawyers Guild had members out here that night, working with other citizens of this community, to insure that people had the right to peaceful protest," explained Riley.
"It's important for those who want to play a leadership role to be there on the streets, " emphasized Riley.
Susan Harman, a 69 year old retired teacher and principal, said she was at the protest to help protect protesters from police attack. She described how she joined with others who nonviolently positioned themselves between police and protesters and linked arms.
"I was hit on the head by a police baton.. I'm wearing the shirt today that is stained with my own blood," said Harman. She told how her arms were wrenched behind her back when she was arrested and how she was kept overnight in a crowded cell in which the toilet wasn't working.
"It's frightening that this happened in a country that is using security to justify repression," said Harman.
Under a court ordered crowd control policy, OPD officers, "are never allowed to hit someone on the head," who is protesting nonviolently, said Rachel Lederman, a San Francisco-based attorney who represented plaintiffs that sued the City of Oakland over OPD's shooting of nonviolent demonstrators and workers at the Port of Oakland during an anti-war protest in 2003.
The City settled that suit for $2 million dollars. As part of the deal, the judge issued a Settlement Order which requires OPD to adopt a specific Crowd Control Policy, according to Lederman.
"We're very disappointed that the Court ordered policy was thrown out the window and that state laws and the U. S. Constitution were violated," said Lederman.
Among the violations Lederman cited was the failure to provide adequate time for protesters to clear the area, and the holding protesters overnight who were arrested for minor offenses. "People were held for up to 20 hours," described Lederman. She said that the NLG was considering legal action.
"The abusive and provocative actions of the police were just shameful, " said Rachel Jackson, of the Coalition for Justice for Oscar Grant. "Shame on the officers," she scolded.
"The speak-out was a beautiful event that was multi-racial and multi-generational... Somehow our event was lost," in the media coverage of the police action, lamented Jackson.
The police, "deliberately put small businesses in harms way," Jackson told this reporter following the press conference. She claimed that police first provoked protesters and then didn't protect businesses which were attacked.
Anne Weills, another Oakland-based attorney who was a NLG Legal Observer at the protest, described the police actions as "surreal"and and that they, "created an armed camp downtown." "The police were so angry," said Weills.
"Who is running this city? OPD, the police union, or the people of Oakland," asked Weills.
Carlos Villarreal, Executive Director of the NLG, said that the purpose of the press conference was to present, "a different a picture of the reality on the ground." There is little doubt that it was also a warning of impending law suits.
* * *
A video of some of Walter Riley's remarks at the press conference by Bill Carpenter is at:
http://www.indybay.org/newsitems/2010/07/14/18653852.php
More information about justice for Oscar Grant is at:
http://www.oaklandforjustice.org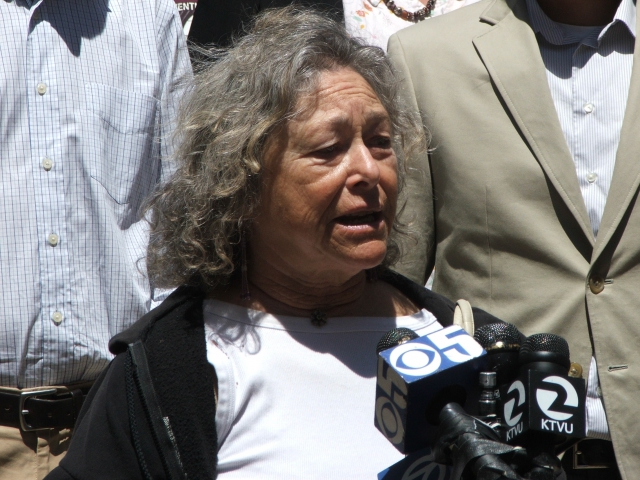 Susan Harman speaking at NLG Press Conference at Broadway & 14th Street, Oakland, CA, on June 14, 2010
Photo by Jonathan Nack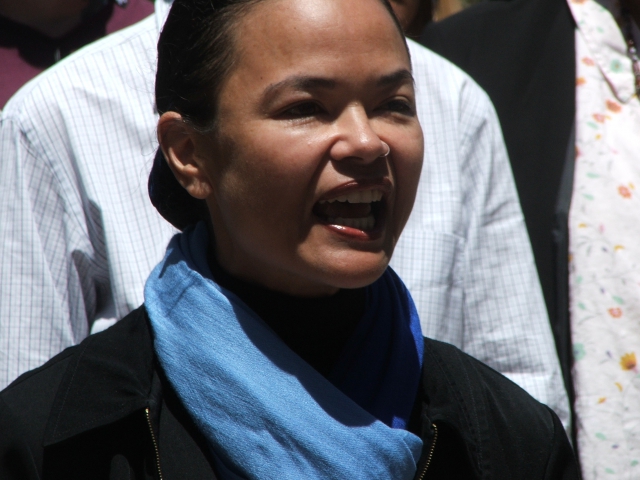 Rachel Jackson, of the Coalition for Justice of Oscar Grant speaking at NLG Press Conference at Broadway & 14th Street, Oakland, CA, on June 14, 2010
Photo by Jonathan Nack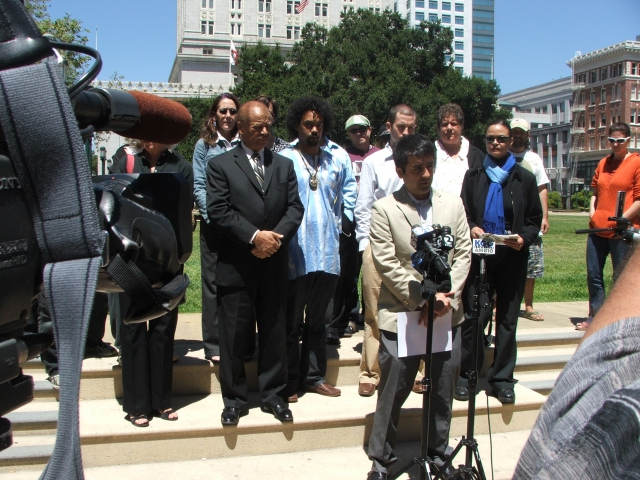 Carlos Vellarreal speaking at NLG Press Conference at Broadway & 14th Street, Oakland, CA, on June 14, 2010
Photo by Jonathan Nack
Rachel Lederman speaking at NLG Press Conference at Broadway & 14th Street, Oakland, CA, on June 14, 2010
Photo by Jonathan Nack
Ann Weills speaking at NLG Press Conference at Broadway & 14th Street, Oakland, CA, on June 14, 2010
Photo by Jonathan Nack
We are 100% volunteer and depend on your participation to sustain our efforts!
Get Involved
If you'd like to help with maintaining or developing the website, contact us.