From the Open-Publishing Calendar
From the Open-Publishing Newswire
Indybay Feature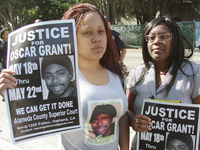 Sun May 24 2009
(Updated 07/22/09)
Murder Charge Sticks for Johannes Mehserle
Preliminary Hearing Concludes for BART Police Officer in the Murder of Oscar Grant III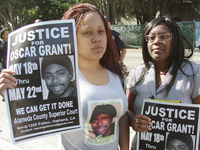 The preliminary hearing in the trial of Johannes Mehserle for the murder of Oscar Grant III on January 1st, 2009 began on Monday, May 18th at the Alameda County court house. To be decided in the preliminary hearings were such issues as if there is enough evidence to proceed with a trial of Johannes Mehserle or if the murder charges should remain or be reduced, and so forth. Indybay has thorough reports from inside the court room during the entire hearing, with defense and prosecuting attorneys presenting video evidence and questioning witnesses as they established their cases. BART police officers testifying tried to show that they were in danger and fearful at the time of the shooting, but video evidence, as well as their own contradictory statements, repeatedly showed them to be lying.
Outside the court house, demonstrators gathered in the mornings and afternoons in order to press for an effective prosecution of Johannes Mehserle, for justice for Oscar Grant and other victims of police violence. Activists noted that if a conviction cannot be secured for a police officer who shoots a citizen in the back on video, then police everywhere can act with impunity and no community will be safe from police abuse. The hearing concluded on June 4th when Judge Clay declared that Mehserle will stand trial for murder. The family of Oscar Grant gratefully acknowledged community activists and supporters who rallied at the court house.
June 18th Update: Notes on the Mehserle Arraignment of 6/18/09
June 3rd-4th: Reports from Inside the Courtroom June 3rd-4th | The People vs. Johannes Mehserle: Days 6 & 7 |

Preliminary Hearing Court Transcripts - Days 5-7, May 27th-June 4th |

Family of Oscar Grant Celebrates Victory, Mehserle to Face Murder Charge, 6/4/09
May 26th-27th:

Photos | Reports from Inside the Courtroom May 26th-27th |

Town Hall Reports from Inside Mehserle Hearing, 5/30/09
May 18th-20th:

Video |

Photos 1 | 2 | 3 | 4
Reports: Reports from Inside the Courtroom May 18th-20th | Message of Thanks from the Family of Oscar Grant | Killer Cop Going To Court All Week
Previous Trial-Related Indybay Feature: BART Officer Who Shot Oscar Grant Has Bail Set At $3 Million
Also See:
Murdering Cop to Face Murder Charges… The Struggle Continues
|

Town Hall for Justice for Oscar Grant, Oakland, 6/13/09
|

Town Hall for Justice on Victory of Murder Charge for Mehserle, 6/6/09
|
Reflections on Courtroom Conditions at the Mehserle Trial
|
The Murder of Oscar Grant and the Continuing Struggle for Justice
|
Cop faces murder trial in Oscar Grant case
|
Mehserle gets murder charges!
|

Town Hall Reports from Inside Mehserle Hearing & Orloff Recall, 5/30/09
|

Caravan for Justice III -- Fight for Justice Returns to Sacramento for Third Time, 5/26/09
|

Town Hall for Justice on Mehserle Hearing, BART Review, & Caravan, 5/23/09
|
Week One Oakland Report: Hearing for Killer Cop Mehserle!
|

The People Vs. Mehserle Teach-In
|
A badge is not a license to murder: Make sure the murderer Mehserle is charged with murder
|
Free the Minister of Information JR! Convict killer cop Johannes Mehserle!
|

Town Hall for Justice on BART Review, Mehserle Hearing, & Recall, 5/16/09
We are 100% volunteer and depend on your participation to sustain our efforts!
Get Involved
If you'd like to help with maintaining or developing the website, contact us.