$
158.00
donated in past month
From the Open-Publishing Calendar
From the Open-Publishing Newswire
Indybay Feature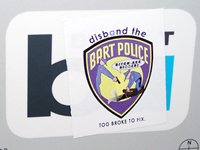 Sun Sep 20 2009
BART Police Oversight Plan Dead
Sun Sep 20 2009
Community Activists Take to BART Trains Again to Inform Riders About BART's Rogue Police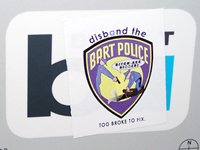 Justice for Oscar Grant activists took to East Bay BART trains and stations on September 4th to inform riders about BART's intransigence toward holding anyone accountable for their police officers' behavior on New Year's Day. Besides laying out some of the basic facts about the events surrounding the murder of Oscar Grant, activists implored: Help us pressure BART to do the right thing and discipline these officers; Help us pressure the state to charge these officers with the crimes they committed. As the morning commute wound down, activists left BART to attend Mehserle's 995 hearing.
Later in the day, after the Mehserle hearing, it was learned that BART's attempt to pass AB1586 (originally named AB16) would fail in this legislative session in the California Assembly, meaning that there would be no new police oversight of any kind established before the end of the year. In April, BART had already stalled Tom Ammiano's AB312, which would have mandated civilian oversight for the BART Police Department (and potentially could have been law by now if BART had gotten behind it). BART stymied AB312 (along with California police unions) under the promise that they would create their own civilian police oversight model, but BART undercut the strength of their proposal every step of the way.


Read More
Related Indybay Feature:
No Justice No BART Takes the Truth to the Trains, July 16th
Recent Related Coverage
:



Johannes Mehserle's 995 Hearing: video, photos, and court documents including ruling
||
Murdering BART cop Mehserle's attempt to get case dismissed with 995 motion FAILS
||

Town Hall for Justice for Oscar Grant, Oakland, 8/29/09: audio
||



Community Demands Action at BART Board Meeting; BART Lies Yet Again: video and audio
||
Oscar Grant Protesters Interrupt Bart Board Meeting, Demand Action
||



BART Uses Faux "Community" at Press Conference to Attack Ammiano for BART's Own Failures: audio and photos
||

Town Hall on BART's Lobby of State Legislature for Their Police Oversight Plan, 8/22/09: audio
||

BART Releases Public Report from Meyers Nave Investigation of New Year's Day Murder, 8/18/09
||

BART Police Oversight Vs. Every Cop Union in the State; Police Chief Gee Out; and a Rumor
||

Town Hall for Justice for Oscar Grant, Oakland, 8/15/09: audio
||


BART Anxious to Wrap Up Police Oversight Plan at Final Subcommittee Meeting
||

Town Hall on Obama, Parnell Smith, Brownie Polk, BART, & Emeryville Police Racism, 8/8/09: audio
||

MOI JR Interview with Rekia Jabrin on the Trial Of Johannes Mehserle
||

BART Public Hearing on Flawed Draft Police Oversight Plan: audio
||

BART Going Forward with Seriously Flawed Police Oversight Plan Created Behind Closed Doors
||

Town Hall on BART Police Oversight, Mehserle, Obama, Racial Disparities, 7/25/09: audio
||

Town Hall for Justice on Racial Profiling, OPD, BART, Justice Department, 7/18/09: audio
Related Categories:

East Bay | Police State and Prisons | Racial Justice | Front Page
Scott Sternberg of Beverly Hills is behind Richmond's mass evictions
Thursday Aug 25th 4:45 PM

Mayor Schaaf Accused of Promoting Acting Police Chief Without Notifying Public
Wednesday Aug 24th 7:52 PM
Hacker houses are proliferating in the Bay Area
Monday Aug 22nd 10:34 PM

Video of Newark PD Shooting Teo Valencia in the Back
Monday Aug 22nd 3:32 PM

Teo Valencia family filing federal lawsuit against City of Newark
Monday Aug 22nd 10:06 AM
Danny Haber and Alon Gutman target tenants with eviction and higher rents
Sunday Aug 21st 9:06 PM
James Kilpatrick is sued by China Town tenants and Oakland City Attorney
Sunday Aug 21st 1:23 AM

Stop Urban Shield: Mass Mobilization
Friday Aug 19th 10:38 AM

Where The Bulletproof Warrior Went
Thursday Aug 18th 2:36 PM
HUD policies threaten poor, elderly, disabled, and low-income people with eviction
Wednesday Aug 17th 6:15 PM
More Local News...

This Week in Palestine, July 29th, 2016
Friday Jul 29th 9:58 PM

Palestinian Workers, Human Rights, US Labor & Zionism
Wednesday Jul 27th 10:56 PM

This Week in Palestine, July 22nd, 2016
Friday Jul 22nd 6:16 PM
Joleen Brown: Families First and Helping Others is the Key to Native Hoop Magazine
Saturday Jun 11th 1:56 PM
Academic Peer Review: Simon Springer and 'Anarcho-Geography.'  
Tuesday Apr 19th 7:01 PM

KPFA WorkWeek Radio On Chicago Teachers Strike, Closure Of Oak Trib & ILWU May Day Action
Sunday Apr 10th 3:42 PM

OSHA Chief Michaels and DOL Secretary Perez In Corruption Scandal At DOL/OSHA
Thursday Mar 31st 5:37 AM

Mary Kay Henry - Members Demand Say Aside The Rigged Election Results In SEIU 1021!
Sunday Mar 27th 11:34 PM

This Week in Palestine, March 4th, 2015
Friday Mar 4th 9:27 PM

WW2-2-16 UAL IBT Contract Fight And Flint Water, Labor And The UAW
Wednesday Feb 3rd 11:30 PM
More Global News...

Doctors of denial...8-23-16 Mouse Report
Tuesday Aug 23rd 1:47 PM

Nagasaki day, cry 4 R sham, guide to the end of the world...8-9-16 Mouse Report
Tuesday Aug 9th 2:25 PM

US can't deal with Rich...8-2-16 Mouse Report
Tuesday Aug 2nd 3:17 PM

Rapid Deployment Corps-NATO Gladio B-Turkey...7-26-16 Mouse Report
Tuesday Jul 26th 3:01 PM
CA lawyer & wife of former "Save KPFA" board member Sarv Randhawa Gives Prayer For Trump
Wednesday Jul 20th 1:01 AM

28 Page Friday news dump...more hijacker myth lies...7-19-16 Mouse Report
Tuesday Jul 19th 1:59 PM

Progressive Norman Solomon Joins with Neocon Robert Kagan
Sunday Jul 17th 9:09 AM

Dixie Mafia Doctor Kills King...7-5-16 Mouse Report
Tuesday Jul 5th 3:06 PM

Condition November: TripleVice and the 'Bay of Pigs thing'...6--28-16 Mouse Report
Tuesday Jun 28th 1:48 PM

Ali Explains Orlando...6-21-16 Mouse Report
Tuesday Jun 21st 2:28 PM
Open Newswire...