From the Open-Publishing Calendar
From the Open-Publishing Newswire
Indybay Feature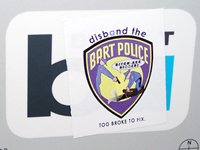 Sun Sep 20 2009
BART Police Oversight Plan Dead
Community Activists Take to BART Trains Again to Inform Riders About BART's Rogue Police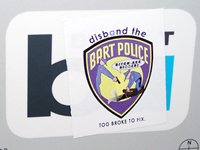 Justice for Oscar Grant activists took to East Bay BART trains and stations on September 4th to inform riders about BART's intransigence toward holding anyone accountable for their police officers' behavior on New Year's Day. Besides laying out some of the basic facts about the events surrounding the murder of Oscar Grant, activists implored: Help us pressure BART to do the right thing and discipline these officers; Help us pressure the state to charge these officers with the crimes they committed. As the morning commute wound down, activists left BART to attend Mehserle's 995 hearing.
Later in the day, after the Mehserle hearing, it was learned that BART's attempt to pass AB1586 (originally named AB16) would fail in this legislative session in the California Assembly, meaning that there would be no new police oversight of any kind established before the end of the year. In April, BART had already stalled Tom Ammiano's AB312, which would have mandated civilian oversight for the BART Police Department (and potentially could have been law by now if BART had gotten behind it). BART stymied AB312 (along with California police unions) under the promise that they would create their own civilian police oversight model, but BART undercut the strength of their proposal every step of the way.


Read More
Related Indybay Feature:
No Justice No BART Takes the Truth to the Trains, July 16th
Recent Related Coverage
:



Johannes Mehserle's 995 Hearing: video, photos, and court documents including ruling
||
Murdering BART cop Mehserle's attempt to get case dismissed with 995 motion FAILS
||

Town Hall for Justice for Oscar Grant, Oakland, 8/29/09: audio
||



Community Demands Action at BART Board Meeting; BART Lies Yet Again: video and audio
||
Oscar Grant Protesters Interrupt Bart Board Meeting, Demand Action
||



BART Uses Faux "Community" at Press Conference to Attack Ammiano for BART's Own Failures: audio and photos
||

Town Hall on BART's Lobby of State Legislature for Their Police Oversight Plan, 8/22/09: audio
||

BART Releases Public Report from Meyers Nave Investigation of New Year's Day Murder, 8/18/09
||

BART Police Oversight Vs. Every Cop Union in the State; Police Chief Gee Out; and a Rumor
||

Town Hall for Justice for Oscar Grant, Oakland, 8/15/09: audio
||


BART Anxious to Wrap Up Police Oversight Plan at Final Subcommittee Meeting
||

Town Hall on Obama, Parnell Smith, Brownie Polk, BART, & Emeryville Police Racism, 8/8/09: audio
||

MOI JR Interview with Rekia Jabrin on the Trial Of Johannes Mehserle
||

BART Public Hearing on Flawed Draft Police Oversight Plan: audio
||

BART Going Forward with Seriously Flawed Police Oversight Plan Created Behind Closed Doors
||

Town Hall on BART Police Oversight, Mehserle, Obama, Racial Disparities, 7/25/09: audio
||

Town Hall for Justice on Racial Profiling, OPD, BART, Justice Department, 7/18/09: audio
We are 100% volunteer and depend on your participation to sustain our efforts!
Get Involved
If you'd like to help with maintaining or developing the website, contact us.