From the Open-Publishing Calendar
From the Open-Publishing Newswire
Indybay Feature
BART Releases Public Report from Meyers Nave Investigation of New Year's Day Murder, 8/18/09
The long-overdue investigative report from Meyers Nave was finally turned over to BART last week and in turn a public version of the report was made available late this afternoon. The public report does not assign personal responsibility to any of the officers on the Fruitvale BART platform when Oscar Grant III was murdered. Nor does it recommend any corrective or disciplinary actions for specific BART police officers or supervisors in the chain of command. It says things like "the laser on the Tasers was often pointed in unsafe directions" without noting which officers did so (Tony Pirone and Marysol Domenici) and without recommending disciplinary action for the culprits. "Personnel matters" have not been released ostensibly due to the
California Police Bill of Rights
. Presumably, such info is contained in the full report released internally to BART. The public report, though, entitled "Review of BART PD Policies, Practices and Procedures," is highly critical of just about everything BART police and commanders did on January 1st and in the ensuing aftermath of the murder, as well as the culture of unaccountability within the BART Police Department. Overall, the report confirms much of which community activists were already aware -- that in too many ways the BART police have been an unprofessional and out of control police force desperately lacking proper oversight and accountability to the public.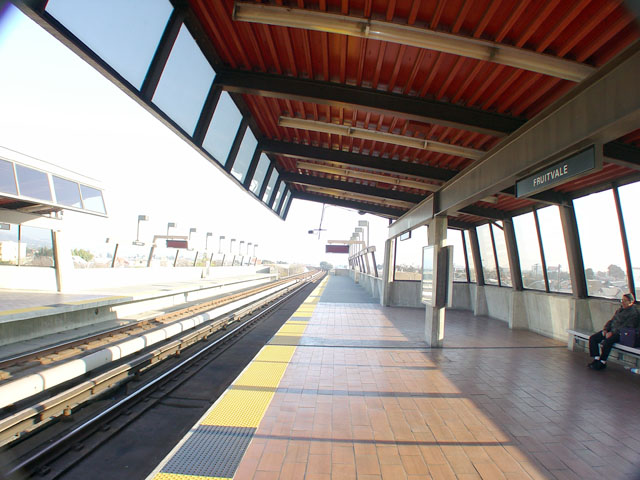 It is no wonder that the BART Board of Directors would
rush to finalize their police oversight draft
and
vote unanimously to approve it
in the same week that this report hit their desks. [Actually, it appears that they officially approved the plan
before the draft was actually finalized
.]
Likewise, the sudden announcement of the resignation of BART Police Chief Gary Gee this past weekend is hardly surprising, even after he had resisted months of community demands that he step down for his incompetent and corrupt response to the murder of Oscar Grant. For Chief Gee, it was finally the weight of the Meyers Nave criticism and the unanimous Board vote for a new level of police oversight, both coming last week -- and perhaps a cordial (or stern) push from the BART Board -- that proved too much to bare. Rather than being fired as he should have been, BART is allowing Gary Gee to "retire" and just walk away before the end of this year.
The public version of the Meyers Nave report clearly refutes statements made by Gary Gee in a January 12th press conference at the conclusion of his whitewash internal affairs investigation. With General Manager Dorothy Dugger and BART spokesperson Linton Johnson at his side, Chief Gee unequivocally declared at the time that his officers had followed BART police protocol and acted professionally, yet Meyers Nave now completely contradicts Gee and starkly states that "officers did not follow recommended procedures" on the Fruitvale platform, as anyone who has been following the case closely already knew. The summary of the report describes the tactics of officers on the scene as "seriously deficient."
In a testiment to Gee's laziness, or laisse-faire attitude toward improving his police force, Meyers Nave points out that the "BART Policy manual [has] not been updated in some areas since the 1970s, 1980s or 1990s." Remember that BART police murdered another unarmed African American man since Gee has been Chief,
Bruce Edward Seward
in 2001.
"[L]apses in tactical communication and leadership" are cited as a critical misstep on the morning of the murder of Oscar Grant. Why supervisors were unavailable on a such a big night for BART as New Year's Eve is not addressed in the report, only that their lack of supervision was a contributing factor to the escalation of events that led to the murder of Oscar Grant. Meyers Nave writes: "In this case, an experienced supervisor would have proven invaluable in controlling the scene, managing resources, directing use of force actions by officers, etc."
Another slap at Gary Gee, and his BART police internal affairs unit, is when the report declares that BART needs a "more thorough investigation of any incident in which force is used." Calling out the unacceptable behavior of officers on the platform, who apparently felt they could be as racist and violent as they pleased without accountability, Meyers Nave writes: "If all BART PD officers knew that BART PD would relentlessly investigate use of force incidents, including pulling of video and canvassing the scene, it is doubtful that BART PD officers would use force when it was not reasonable to so do." It almost reads as facetious snark when Meyers Nave, discussing internal investigations, dryly reports that "it is unknown when the last UNjustifiable use of force occurred within BART PD." [Emphasis added.]
Meyers Nave cites inadequate reporting from BART police on use of force incidents, hinting that there are major issues with the reports BART officers filed after Oscar Grant was shot. Judging by their dishonest testimony during
Johanne's Mehserle's preliminary hearing
, and the general history of police in America lying after shooting unarmed people of color, it is not hard to imagine what some of the problems are in the incident reports. Meyers Nave frankly declares that "in the future, arrest reports should be more closely scrutinized." In case anyone reading the report still doesn't get it, the report adds that "Use of force must be investigated more thoroughly" by supervisors.
As for the detainment of Oscar Grant's friends after he was murdered, the report cites numerous problems there as well. His friends were all inappropriately handcuffed for up to six hours while they were being detained by BART police, even though none of them were actually under arrest. Meyers Nave points out that it remains "unclear if the right persons were detained" that night in the first place.
The report echoes what community activists have been demanding since day one: "Enhance[d] transparency and accountability" are sorely needed in the BART Police Department. Perhaps the new police oversight proposal the Board has approved will help in this area, if the state legislature can overcome statewide police resistance and pass a strong oversight model for BART. Meyers Nave notes that "the public will have a greater sense of comfort in the BART PD" should the agency become subject to regular audits of its police force.
The public report, not surprisingly, makes no mention of inaccurate or offensive statements made by BART itself since the murder. BART, as a public agency, has yet to make amends for
statements it has made that have distressed Oscar Grant's family and the community
, such as in April when they virtually claimed it was Oscar Grant's fault that he was shot in the back. In a response to a civil suit brought against the public agency by the family of Oscar Grant, BART claimed that the use of force by BART police on the Fruitvale platform was appropriate and that it prevented Oscar Grant from physically beating the well-armed police officers.
Now that Meyers Nave has released their report, it remains to be seen what disciplinary actions will be taken by BART against the officers involved on January 1st, all of whom have been on paid vacation (i.e. paid leave) for the last seven months. Until the new police oversight proposal is possibly approved by the state legislature, against the will of cops statewide, then disciplinary authority for police officers continues to remain in the hands of Chief Gee, whose incompetent and non-credible internal affairs investigation of the matter motivated BART to approve hiring Meyers Nave in the first place. General Manager Dorothy Dugger, who herself has not seen fit to demand accountability for the outrageous behavior of BART police on New Year's Day, is not likely to fire Gee for inaction since he has already been given the easy out of retirement. Will the overdue firing or disciplining of corrupt police officers be one of Gary Gee's last acts as Chief? At this point, that remains unknown to the public.
Public pressure likely will continue to be required to push the BART Board to hold Dorothy Dugger and the BART police accountable for their actions related to the murder of Oscar Grant, including officers on the platform and their supervisors. Meyers Nave clearly noted that BART should require "more thorough investigation of any incident in which force is used" which would imply honestly calling out police misconduct where it it is found and firmly holding those responsible accountable. To date, not a single officer has been held to account by BART. Now that BART has been relieved of conducting a thorough investigation itself, having left it to Meyers Nave to do for them for $250,000, it is high time that BART begin to rid itself of the most obvious bad actors in its midst and recommend criminal charges where warranted for those who assaulted Oscar Grant and his friends on January 1st such as BART police officer Tony Pirone and Marysol Domenici. Bad actors at BART include not just the officers on the Fruitvale platform but General Manager Dorothy Dugger who, just like Gary Gee, chose to be an apologist for the disturbing actions of officers ultimately under her supervision. Finally, a full accounting of the actual events of January 1st must be made public. Such an account should include events on the platform as well as communications between officers and supervisors that night, and communications in the aftermath between supervisors and Chief Gee and those between Gee and Dugger. The Meyers Nave report appears to be a step in the right direction, but it does not yet represent having reached the ultimate goals of full transparency and accountability.
We are 100% volunteer and depend on your participation to sustain our efforts!
Get Involved
If you'd like to help with maintaining or developing the website, contact us.