From the Open-Publishing Calendar
From the Open-Publishing Newswire
Indybay Feature
Johannes Mehserle's 995 Hearing: video, photos, and court documents including ruling
Mehserle's defense attorney filed a 995 motion to dismiss the murder case against his client, alleging that improper conduct on the part of Superior Court Judge C. Don Clay during the preliminary hearing amounted to a violation of Mehserle's right to a fair trial. Judge Thomas M. Reardon oversaw the 995 hearing on September 4th. During the hearing Reardon seemed a little too chummy with the defense, but he did make clear that he was well versed in the issues of the case, having read all thousand-plus pages of testimony from the preliminary hearing that ended in June as well as having watched the related videos. Unexpectedly, Reardon did not issue a ruling at the hearing itself, but instead decided to submit his ruling in writing the following week in which he declared that the magistrate's conduct during the preliminary hearing was indeed proper and that Mehserle should proceed to trial for murder.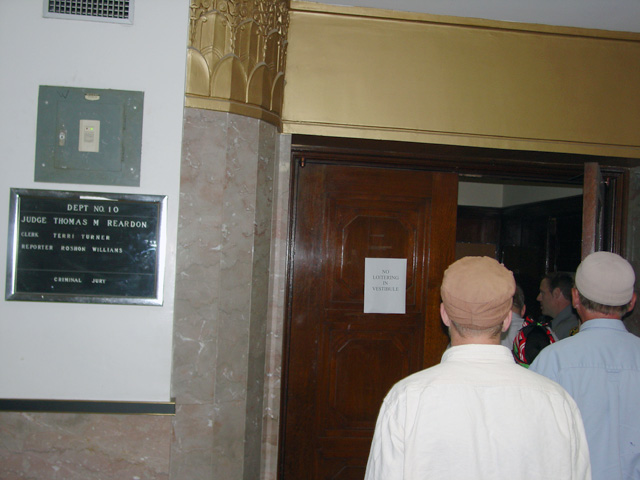 What follows are shorthand notes from inside the
995 hearing
:

judge:  reviewed all transcripts, filings, and video, so no need to repeat in hearing


Vargas video shown -- frame 1022, Mehserle yellow taser seen, Jon Woffinden, Pirone far off

- questions -- where on utility belt was taser?  not in transcript
	- answer: on left towards front
	- rains: taser butt faced front for cross-over right-hand grab

- arrest record of Oscar Grant not admitted into prelim hearing: Oct 2006 San Leandro
	- admissible, with 352 exclusion not done 

- page 1060 of prelim transcript  - magistrate (Clay) said: "not certain I can trust what Pirone said"
	- not a finding - DA O'Connor
	- rains: but I'm certain that he believed Grant posed imminent thread of death
	- judge: transcript unclear

- rains, pages 1056-1060: "defendant didn't give statement" so only way to know state of mind is through witnesses (not video)    
 (( observation: this is convenient as rains didn't call JM to testify, which keeps "state of mind" fuzzy ))

- pages 921-922 - judge: 3 weeks prior taser training for JM (inadequate training
	- rains: JM meant to pull taser so no malice
	- similar incidents of taser/gun accident in other police not examined in prelim hearing

- judge Clay: JM intended to use gun and (rains says) "denied" experts 
	- defense didn't really request trainer from BART (Officer Lehman) or taser expert Mr. Meyer 
	
	- 1) two hands used, Rains asserts expert would have testified is okay
	- 2) strong hand draw

- judge question: thumb movement about drawing taser (testimony from cops about JM thumb up in taser mode)

- judge question: Mehserle stood back and warned Pirone as if taser (from vid & testimony)
	- center mass firing, Rains said, like taser  (( observation: but guns fired at center body too ))

- rains questions not being able to bring in character of victim as "massive error"
- clay quote from prelim: I have no doubt JM intended gun not taser 
- rains: capricious and absurd exercise of discretion by clay interferred with JM's rights
- DA office O'Connor: character evidence would not have effected outcome when video and testimony covered victim "resistance"

- written ruling on 995 to come before Mehserle's change of venue motion scheduled for October 2nd

-----------------------------------------------------------------------------------------------------------------------------
Mehserle's defense attorney, supposed super-lawyer Michael Rains, is 0-2 so far in defending his client...
Murder Charge Sticks for Johannes Mehserle in Preliminary Hearing
Murdering BART cop Mehserle's attempt to get case dismissed with 995 motion FAILS
Unless Rains can get the trial moved to a majority white county where a judge or jury rules based on prejudice in favor of police and against people of color rather than the facts of the case, the evidence of the case as laid out in the preliminary hearing makes clear that Mehserle should rightfully be convicted of murder.
We are 100% volunteer and depend on your participation to sustain our efforts!
Get Involved
If you'd like to help with maintaining or developing the website, contact us.