From the Open-Publishing Calendar
From the Open-Publishing Newswire
Indybay Feature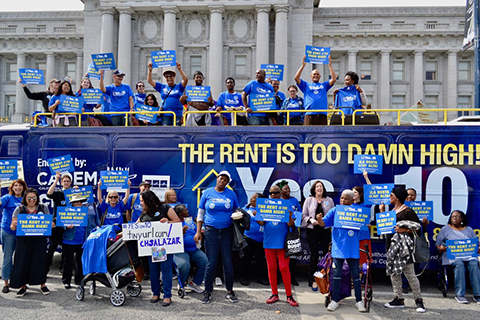 Sun Nov 4 2018
(Updated 11/08/18)
The Rent Is Too Damn High
California's Prop 10 Marks New Rebellion Against Greedy Landlords, Realtors and Developers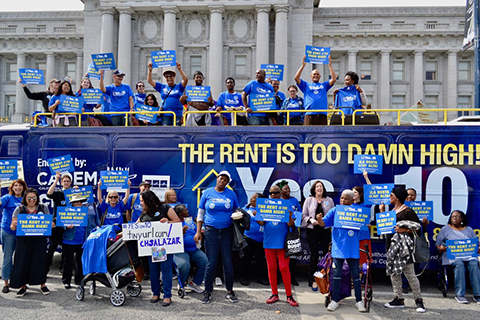 UPDATE 11/8: While millions of ballots remain uncounted in California, it appears Prop 10 was defeated.
Grassroots activists up and down the state have been campaigning hard for the Affordable Housing Act, a ballot initiative to repeal California's Costa Hawkins state law and return control of rental housing law to local jurisdictions. Several localities have promised to act rapidly should Proposition 10 pass, and housing advocates are ready to push those that haven't. But real estate interests have spent over $70 million to defeat Prop 10, and their massive expenditure appears to be working, with polls showing a majority of California voters opposed to the proposition despite the escalating affordable housing crisis. Should the Affordable Housing Act be defeated on November 6, housing rights activists remain committed to pushing for rent control and other tenant protections locally and statewide in the future. Nationwide, a new movement has been inspired by California's efforts.
The Costa Hawkins Housing Act of 1995 was passed after heavy lobbying by apartment owners associations and the real estate industry. Costa Hawkins prohibits local jurisdictions from protecting tenants against unlimited rent increases and involuntary displacement. This law has contributed to sky-high rents and the homelessness epidemic in California. Costa Hawkins prohibits local rent laws from protecting renters against exorbitant rent increases, prohibits local rent laws from protecting renters in "new buildings," and allows landlords to evict tenants and raise the rent to whatever the market allows, often resulting in rents that are far above fair return on investment.
Post-Election Updates:

Local Victories Power California Tenant Movement, Despite Prop. 10 Loss
|
11/6/18 Election: Labor's Gains & Lessons
Read More:

"Yes on Prop 10," San Francisco Board of Supervisors Endorses Proposition 10
|

Proposition 10, the rebellion against greedy landlords, realtors and developers
|

Proposition 10, The Affordable Housing Act
|
Vote 'Yes' on Proposition 10 to repeal extreme Costa Hawkins Act in November
|
2 weeks to 11/6/18 Election for Housing for All Now
|
Sanctuary Santa Cruz Endorses Measure M and Proposition 10
|
4 SF Supes, All Democrats, Oppose Prop 10 As Does Republican Party
|
Bay Area & Statewide Green Party Election Recommendations
|
State Proposition positions from the Green Party of Santa Clara county
|
Urban Habitat's Fall 2018 Voter Guide
Related Event Announcements:
Get Out The Vote 11/3-6/18 for Cal Prop 10 and SF Prop C for Housing for All
|

Phonebank for Jovanka and Prop 10: The Affordable Housing Act
|

Canvass for Yes on Prop 10 & Jovanka Beckles at BART
|

Canvass for Yes on Prop 10 & Jovanka Beckles in Berkeley
|

Socialist Analysis of 2018 Elections - Can the 'Blue Wave' Turn the Reactionary Tide?
|

Open Prop 10 and Jovanka GOTV Meeting
|

UUSF Sunday Forum Presents: Housing Acts Prop.10 & Prop.C
|

Organizing Meeting for Prop 10 - Affordable Housing for All!
Related Feature:
Landlords in Santa Cruz Step Up Misinformation Campaign Against Measure M
We are 100% volunteer and depend on your participation to sustain our efforts!
Get Involved
If you'd like to help with maintaining or developing the website, contact us.