From the Open-Publishing Calendar
From the Open-Publishing Newswire
Indybay Feature
Related Categories:

San Francisco | Government & Elections
"Yes on Prop 10," San Francisco Board of Supervisors Endorses Proposition 10
The October 2, 2018, "Rent Is Too Damn High" Bus Tour rally in front of San Francisco City Hall! Photo by Patrick Range McDonald.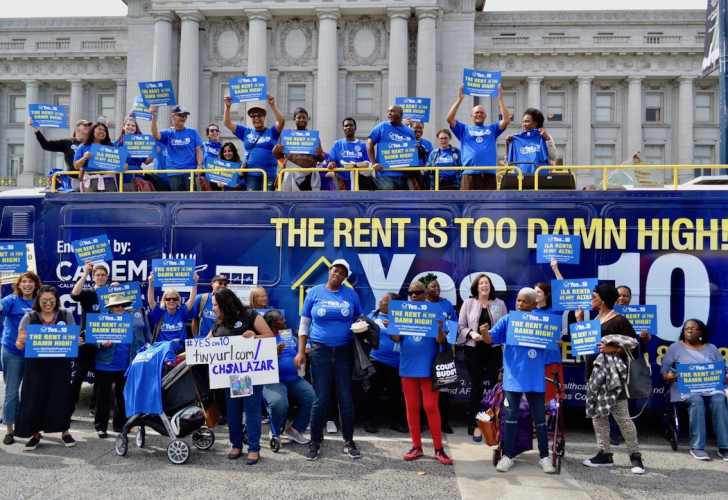 "Yes on Prop 10," San Francisco Board of Supervisors Endorses Proposition 10
By Lynda Carson -- October, 3, 2018

SAN FRANCISCO — There is a huge David vs. Goliath battle taking place in California for the heart and soul of the future, and the "landlord vs. tenant" battle is known as
Proposition 10, the Affordable Housing Act.
Click here for the
Proposition 10 fact sheet.
For more about the huge landlord vs. tenant struggle, see the video called:
Corporate Landlords: The Fight for Affordable Housing in California:
Vote "YES" on Proposition 10:
A yes vote on Proposition 10 supports allowing local governments to adopt rent control, repealing the draconian Costa-Hawkins Rental Housing Act.
A no vote opposes the initiative, thus keeping the Costa-Hawkins Rental Housing Act and continuing to prohibit local governments from enacting rent control on certain buildings.
The
"Rent Is Too Damn High" Bus Tour
stoped outside of City Hall where San Francisco tenants, the SF Tenants Union, United Educators of San Francisco and Supervisors Aaron Peskin and Hillary Ronen rallied in support of Prop 10. 

"I'm thrilled that my Board colleagues recognize the importance of addressing the housing affordability crisis that is facing San Francisco," San Francisco Supervisor Aaron Peskin, the sponsor of the resolution, said Tuesday.
"Stabilizing rents is the single most effective way to stabilize communities and to build better neighborhoods. It's long past time to untie the hands of local policymakers to address the crisis we watch unfold every day, and I'm encouraged that the energy and momentum behind this initiative continues to build."


"We must do everything we can to address the housing affordability and homelessness crises facing our community. As a working mom I know that too many parents struggle to pay for child care and skyrocketing rents and too many families with small children cannot afford to live in the Bay Area," said San Francisco Supervisor Hillary Ronen.
"Anybody who is displaced from their home not only has to leave the city, but has to leave the region entirely. This is wrong. When we pass Proposition 10, we can then pass laws locally that deal with the sky-high rent, and protect the residents and citizens of San Francisco."


"It's great to see the Supervisors agree it's time to end Sacramento's needless control on our rights here in SF, stop the rampant evictions, and rein in sky-high rents," said Deepa Varma of the San Francisco Tenants Union.
"The people of San Francisco know firsthand that the status quo isn't working, and we need real solutions now. We must pass Proposition 10 so we can update our laws and keep our neighbors from getting pushed out." 


"We've seen the impact of skyrocketing rents in our schools here in San Francisco. In every classroom, there's a child who is homeless, as more than 2,500 do not have a place to call home -- and these are just the students we know about. Many of our educators -- just like our families -- are just one paycheck away from being homeless," said Anabel Ibanez of the United Educators of San Francisco.
"Passing Prop 10 means that our cities and counties will have the ability to protect and preserve our affordable housing and community. This also means our educators will be able to live where they teach and continue to provide a quality education for every child. When we pass Prop 10, we'll untie the hands of our local communities.
"

For many Californians, including many in the Bay Area, the rent is too damn high. Proposition 10 is a key step towards solving California's housing-affordability crisis because it will protect California's renters and guarantee landlords a fair rate of return, all while laying the foundation for stronger communities. By empowering local communities to limit rent increases and curtail predatory housing practices, cities and counties will be able to create thoughtful laws to address their local housing situations.


A broad coalition of trusted organizations and advocates -- from the League of Women Voters and ACLU, to the California Democratic Party to the California Teachers and Nurses Associations, to the Los Angeles Times and Sacramento Bee -- are all urging Californians to vote YES on Proposition 10.
Endorse Proposition 10 Now!
According to Proposition 10 supporters: "Too many families spend over half their income on housing. That's simply unacceptable. Living paycheck to paycheck means it's difficult for these families to make ends meet, much less save for an emergency. Seniors on fixed-incomes have less to spend on food and medicine. Many of the people who should be the foundation of our local communities—the teachers, nurses and firefighters— are forced to move far away from the communities they serve because corporate landlords are doubling or even tripling the rent. With so many families struggling, many are driven to move away from California altogether, leaving jobs, relatives and schools behind. Even worse, many are forced into homelessness and living on the streets. With every 5% rent increase, 2,000 more people are forced out of their homes—a devastating blow to them and an even worse homeless problem for California to cope with."
"Voting YES on Prop. 10 will allow cities that need it to pass laws limiting rent increases. Prop. 10 does NOT mandate rent control. It does NOT force any community to adopt any rent control measures that would not be a good fit for their own housing situation. It does NOT force any one-size-fits-all solutions on any city. Instead, Prop. 10 simply allows communities that are struggling with skyrocketing housing costs to put an annual limit on how much rents can be raised. Communities are free to bring more fairness to housing, ensuring that tenants have protections against huge rent increases, while ensuring that landlords receive a fair rate of return with reasonable yearly increases."
Proposition 10 is endorsed by the California Labor Federation, the League of Women Voters, the ACLU, City of Oakland, Santa Monica and West Hollywood, LA Mayor Eric Garcetti, and the list goes on.
There are multiple, compelling, reasons for supporting Proposition 10 and the campaign for its passage.
1. It presents the best opportunity we've had in decades to clear the way for strong rent control protections, which are the single viable policy approach to stemming the mass displacement – particularly of low income African Americans and Latinos – from the urban areas of the state. If we do not succeed on this, this year or soon, all of California's urban areas – not just San Francisco – will be mostly wealthy and white. The ramifications of this, for peoples' well-being, and for progressive political power, are enormous and devastating. 

2. With the political importance of these mid-term elections in mind, Prop 10 is one of the major issues on the November ballot to motivate our base to vote. A recent poll conducted by David Binder Research (DBR) has 31% of an "expanded electorate'' saying they would be Much More Likely to vote if this measure is on the ballot, and another 18% saying they would be Somewhat More Likely to Vote – for a total of 49%. 

Some of the biggest corporate property owners in the country, including the Wall Street giant Blackstone, are pouring in millions to crush this citizen initiative intended to give the 17 million Californians that rent some minimal protections.
They plan to spend some $100 million!
For Organizations:  Your help is needed and it starts by endorsing
Proposition 10.
Lynda Carson may be reached at
tenantsrule [at] yahoo.com
>>>>>>>
>>>>>>>
We are 100% volunteer and depend on your participation to sustain our efforts!
Get Involved
If you'd like to help with maintaining or developing the website, contact us.