From the Open-Publishing Calendar
From the Open-Publishing Newswire
Indybay Feature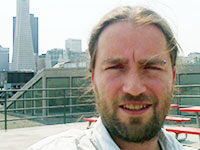 Mon Dec 13 2010 (Updated 05/09/11)
Indybay Reporter Files Federal Civil Rights Lawsuit Against UC Police
Mon Dec 13 2010 (Updated 05/09/11)
Veteran Journalist Who Quashed Illegal Search Warrant for His Photos Sues UCPD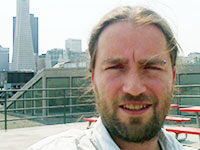 Indybay reporter David Morse has filed suit against University of California, Berkeley Police in federal court for violations of the First, Fourth and Eighth Amendments and for violations of a federal law barring the use of search warrants for unpublished journalistic materials. The lawsuit follows Morse's successful motion to quash a search warrant issued for his unpublished news photographs.
Morse, a 42-year-old journalist who has covered hundreds of stories for Indybay and other outlets, was arrested a year ago at the scene of a UC Berkeley protest after police allowed a group of demonstrators, many of whom were wearing masks, to flee. Morse's arresting officer pulled his car up to Morse and said, "I saw you take a picture of us. We want your camera." Officers arrested Morse despite the fact that he informed them of his journalist status six times and denied all wrongdoing.
UCPD officers jailed Morse, then increased the charges against him in order to buy themselves time to prepare a misleading search warrant affidavit that omitted any mention of Morse's newsgathering activities. The First Amendment Project successfully quashed that search warrant in June on the basis that it violated Section 1524(g) of the California Penal Code, which absolutely bars search warrants for unpublished journalistic materials. Federal law also bars such warrants.
Although Morse's charges were dropped at his first court appearance, UCPD refused to return his images for more than six months and even made surveillance photographs of him when he attempted to retrieve them in person.
The federal suit seeks damages against the various defendants, as well as a judicial order mandating additional training. High-ranking UCPD officers are separately
being sued
under similar causes of action by the ACLU and Electronic Frontier Foundation for searching a newspaper office at the
Long Haul
in 2008, litigation that was ongoing at the time of Morse's arrest. Nonetheless, UCPD Captain Margo Bennett has been quoted as stating that UCPD has not considered changing the way it deals with journalists.
Morse is represented by
First Amendment Project
and
Gross Belsky Alonso, LLP
.

Press release and court filings |

The seized photographs | Previous coverage: Indybay Reporter Succeeds in Quashing UCPD Search Warrant | Eight Arrested at UC Berkeley After Concert and March | Days of Action Against the Tuition Hikes | Affidavit Discloses UCPD "Cause" for Raid on Long Haul Infoshop | UCPD and Feds Raid Long Haul Infoshop in Berkeley
Related Categories:

East Bay | Education & Student Activism | Indymedia | Police State and Prisons | Front Page