From the Open-Publishing Calendar
From the Open-Publishing Newswire
Indybay Feature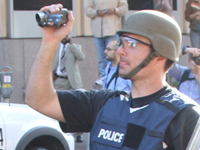 Tue Jan 11 2011
Files Reveal Police and Fed Strategies Regarding Oscar Grant Protests
As 2nd Anniversary of Murder of Oscar Grant Marked, New Police Files Are Exposed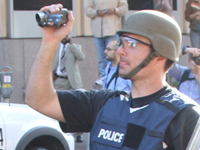 A vigil for Oscar Grant was held on New Year's Day 2011 at Fruitvale BART, two years after he was shot and killed by former BART police officer Johannes Mehserle. A crowd of 100, including Grant's family and friends, gathered in a barricaded sidewalk area outside the station, holding candles in the cold afternoon. The crowd was smaller than a vigil held last year that included elected officials, poetry and music with a stage blocking off a street.
Meanwhile, documents recently obtained by KALW's
The Informant
reveal the significant involvement of state and federal law enforcement in monitoring the various Oscar Grant protests in Oakland over the past two years. Logs obtained by The Informant indicate OPD monitored websites, including Indybay.org, anti-police brutality Yahoo! email groups, Twitter feeds, public demonstrations, flyers and meetings to gather information about potential protests. Other documents indicate FBI involvement in monitoring the Oscar Grant protests as early as January 2009. A police report shows the FBI was providing intelligence to OPD on the movements of "black bloc" anarchists in downtown Oakland on the night of January 14, 2009. In one log entry recorded by a BART police officer, OPD is reported to have shown interest in sending "mole[s] or undercover team[s]" to meetings of Oscar Grant supporters.
In the protests that followed Johannes Mehserle's involuntary manslaughter conviction on July 8th, 2010, agents from the Drug Enforcement Agency, United States Secret Service, the California Department of Justice were assigned to monitor crowd activities. Thirty-three federal, state and local officers were assigned to video details posted in buildings surrounding Frank Ogawa Plaza and throughout the crowd of demonstrators. Among them were personnel from the Secret Service, the state Bureau of Narcotics Enforcement, and Bureau of Intelligence and Investigation who took video of the protest. Some DEA and Oakland Police officers recorded the protest, while others dressed in plainclothes provided intelligence from within the crowd to OPD's Emergency Operations Command Center. The surveillance of the Oscar Grant protests over the past two years extended beyond Oakland and San Francisco to Southern California, according to another set of internal Oakland Police documents and communications.
Details regarding police dominance in Oakland's power structure are revealed. For instance, in an email, Oakland police captain David Downing, the head of OPD's Support Operations Division, says that he "advised [the Mayor's Office] that if city leaders join the crowds in protest, that I would arrest them like everyone else." Downing also writes in the same May 2010 email: "it is an election year and [Alameda County District Attorney] Nancy O'Mally wants to get elected this November, so she is going to do whatever we ask." On Oscar Grant protesters, Downing indicates that police have and intend to continue confiscating protester mobile phones and cameras for evidence, but that the "greater benefit [for OPD] is achieved by temporarily denying the opponent their communications." Oakland police chief Anthony Batts expresses a similar sentiment in another email: "I'm concerned we don't have a rapid response team plan...if we don't work on this...anarchist using cell phones will out flank us."
Amongst documents exposed thus far by The Informant are a list of "critical" locations in downtown Oakland police intended to protect, the OPD "Operation Verdict" tip line log, video surveillance team details, incident logs, investigative logs, intel logs, and cooperative email exchanges between officials in the Oakland police department, the Los Angeles sheriff's department, and the U.S. Justice Department, which include discussions of specific activists and groups such as The Black Riders in L.A., the Nation of Islam, and a speaker for BAMN.

New Year's Vigil held in memory of Oscar Grant


The Informant articles and police files: Police files reveal Federal interest in Oscar Grant protests, "Anarchists" | Police email shows strategy, politics in run-up to Oscar Grant protests | LA Oscar Grant protests also monitored by law enforcement | Logs detail Oakland Police surveillance of Grant protesters, concerns about "Anarchists"
Indybay Coverage of the Justice for Oscar Grant Movement
We are 100% volunteer and depend on your participation to sustain our efforts!
Get Involved
If you'd like to help with maintaining or developing the website, contact us.