From the Open-Publishing Calendar
From the Open-Publishing Newswire
Indybay Feature
Logs detail Oakland Police surveillance of Grant protesters, concerns about "Anarchists"
The Oakland Police Department's surveillance of demonstrators began long before the July 8th protests that greeted former BART officer Johannes Mehserle's involuntary manslaughter conviction. Two logs obtained by The Informant indicate OPD monitored websites, Twitter feeds, public demonstrations, flyers and meetings to gather information about potential protests and the possibility of violence.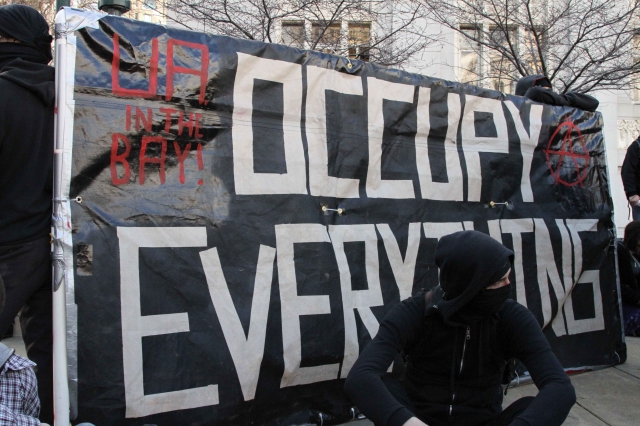 Ali Winston, Unconventional Action at a March 4, 2010 education protests.
The documents also show a particular preoccupation with "anarchists" or the "black bloc," a commonly-used term for black-clad protestors who have engaged in targeted property destruction (usually chain stores, banks and large corporations) at various demonstrations in Europe and the Americas since the mid-1990s.
There is also the possibility that OPD sent confidential informants or undercover officers to gatherings of Oscar Grant supporters. A June 29th entry in the log for OPD's tip line reports on the announcement on the website Indybay of a meeting at the Niebyl Proctor Libray on Telegraph Avenue to plan "an organized militant response to the verdict." The entry, which was logged by BART Officer Ken Dam, reads as follows:
"Ofc. Dam reports information regarding the Uhuru Movement from a website: indybay.org regarding an organized militant response to the verdict. The meeting is scheduled for 29Jun10 1900-2100hrs, at the Niebyl Proctor Library at 6501 Telegraph Ave. The website calls on individuals and groups to participate in an organized and militant response to the verdict. Ofc. Dam was wondering about OPD sending a mole or undercover team and has contacted Sgt. M. Riley [sic] with OPD with this same information" (emphasis added).
Sergeant Mike Reilly is part of OPD's Intelligence Unit. The Niebyl-Proctor Library is a self-proclaimed Marxist alternative archive and meeting space that regularly hosts meetings and speakers. [Uhuru meeting announcement]
The tip line log also documents a number of warnings about possible violence against businesses and police officers throughout Oakland from late June until July 9th. On June 26, the doors of St. Paul Church were covered in graffiti reading "Where wuz [sic] Jesus 4 Oscar," and "Kill Mehserle" was found spray-painted on a fountain across the street.
OPD kept a log of civil disturbance and violence at all the demonstrations following the New Year's Day shooting of Oscar Grant by Johannes Mehserle dating back to 2009. This appeared to inform the focus placed on "anarchist" activities by the department: postings to radical websites such as Indybay and Anarchistnews.org are included in an OPD Intelligence report. The "anarchist" concern is also elucidated in a June 24th email from Police Chief Anthony Batts to Assistant Chief Howard Jordan, Deputy Chief Eric Breshears and David Downing.
"…I'm concerned we don't have a rapid response team plan…if we don't work on this…anarchist[s] using cell phones will out flank us."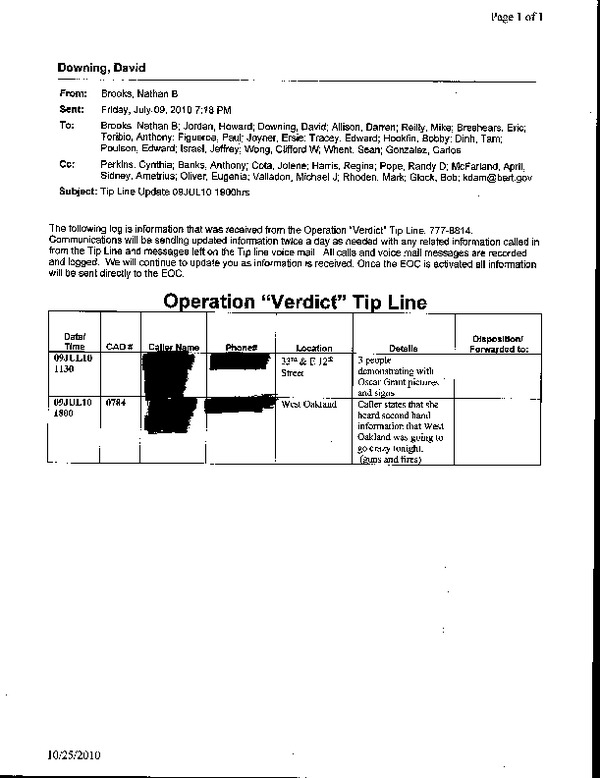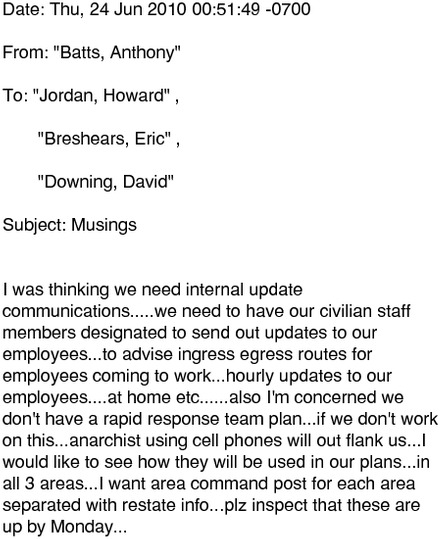 Date: Thu, 24 Jun 2010 00:51:49 -0700
From: "Batts, Anthony"
To: "Jordan, Howard" ,
"Breshears, Eric" ,
"Downing, David"

Subject: Musings

I was thinking we need internal update
communications.....we need to have our civilian staff
members designated to send out updates to our
employees...to advise ingress egress routes for
employees coming to work...hourly updates to our
employees....at home etc......also I'm concerned we
don't have a rapid response team plan...if we don't work
on this...anarchist using cell phones will out flank us...I
would like to see how they will be used in our plans...in
all 3 areas...I want area command post for each area
separated with restate info...plz inspect that these are
up by Monday...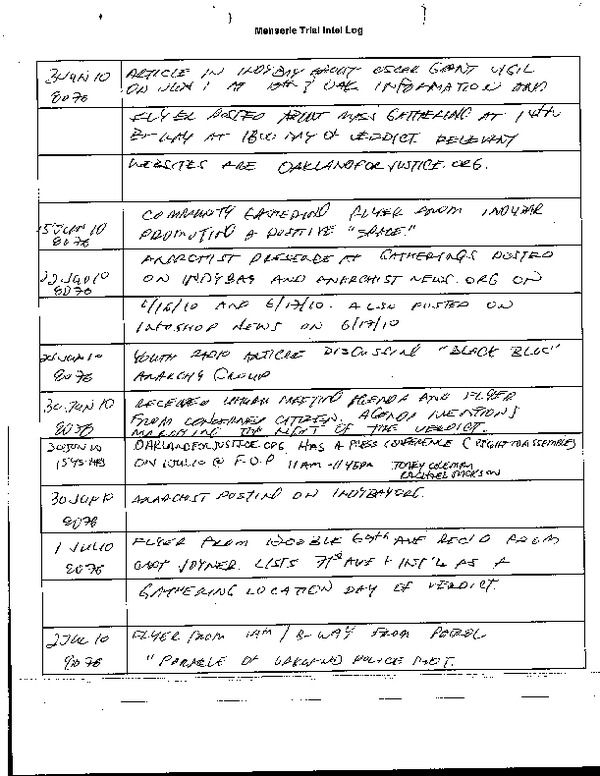 We are 100% volunteer and depend on your participation to sustain our efforts!
Get Involved
If you'd like to help with maintaining or developing the website, contact us.