From the Open-Publishing Calendar
From the Open-Publishing Newswire
Indybay Feature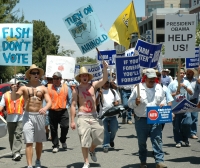 Fri Jul 3 2009
Right Wing Rally for Water Declares It's "Fish vs. People"
Corporate Agriculture Campaigns for Exclusion from the Endangered Species Act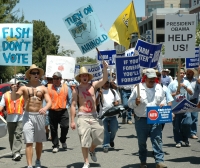 There is a massive campaign underway to "turn on the pumps" and deliver additional water to corporate agribusiness in the western Central Valley. Agribusiness interests and their allies claim environmental and water activists care more about fish than people and are demanding more water, now!
Corporate agriculture's campaign is being run by Burson-Marsteller (B-M), the astroturfing Public Relations firm that has been hired by the California Latino Water Coalition. MSNBC talk show host Rachel Maddow, in a March telecast, called B-M "the PR firm from hell" and said it had been hired to improve the "image" of AIG, the company that has received $170 billion in taxpayer bailout money. B-M has also represented the private security firm Blackwater, Union Carbide in the Bhopal India incident, and Babcock & Wilcox, manufacturers of the Three Mile Island nuclear plant.
Central Valley Congress members are calling for an exclusion from the Endangered Species Act of the delta smelt (a small fish that gets killed in the pumps), more dams, a peripheral canal (which critics say will be as large as the Panama Canal), and a bond initiative in 2010 that will result in taxpayers subsidizing water for large corporate farming operations.


Read more | Peripheral Canal: Panama Canal North? | People Before Water Barons: Stop the Peripheral Canal Water Bond! | Myths, Lies and Damn Lies about Impact of Drought on San Joaquin Valley Agribusiness | Salazar Announces Aid to Valley Agribusiness, Doesn't Endorse Canal | Secretary of the Interior Ken Salazar Holds Town Hall in Fresno
We are 100% volunteer and depend on your participation to sustain our efforts!
Get Involved
If you'd like to help with maintaining or developing the website, contact us.